Watch a Proud Father Record His Daughter Crashing Into His Garage
It's all a great time until there's a gaping hole in the garage door.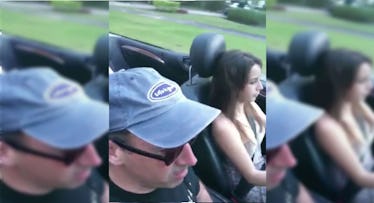 getty
Teaching your kid to drive is a big rite of passage for any father. Tensions are likely high, yes, but so is pride. One dad went through pretty much every emotion when he and teenage his daughter's inaugural drive around the block resulted in her crashing the car into the family's garage door.
At first, everything was going as expected during the driving lesson with dad. A little bit of "Now you slowly…slowly, slooooowwwwwwwly press on the brake," followed by "push the accelerator, slow." But as the duo pulled into their driveway, the dad's calm demeanor quickly turned frantic. The two had already turned into the driveway by the time the accident started, so it's likely his daughter just got the brake and gas pedal mixed up.
While mixing up the two may sound ludicrous to any seasoned driver, it's actually a rather common mistake that usually happens to old and brand new drivers in confined spaces like the driveway or a parking lot. Once the driver steps on the wrong pedal, there's usually a moment of shock in which they freeze up and don't immediately lift their foot off the accelerator, which can make a minor accident major. Fortunately, everyone was okay and the hole in the garage door was modest enough. Still, it'll probably be a while before this dad lets his daughter hop behind the wheel again.