In These 28 States, Child Care Is More Expensive Than College
How does your state stack up?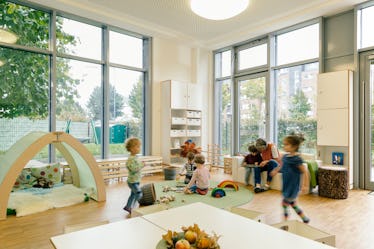 Westend61/Getty Images
While parents have years to save up for their kid's college tuition — by opening a 529 plan, for example — they have much less time to save for child care. That doesn't mean that the cost of child care is any more affordable. In fact, according to a new analysis, the cost of child care is currently more expensive than in-state college tuition in 28 out of 50 states, and it's only getting more expensive year over year.
Data from the U.S. Labor Department from August 2023 cited by CBS News found "that average price of pre-school and daycare is up 6%" from the year prior. The cost of child care is rising by nearly double the rise of the inflation rate in the U.S — one study found it's outpaced the inflation rate by 214% since 1990.
A new map shows how bad the country's childcare crisis is getting. In 28 out of 50 states, the cost of child care for a year is more than that of public college tuition. Online lending company NetCredit conducted an analysis to examine the yearly expenses incurred for public and private college tuition and the average childcare costs across all U.S. states. The analysis found that child care costs $1,031 more than public college tuition, on average, across the United States. And some states' child care costs were far worse than others.
In Hawaii, the difference in the annual cost of childcare vs. in-state college tuition is a staggering $15,995 — meaning parents will pay way, way more for child care vs. their kids' undergraduate education. New York wasn't too far behind, with an average difference of $15,951, while California saw the third largest difference in child care, with it costing $6,862 more than in-state college. In North Carolina, the difference between child care and in-state college is $5,753, Washington is $4,648, and Georgia has a difference of $4,629.
It's not all bad (though it is mostly bad). In some states, the cost of college was more than child care. In Vermont, in-state college is $5,423 more than child care per year. In Pennsylvania, college tuition is $3,339 more than child care. In South Carolina, college is $3,679 more than child care, and in Rhode Island college is $3,447 more per year than child care.
President Joe Biden's fiscal year 2024 budget proposed allocating more than $600 billion over 10 years to enhance accessibility to child care for more than 16 million children. However, that budget is more of a wish list — a statement of ideals, not actual policy.
And yet most parents need child care. According to the National Household Education Survey, 58% of working parents rely on childcare centers to care for their children during typical working hours.
In 2023, 67% of parents are on track to spend 20% or more of their annual household income on child care, and 89% of families spend 10% or more, per Care.com's 2023 Cost of Care Report. However, despite the rising cost and the continued necessity of child care, finding a center with any availability can feel like playing the lottery with waitlists between one and two years. Meanwhile, businesses lose approximately $12.7 billion annually because of their employees' childcare challenges, and workers lose out, too.
No federal program addresses these childcare issues. Besides stabilization funds passed as part of the American Rescue Plan — which are set to expire on September 30th — and the temporary child tax credit program available during the earlier years of the pandemic (which temporarily cut child poverty by 40% and then was allowed to expire), the country still has zero federal assistance to offset the cost of child care or address the shortage of child care spaces across the country.
To read the complete analysis showing the cost of child care compared to college tuition in each state, read the report by NetCredit.