Travis Barker's Punk Rock Baby Name Idea Is Divine '80s Inspiration
"Yo, Adrian!" meets "Institutionalized" in a punk-rock baby name mash-up for the ages.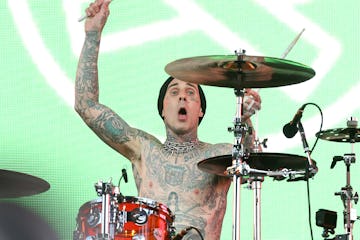 Monica Schipper/Getty Images Entertainment/Getty Images
Travis Barker might have thrown down a truly metal baby name suggestion for his future baby boy with Kourtney Kardashian-Barker. Barker, who is expecting his fourth child, a baby boy, with his wife, Kourtney — their first together, adding to their blended family of six kids — was interviewed for Complex alongside daughter Alabama Barker and came up with a baby name that is reserved only for GOATs.
In the interview, Travis and Alabama discussed "GOAT" baby names. For Barker, the name that came up for him was immediate.
"I like Rocky 13," the Blink-182 drummer said. (For her part, his daughter suggested luxury watch brands as names.) His reasoning? Pulled straight from some '70s and '80s vintage inspiration — even if it makes for a not-so-great baby name, which he admitted when Alabama made fun of it, calling it a "bad" name. (The name is on our list of 1,000 unique baby boy names, for what it's worth.)
"That's this name that's just been going through my head lately... It's bad," he added, joking.
But why Rocky 13? While the obvious comparison is Rocky from, yes, Rocky, the Oscar-winning greatest movie about failure of all time released in 1976 with tons of follow-up installments (and to Travis, the greatest boxing movie ever made), including the Creed series, there's an even deeper potential meaning to the name for Barker.
"Rocky George played guitar for Suicidal Tendencies, and 13 is just the greatest number of all time," he said. Suicidal Tendencies is another icon of the Rocky decade — the thrash metal / hardcore punk band was founded in 1980, just a few years after the Rocky movie.
And while the name 13 (or Thirteen) may not appear in the top 1,000 baby names in the United States for any year following 1900, the name Rocky is actually fairly popular. The name, which means "rock" or "rest" and is of Italian origin, according to Nameberry, has been in the top 1,000 most popular baby names in the United States since 1942, and it's stayed fairly popular for the last 80 years.
In 2022, it was the 888th most popular baby boy name in the United States overall — but has waxed and waned in popularity throughout the years. Celebrities tend to drive baby name trends — so if Rocky really is the name of their future baby boy, it's possible the name could tick up in popularity after the baby's birth. But who knows if that's really the future Kardashian-Barker's name — Travis has hinted they've already picked out a name for their baby. We'll just have to wait and see if this baby is a boxing icon (or iconic guitarist) or something else altogether.