Jason Ritter's Marriage Advice Is So Simple But So Brilliant
Jason Ritter, when did you get so wise!?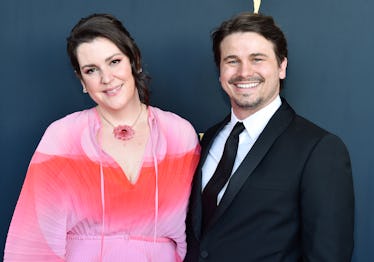 Rodin Eckenroth/WireImage/Getty Images
Jason Ritter is one of the most-liked guys in Hollywood. The famous star, son of the late John Ritter, apparently is also Socrates-level-wise about marriage. He's only been married to his wife, actress Melanie Lynskey for 3 years, but the couple — who are also parents to their 4-year-old daughter — seem to prioritize all the right things when it comes to being a strong team. How do we know? Because Ritter recently casually dropped the best marriage advice that could be a game-changer for so many other couples. (And, let's be honest, he's also opened up in a spectacular way about his journey to self-love, and sobriety, when first dating Melanie.) And the best part about his advice? It's blessedly simple. (At least in theory.)
In an interview with E!, Ritter opened up about his marriage to Lynskey, where he casually dropped really solid marriage advice about the importance of communication and listening.
"I do feel like sometimes people fight to exercise some feelings that they're having, as opposed to solve a problem," Ritter shared. "If you can find someone who's trying to also solve the problem—and not trying to punish or hurt—I think that's key."
Boiled down, Ritter's advice speaks to the importance of healthy, problem-solving-based communication, a cornerstone of a healthy partnership. Good communication not only helps resolve conflicts when they arise but also prevents them from escalating into major issues in the first place, which Ritter seems to hit right on the head with his advice.
When couples can communicate openly and candidly, it helps solidify mutual respect and trust, which are essential for a strong partnership foundation. But communication is more than just talking about the happenings of every day. It's also talking about the stressful things — the uncomfortable, messy parts of your relationship — and it means actively listening, too.
But how can you work on listening and communicating with your partner? And how can you transition that into active problem solving? Remember that you're on the same team — and that it's not you vs. your partner (like Melanie vs. Jason!) but you and your partner vs. the problem.
In other words? "If you approach discussions with the mindset of two people working towards a shared goal, as opposed to one person accusing the other, the conversation will likely be much more pleasant and productive," Fatherly previously reported in an article about the 10 essential communication rules all happy couples follow.