These History-Making USWNT Players Named Their Babies Like Champions
Why not look to a soccer champion for some baby name inspo?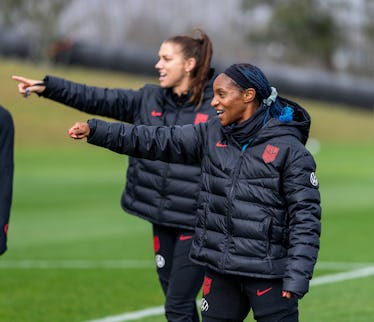 Brad Smith/USSF/Getty Images Sport/Getty Images
This world cup, the U.S. Women's National Soccer Team (USWNT) is making history — not just because they could potentially pull off a three-peat, cementing them as one of the best teams of all time in the sport. It will also be only the second time in USWNT history that there are three players on the field who are moms. Alex Morgan, Crystal Dunn, and Julie Ertz are all taking the field tonight against the Netherlands, which is their second game in the competition so far, and are making history in more ways than one with their teammates by their side.
The Washington Post reports that a "record number" of moms on the U.S. soccer team were in training camp for the World Cup this year. And with Morgan, Dunn, and Ertz making it into the final roster, this year's team has tied the record for the number of moms who have made the team, a record first set by the 2015 World Cup team.
The inclusion of moms is no accident: Yahoo! Sports reports that the collective bargaining agreement of the USWNT stipulates that U.S. soccer has a contractual obligation to help players who are moms by paying for flights, lodging, and meals for kids under the age of 6 and their caregivers. The agreement also requires that USWNT provides "stadium suites" for the kids, who will be watching their moms play tonight, July 26th, and hopefully throughout the competition, as the team is expected to advance.
Charlie Elena Carrasco, Marcel Jean Soubrier, and Madden Matthew Ertz, the children of Morgan, Dunn, and Ertz, respectively, will likely be in those suites cheering on their athlete moms and elite teammates — and they each have the baby names of future champions that might make for unique inspiration if you're looking to have a baby who is a winner.
Marcel is the 1-year-old son of Dunn, whom she shares with her husband, Pierre Soubrier, an athletic trainer. According to Nameberry, Marcel is French and translates to mean "little warrior." According to the U.S. Social Security Administration, Marcel was ranked 660 in the U.S. for boys' names, up from 687 the year before.
Charlie is the 3-year-old daughter of Morgan, whom she shares with her husband and fellow soccer star, Servando Carrasco. According to Nameberry, her name "is both a boy's name and a girl's name of English origin meaning 'free man.'" The baby name site calls Charlie "one of the friendliest names on the planet." And although it's not in the top 100 popular baby names in the U.S. for girls or boys, it's one that has been around for a long time, showing true staying power.
Madden is the 11-month-old son of Ertz, whom she shares with Zach Ertz, an NFL player for the Arizona Cardinals. According to Nameberry, Madden "is both a boy's name and a girl's name of Irish origin meaning 'little dog.'" The U.S. Social Security Administration reports that Madden was ranked 655 in the U.S. in 2022, which is a big jump from its 2021 ranking of 821. Madden is also, for what it's worth, the name of a popular NFL video game, giving it an appropriate tie-in with dad Zach.
You can root for the USWNT as they take on the Netherlands on Wednesday, July 26, at 9 p.m. EST. You can stream on FOX, FS1, FOXSports.com, and the FOX Sports App.