Travis Barker And Kourtney Kardashian May Actually Have The Most Punk Rock Baby Of All Time
This baby might well be pop punk royalty, right down to their name.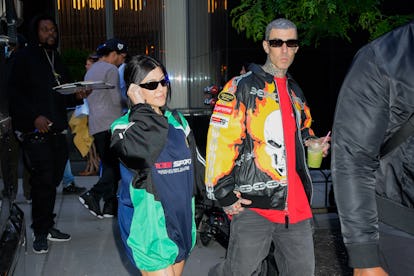 Gotham/GC Images/Getty Images
The baby names Kourtney Kardashian-Barker chose for her three kids are relatively tame — Mason, Penelope, and Reign. But rumors that she and her husband, drummer Travis Barker, might be venturing into unique territory for her fourth baby are looking more and more legit. Barker — who also has three kids: Landon, Alabama, and Atiana (a stepdaughter he's raised since she was very little) — first floated a very punk rock potential baby name months ago. At the time, the name didn't seem to be a serious contender. But new reports around the imminent arrival of their first child together have us thinking otherwise.
That's because, according to People, Travis and Kourtney might have accidentally revealed their baby boy's name while celebrating at their baby shower. The publication notes that several photos from the couple's Disney-themed baby shower were shared on social media, where fans spotted a potential baby name reveal. The couple had a "Wishing Tree" at their shower, where guests were encouraged to write messages to future baby Barker and hang those wishes on the tree. Fans zoomed in on one of the messages that was potentially addressed to baby Barker by name.
"Although the note can only partially be read, it appeared to say, 'May Baby Rocky have the most ... life filled with love, happiness...,' perhaps revealing that the couple's son will be named Rocky Barker," the publication explains.
As we previously reported, it's been rumored that Travis and Kourtney would be naming their son Rocky. While being interviewed by Complex with his daughter Alabama, the two talked about "GOAT" baby names — and for Travis, the greatest name was "Rocky."
"I like Rocky 13," he said at the time, adding that he felt it probably wasn't so great for a baby name, making most think that he was just joking around.
But really, it would be a perfect punk rock baby name for these two. He loves the name Rocky because it's the same name as Rocky George, the drummer for Suicidal Tendencies, and, as he said at the time, "13 is just the greatest number of all time." (It's also reminiscent of Rocky Balboa.) And while the middle name "13" would be way unorthodox, that's totally on par for celebrity names. Plus, the name Rocky isn't all that obscure — it was the 888th most popular baby boy name in the United States last year.
As the baby shower photo gives more credit to the baby-named-Rocky rumor, all corners of the internet will surely share their unsolicited opinion on the unique name choice, as they did when the first video dropped.
Only time will tell if "Rocky" ends up on the birth certificate of the newest member of the blended Kardashian-Barker family. Lots of parents give their kids-to-be little nicknames, often to keep the real name a secret, so they have a way to refer to their future child without revealing the name they've chosen. Perhaps 'Rocky' is just that, a temporary nickname. Then again, those temporary nicknames sometimes have a way of sticking, surprising the parents themselves.