28 Years Later, This '90s Rock Album Will Make Your Kids Cooler — Trust Me, I Know
Forget the story. These songs are immortal.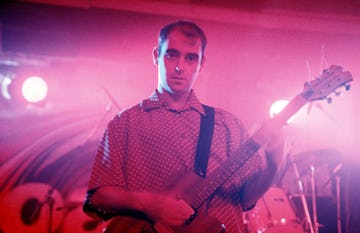 Mick Hutson/Redferns/Getty Images
The Fatherly Turntable
We may receive a portion of sales if you purchase a product through a link in this article.
In junior high school, in America, in 1995, saying your favorite band was Oasis was an act of rebellion. In the time after (What's the Story?) Morning Glory was released on October 2, 1995, tweens and teenagers everywhere were coping with parents freaking out about a song in which the refrain was about "getting high," while also, among ourselves, trying to determine what a "Wonderwall" was, anyway, without the aid of Google. In the months and year following the smash release of Morning Glory, the '90s MTV generation was inundated with largely uninspired music videos for utterly classic tracks like "Don't Look Back In Anger," "Wonderwall," and yes, "Champagne Supernova." Arguing if there are '90s guitar rock albums that have better songs than Morning Glory is, of course, possible. But, in the past (almost) three decades, this album has transformed into something bigger than it was when it first dropped.
Today, Morning Glory is just as good — if not better and more accessible — than it was in 1995. If Oasis really were — as many detractors claimed — just a sh*tty version of the Beatles, the total brilliance of Morning Glory proves that insult is actually a good thing. If you play Morning Glory for a Beatles-obsessed child in the 21st century, that child may actually think this is a Beatles record. Trust me, I know from personal experience.
My six-year-old loves Oasis without really knowing who Oasis are. How could she? She wasn't around in the '90s! But, because this is one of my favorite albums I've been spinning her the vinyl of Morning Glory since she was born. The song "Some Might Say" can pick up her mood on a literal rainy day. She knows all the words to "She's Electric," and since she could walk, has jumped and down like a maniac to the stomping title anthem, "Morning Glory." Let me tell you, friends, you have not lived until you have heard a little kid sneer "Need a little time to wake up! WELLLLLL!!??"
One could argue my child has no choice but to love the music my wife and I listen to; that my daughter knows Japanese Breakfast and Cocteau Twins songs by heart because my wife does, or she's down with The National and The Strokes because of me. But this is not the whole story. Any parent will tell you, that kids will turn off music they don't like. No amount of coaxing will get my young daughter into Jimmy Buffett, for example, which is probably for best, if we're being totally honest. Perplexingly, despite citing Ride's "Vapour Trail" as one of her favorite songs, my daughter doesn't care for Suede or Radiohead. (But she loves Weezer!)
Okay okay. So, I know at this point, I sound like a parent from that one Portlandia sketch, which somehow aired twelve years ago. (!!!!) But, that's also the point of writing about grown-up music for parents. So, setting aside the '90s music history lesson — battling Britpop bands, grunge, sibling rivalry, and flannel shirts for everyone — what I'm saying is that Morning Glory as a rock album that exists now, in the 2020s, is a masterpiece. And if your kids listen to this record, the impact will be nothing but positive.
Morning Glory has profanity, specifically the words "sh*t," and "hell." Morning Glory has references to narcotics, including a not-so-veiled shout-out to sniffing coke in the title track, plus, of course, the infamous questioning chorus on "Champagne Supernova," in which Liam Gallagher croons "Where were you while we were getting high."
But, overall, I'd argue, that Morning Glory is much more wholesome sounding than several other huge '90s rock albums, and for an innocent child (like my daughter), "getting high" means flying, and "chained to the mirror and the razor blade," sounds like somebody shaving in the morning. (Which songwriter Noel Gallagher once claimed was the real intention.) Furthermore, the Beatles-esque production value and overall sound add up to an album in which the sound of the record matters more than the lyrics. The first side of the record starts off with a song literally called "Hello," then segues into the upbeat "Roll With It," before going into the back-to-back classics "Wonderwall," and "Don't Look Back In Anger."
Why is a person described as a "Wonderwall" and how can that save you? What is it that "Sally" is "waiting" for? How can one walk down the hall "faster than a cannonball?" The image-heavy lyrics of Noel Gallagher on Morning Glory are as dream-like as they are specific. Like all great rock music, you could describe the best tracks as containing slightly immature poetry, which is perfect for children. If you contrast Morning Glory with the literalism of an actual retro kids' rock album like Harry Nilsson's The Point, what you'll find is a disconnect nobody really likes to think about. When things are made for kids, sometimes that pop art doesn't age as well. When something is made for everybody, kids can get caught in that net, too.
When Sgt. Pepper's Lonely Hearts Club Band dropped in 1967, nobody made an argument that it was a great rock album for young kids. And yet, at least half the toddlers in the world right now are at least vaguely familiar with "Lucy in the Sky With Diamonds." Morning Glory is like that for the parents of the generation that followed our parents. To paraphrase Marty McFly — we weren't entirely ready for it in 1995, but our kids totally love it.