30 Years Ago, This Band's Forgotten Debut Album Created A '90s Phenomenon
The beginning of Britpop started with Suede.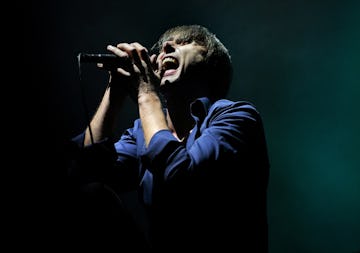 Shirlaine Forrest/Redferns/Getty Images
We may receive a portion of sales if you purchase a product through a link in this article.
In 1993, one arresting album cover grabbed our attention and made us say— who is that band? And if you lived in the U.S., the answer to that question had a slightly different answer than it did in the U.K. For legal reasons, the band called Suede had to go by "The London Suede" stateside, because an American folksinger claimed the name "Suede" first. For those who loved '90s bands like Suede, this factoid might be something you forgot, possibly along with the band's wonderful first album.
Three decades ago on March 29, 1993, Suede dropped their self-titled debut album. For many who lived through the '90s, the hugeness of Suede's second album — Dog Man Star in 1994 — nearly eclipsed the brilliance of their debut. But Suede's Suede is a near-perfect album, and without it, the history-changing wave of Britpop couldn't have existed. Three decades later, Suede feels like it was recorded yesterday.
For young American rock fans, the '90s were a wonderful, if, confusing time. While the wave of alternative rock from the likes of Nirvana, Pearl Jam, The Smashing Pumpkins, and others represented one kind of sonic reality in the U.S., an alternate reality of alternative rock was happening at the same time: Britpop. It's almost unfair to call "Britpop" of the '90s "pop" at all. If you look at the four most important Britpop bands of the 1990s — Pulp, Blur, Oasis, and Suede — these were all clearly rock bands; across-the-pond cousins to the grunge rockers in America. Of course, "Britpop" was a media label, which nearly all Britpop bands rejected. And no band feels more and less Britpopy than Suede.
Today, it's easy to think of Suede as a more experimental rock band, closer to Radiohead or The Flaming Lips, because, that's pretty much what they became. But in 1993, when Suede dropped, it was one of the most highly-anticipated British rock albums ever with just as much buzz as The Smiths and The Stone Roses had had before. Today, it's hard to believe this album was as mainstream as it was. As an album, Suede is all over the place. "So Young" and "Animal Nitrate," are fairly straightforward rock songs, which if it weren't for Brett Anderson's utterly unique vocal, could appear comfortably on alt-rock albums from other bands from the same era. In fact, guitarist Bernard Butler was directly inspired by Nirvana's "Smells Like Teen Spirit" for "Animal Nitrate," a song that's apparently just about doing a bunch of narcotics to the point where that experience makes it feel like the narcotics replaced human relationships.
But, then, you've got a track like "Sleeping Pills," which puts Morrisey's sad ballads to shame, and predicts some of the more mournful tracks from The Verve. The entire career of Chris Martin can also be contained within this song, a fact that seems like Martin wouldn't even bother disputing. In this way, with a combination of genuinely ass-kicking singles like "Animal Nitrate," you've also got hybrid hits like "The Drowners," which are one-part Smiths and one-part proto-Oasis. In a way, Suede feels like the album that Oasis was trying to make after their first three; an album that intentionally feels like you're coming down from a really insane night out.
But, Suede has more beauty and elegance than some of their Britpop peers. Their artistry makes you want to say they're closer to Pulp than Oasis, but with one difference: On this album Suede never veers toward the jokey self-parody of Pulp. All the songs feel genuinely wrapped in heartbreak and angst, making Suede the closest thing to a Britpop Emo album. To be clear, in this context, that's a compliment.
With their subsequent albums, Suede would become even more artistic, and more intricate. But, infamously, guitarist Bernard Butler walked out of the recording sessions of their second album, Dog Man Star, meaning, the last time you get the full "original" Suede, was on this first album. People tend to cite the second one as their favorite, but with the first album, there's something magical about the alchemy. And this dark magic was never really recreated.
Unlike most of their Britpop counterparts, Suede still exists and is still led by Brett Anderson. They never really stopped putting out records either. In 2022, they dropped Autofiction, which is about as good as one of the Gallagher brother's solo records. (Again, this is a compliment.) But, if it's been a while since you've listened to the very first Suede record, now's a good time to spin it and feel all the feelings.