30 Years Ago, The Most Important '90s Band Released Their Most Underrated Album
Pablo Honey, Radiohead's first full album, is rarely anyone's favorite. But it should be.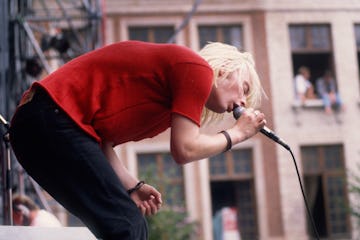 Gie Knaeps/Hulton Archive/Getty Images
The Fatherly Turntable
We may receive a portion of sales if you purchase a product through a link in this article.
Arguing about '90s music is fun. Especially if you remember the '90s. And, for those of a certain age, one band was often at the center of many "best of" late-night debates. Was Radiohead the greatest band of the 1990s? Are they one of the greatest bands of all time? No matter your opinion on these questions, one thing remains clear, Radiohead was a deeply important 1990s band, if not the most important '90s band. Even if you don't like Radiohead, search your feelings. You know that they were huge, and more importantly, that they were artistically revolutionary.
But Radiohead was not an overnight success. On February 22, 1993, Radiohead dropped their first full-length studio album Pablo Honey to mixed reviews. Three years prior, Radiohead had released a four-track EP called Drill, which, beyond Radiohead diehards, is mostly forgotten.
If you look at various rankings of Radiohead albums online, Pablo Honey rarely breaks the top five. In 2017, Audioxide actually ranked the album last. In 2022, Louder Than Sound also ranked Pablo Honey last. So, calling Pablo Honey an "underrated" Radiohead album may be inaccurate. Instead, the general consensus seems to be that Pablo Honey is like Season 1 of a beloved TV show that only got good in Season 3.
But is this true? Is Pablo Honey a bad album? Or, more specifically, is it really the worst Radiohead album? If you listen to the album now — and somehow manage to convince yourself that the rest of Radiohead's discography doesn't exist — you may think this is the greatest '90s alt-rock record you've ever heard. From "Stop Whispering," to "Anyone Can Play Guitar," to "Ripcord," to the really, really great "The Thing About You," this album is fantastic, and has emotionally charged moments that are both quiet and brilliant.
Because Radiohead was pretty inexperienced with the technical studio process at this point, there's a looseness to the production quality that feels closer to early Oasis albums or even My Bloody Valentine. In other words, the specific and meticulous Radiohead sound — which defines everything from OK Computer (1997) through KidA (2000) — just doesn't exist on Pablo Honey. Thom Yorke wasn't the lead singer of the epic band Radiohead in 1993. He was the singer of an English guitar band that was much, much better than most other guitar bands of that time. After Ok Computer in 1997, there's no way to think of Radiohead as a UK guitar band. They entered another dimension and began creating music that defies various genres. But, between 1992 and 1996, Radiohead sounds like a different band than what most think of as their sonic legacy.
Had Radiohead remained the kind of band they sound like they're trying to be on Pablo Honey, this would be their second-best album ever. In this bizzaro universe, The Bends would be their best album ever, and Radiohead would go down in rock history as a band more like The Stone Roses or Television, rather than the experimental prog-rock icons they became.
So, the only reason why Pablo Honey ranks so low on everybody's Radiohead lists is that they're just a great band, and most of their albums are fantastic. If Steven Spielberg had only ever made Jaws (1975) and Duel (1971), we'd say that Duel is one of his best movies, which it is. And that's what Pablo Honey is for Radiohead. With one wrinkle: We have to talk about the album's lead single, "Creep."
Released in September of 1992, "Creep" eventually became a huge hit for Radiohead, after not doing much with radio play at first. But, this song is easily one of the best Radiohead songs ever, period. Thom Yorke's vocals define a beautiful melancholic detached angst that is literally pitch-perfect. Sorry. I said what I said! Meanwhile, Jonny Greenwood's guitar has rarely sounded as cool, or dangerous.
The band infamously recorded a radio-friendly version of "Creep," which replaced the lyrics "you're so f*cking" special with "you're so very special." The debate still rages about whether or not this proves that Radiohead was a sell-out band before they even got big enough to sell out. The album version, of course, contains the f-bomb and is the superior version of the track. But it's a great song either way. It all started here, and three decades later, this track and all the other songs on Pablo Honey are still very special, so f*cking special.