The Best Rock Band Of The 2000s Is Going Back To Their Roots
The Strokes singles retrospective is awesome. But do you need it on vinyl?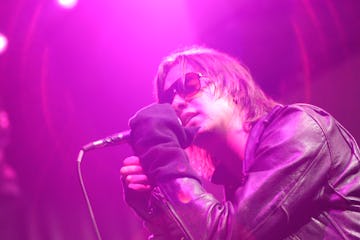 Patrick McMullan/Patrick McMullan/Getty Images
We may receive a portion of sales if you purchase a product through a link in this article.
Among the wave of excellent rock bands of the early 2000s, The Strokes reign supreme. Although it's been twenty-two years since their first album — Is This It — dropped in 2001, the vast majority of The Strokes' discography feels relatively timeless today. Now, with the release of a retrospective set of singles — aptly titled The Singles: Vol 1 — The Strokes are taking a moment to look back on their glory years. It's an excellent set, full of raw and brilliant alternate takes of great and famous anthems of the first decade of the 21st century. But for serious music fans, there's one clear question: Do you need this on vinyl?
The Singles: Vol 1 consists of all the singles from the first three Strokes studio albums. This means you're getting the hits from Is This It (2001), Room on Fire (2003), and First Impression of Earth (2006). Although the albums released after 2011, starting with Angles, all have their merits, the knee-jerk feeling from most fans will favor the early era. While some debate exists about how the first three albums stack up relative to each other, even the most diehard fan will agree these albums tend to be more consistent than the albums that followed. That said, many, many fans rank Angles fairly high, which means that perhaps some of the best Strokes songs do show up on albums post-2010.
Still, if you saw the Strokes live from 2001 to 2007, you know that this was the golden era. Lead singer Julian Casablancas was 23 years old when Is This It dropped in 2001, as was bassist Nikolai Fraiture. Guitarist Albert Hammond Jr. and drummer Fabrizio Moretti both turned 21 during that year. Meanwhile, guitarist Nick Valensi was only 20 at the time. If anybody told you the Strokes were the band of their generation, all you have to do is look at their birthdays to know that it was true. If you saw the Strokes in concert back then, they looked like guys your age and were somehow petulant and unpretentious simultaneously.
When they first toured the US in 2001 and 2002, they really only had the songs from that first album, and in several concerts never played an encore. They simply didn't need to. The songs were enough. Casual fans may only remember "Last Nite" or "Someday" from that first album, but that would do a disservice to the superior tracks, "The Modern Age," and perhaps, the secret best track on Is This It; "Hard to Explain."
The Singles: Vol 1 captures the spirit of this time, a time when the Strokes were such a consistently good band that they really only needed a handful of songs to blow everyone away. And though it's tough to compete with the nostalgia some might have for those 2001 songs, the Room on Fire singles like "Reptilia" and "12:51" have aged much better than you remember. So, if you were into the Strokes back then, and you're essentially the same age as all the band members, this new box set is amazing. That said, if you're of that demographic, there's a very good chance that the first Strokes record you had was on CD. For the aging millennials, there's an even better chance that your first Strokes record was a burned CD, given to you by a buddy, an ex, or somebody at a party.
Although the Strokes began as a New York-based rock band, their first album, Is This It, was released in Australia in July 2001 and started hitting the UK shortly after that. But, the CD version in America, which excluded the track "New York City Cops," and had a less-risque cover art, didn't really hit until October 2001. Basically, the controversial first cover (featuring a gloved hand on a bare bottom) combined with the September 11 attacks delayed the album from really breaking through to America. But, aided by an early version of the internet, the cool kids knew this already, and so, you may remember Is This It hazily. Did you have the gloved hand version? Or the blue-and-yellow art version which lacked "New York City Cops?" Or, did you have a bootleg? The answer to this question may determine how you feel about The Strokes, which could influence which version of this retrospective you might buy.
There are only two formats for The Singles: Vol. 1; a digital download and a set of 10 vinyl 7-inch discs. These are 45s, which means you'll have to get up and change them a lot as you blow through these famously short tracks. This makes The Singles: Vol 1 more of a collector's item for hardcore fans, rather than an object which will actually remind you of the early 2000s. It's an awesome and beautiful set, that is so nice and so slick, it feels like it belongs in a museum. However, for those of us who listened to Is This It on a bootleg CD, and then spent some beer money on Room on Fire a few years later, this gorgeous box set may not transport you back in time. In a way, you may find yourself wishing this retrospective was released on CD, complete with already-cracked jewel cases.
The Strokes' music works in any era. But if you loved them back in the day, they feel like the kind of band where you threw their records around carelessly in your crappy car, praying the CD won't skip this time.
If you're looking to recapture that feeling, the digital version of The Singles: Vol 1 is probably the better way to go. But if you want to get your kids into why this band is so perfect, then the vinyl set is great. Either way, the excellence of The Strokes comes through on all of these discs. The reasons why are just hard to explain.