26 Years After Their Best Album, One Misunderstood Band Has Finally Stopped Kidding Around
There's no "woo-hoo" on the latest Blur record. And that's for the best.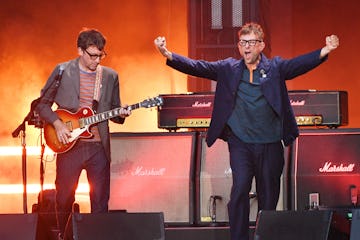 Jim Dyson/Getty Images Entertainment/Getty Images
The Fatherly Turntable
We may receive a portion of sales if you purchase a product through a link in this article.
Blur isn't messing around anymore. Since their debut album in 1991, this stalwart of Britpop has possessed one quirk on every single record, which, depending on your tastes, might be perpetually confusing. On some level, like a '90s punk reincarnation of The Smiths, or a slightly less funny version of Pulp, every Blur record has always contained at least a few huge songs that were straight-up jokes. But, with the brand-new 2023 album, The Ballad of Darren, Blur seems to have accomplished a minor miracle: The album comes across as 100 percent honest, and, impressively, never once veers toward self-parody. It's also, occasionally, very, very catchy, and even if your kids aren't listening to the words, they're going to start dancing their butts off.
For a lot of American rock fans, who might be ambivalent toward '90s Britpop, Blur has exactly one song, the infamously short "Song 2." That's the one with the over-the-top chorus in which lead singer Damon Albarn hollers "WOO-HOO!" Although this was the second track on their fifth album — the self-titled 1997 LP Blur — "Song 2" both undersells the brilliance of Blur as a band and encapsulates them perfectly. They're capable of rocking harder than many other bands, thanks to the legendary skills of guitarist Graham Coxon. Plus, the vocals are always unforgettable because of frontman Albarn's very specific, yet, shapeshifting, voice. And, although "Song 2" is the go-to representative of all Blur songs, true American fans, and frankly, the rest of the world, are aware of the extremely eclectic and deeply satisfying catalog of a band that can really only be called "underrated" in the U.S.
But Blur is underrated. Just objectively, no matter how big they got, or get, they're still not quite appreciated enough, And the reason why is that's because their albums are always half-kidding, and a lot of people never really got the joke. When Ted Lasso used "Song 2" in Season 2 in 2021, the series not only picked the worst possible song for the moment but also squandered an opportunity to remind bored Apple TV watchers that Blur has several, several other great tracks. Seriously, why did Ted Lasso not use, "Parklife" in a sequence in which Ted is just walking around a football pitch? Or maybe "Country House" when Roy Kent moved in with Keeley? This Ted Lasso rant may seem like a digression, stay with me. Because, the fact that Ted Lasso couldn't bring himself to pick just a slightly deeper Blur cut is kinda proof of how much the band lives in the shadow of "Song 2," at least in the United States.
The point is — and the Ted Lasso thing proves it — that thanks to the dominance of "Song 2," there's a chance that some U.S. folks really only think of Blur in this one specific way, and may still be unaware that Damon Albarn is also the primary singer for Gorillaz, yet another Blur-adjacent project which is very awesome, but likely also marred by a sense that it's kinda always making fun of you. Back in 1997 "Song 2" was conceived of by Coxon and Albarn as a joke on record labels and a parody of grunge, but when we all heard it in the trailers for Starship Troopers in 1997, it seemed like it was just f*cking cool.
When Blur went head-to-head in a massive Britpop singles chart battle with Oasis in 1995, their single "Country House" was up against the Gallagher boys' anthem "Roll With It." The latter was about figuring out how to roll with it and maybe kissing someone. "Country House" was a catchy song that was very meta: It was about rich people moving from the city to the country, which was inspired by Blur's actual manager doing that exact thing. The video even homaged (mocked) Queen's "Bohemian Rhapsody," a decision that has not aged well, but that probably nobody cares about but me. And that's because the thing with Blur is that they're one of the greatest bands of all time, but they have perpetually put themselves behind the 8-ball with non-subtle Americans because they're always kinda explaining their jokes. Oasis won the global Britpop battle only because there was no way anybody could fake being in a band like that and the songs aren't hard to understand even if they make zero sense.
So, what does any of this have to do with why Blur's new 2023 album is so great? Well, listen. If you're already a Blur fan and you're reading this and you've been rolling your eyes, you already know the truth: All Blur albums are f*cking fantastic, all probably technically better than most albums released, in general, and the greatness of The Ballad of Darren is utterly unsurprising. The last proper Blur album, the 2015 record The Magic Whip, was also great (especially "Ghost Ship"). Blur fans, including me, expect Blur's albums to be great. But what makes The Ballad of Darren surprising is that it's great in a mainstream way that, could, in theory, be someone's first Blur album. And for longtime fans, aspects of this album feel like the band has grown up in a way that is deeply satisfying.
The Ballad of Darren is easily Blur's best album since their 1997 self-titled record, which contained "Beetlebum," "On Your Own," and yes, "Song 2." It's not fair nor accurate to say The Ballad of Darren is better than Blur albums prior to 1997, but it's certainly better than all the Blur albums since. And again, the reason why the album is so good is that it's simply effortlessly cool, and sidesteps the Blur's historical tendency to mess around. From the opening track, "The Ballad," to the closing track, "The Heights," it's somewhat obvious to say that The Ballad of Darren is a kind of concept album. But, whatever that concept is, hardly matters. And that's because the entire album plays extremely well, which is just not something you can say for even near-perfect post-1997 Blur albums.
The stand-outs on The Ballad of Darren are easily track 3, "Barbaric," and track 6, "The Narcissist." Despite the introspective and layered themes in both songs, what makes each of these wonderful is just how madly catch they each are. There's also a really great sense of letting go of nostalgia with "Barbaric," too. When Damon Albarn sings, "We have lost the feeling we thought we'd never lose" it scans as both tragic and positive at the same time. This chorus is also classic Blur, and feels, somehow, kind to the lister. Albarn isn't talking down to us. He's, perhaps, in some ways, for the first time, one of us.
If The Ballad of Darren had come out in 1999, a few years after the self-titled Blur, it would easily rank as one of the band's best albums ever. It's tough to put these songs up against the most legendary Blur songs ever, but hopefully, it's clear now, that some of Blur's biggest hits have had a disproportionate impact on the band's reputation. And, as much as my 6-year-old loves "Song 2," she actually loves "Barbaric" more. There's something poppy and something melancholy going on with this album. You can put it on in the background but also crank it up. The overall meaning is something of a blur, but obviously, that's the point.