29 Years Ago, One Iconic '90s Band Peaked With Their First Album
Say it is so! Weezer's debut is still their best.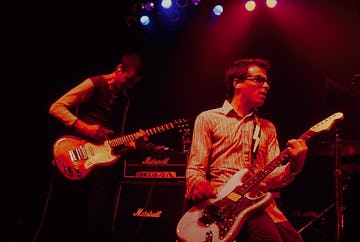 Ebet Roberts/Redferns/Getty Images
The Fatherly Turntable
We may receive a portion of sales if you purchase a product through a link in this article.
On May 10, 1994, an era-defining band dropped an album that is still their greatest record of all time. But the quasi-diminishing returns of Weezer aren't anything to scoff at. Despite the much-discussed before and after of early Weezer and well, everything else, they will always remain one of the greatest bands of all time, and their debut — simply titled Weezer — but known as "the Blue Album," isn't just one of the most definite records of the '90s; it's arguably still the best alt-rock record ever.
It's sort of comforting that the Blue Album isn't 30 yet. For aging millennials, the realization that the distance between our childhoods and the present is now greater than between our childhoods and the 1960s is getting a little scary. In other words, if you were born in the '80s, less time had elapsed between your birth and the breakup of the Beatles than the entire time you've been alive now. So, again, be thankful that Weezer's debut record, Weezer, aka the Blum Album, is only 29 years old. But, also, get angsty about it! Weezer-style.
Weezer before The Blue Album
Weezer, of course, existed before the release of the album Weezer in 1994. Two years prior, the band had supported Dogstar at a Los Angeles gig, which meant, at the time, they were literally riding the coattails of a band that had Keanu Reeves as a bass player. Around this time, on August 1, 1992, Weezer recorded a demo called The Kitchen Tape, which has only shown up as a bootleg over the years. The songs were recorded on an 8-track tape recorder, and included early versions of "My Name Is Jonas," "Say It Ain't So," and "The Sweater Song."
Neither grunge nor hard rock, Weezer essentially invented an entire genre, and for nearly three decades, they have exclusively been the only band that exists in that genre; Weezer music. If you think Weezer has gone downhill with newer albums (like the deeply underrated 2021 record OK Human), it's time to remember they have literally always been like this. Frontman Rivers Cuomo has always sung songs in which it seems like he's kind of kidding but not kidding at all. He's the best version of a "geek rocker," because he invented it, by stealing the soul of Buddy Holly.
Why Weezer's Blue Album is so perfect
The Blue Album basically starts off as a rock-and-roll inside joke that nobody gets. Who is Jonas? Did, we '90s kids, really actually remember why Buddy Holly was something to talk about? Recall, nobody could Google "Buddy Holly" in 1994, meaning, name-checking him in a song, was, back then, not too different from naming a song after a random historical figure, like Grover Cleveland. In fact, in the limited and ever-shrinking amnesia of pop culture, it's likely that the excellent Weezer song "Buddy Holly," has already outlasted any actual Buddy Holly songs. For this fact alone, the Blue Album should be praised as a kind of sci-fi achievement; it leap-frogged actual nostalgia with weird anti-nostalgia. I would dare the average 40-something to try and name a Buddy Holly song without using Google. You can't do it, right? But you do remember that Weezer music video where they Forrest Gumped their way into Happy Days.
The Blue Album is a great rock album because sonically, it rocks much harder than its goofy lyrical landscape. When you learn that Cuomo had a metal band in high school called Avant Garde, and then you listen to "Undone — The Sweater Song," you're not surprised. If "Buddy Holly" is the happy-go-lucky track that champions geeky underdogs, "The Sweater Song" is an anthem for teens who were treated like losers by their peer group, but who suspected, deep down, they were not losers at all. The hilarious party dialogue that punctuates "The Sweater Song" depicts archetypal characters that we'd now call "basic." One bro says "Life's so rad!" while a girl later says her friends aren't going to the party but she really needs a ride.
This down-to-earth realism is both instantly recognizable and also kind of dark. The banality of whatever Weezer considers the "mainstream" is both horrifyingly dull and hilariously on point. The Blue Album comforts the misfits and geeks of the world by both mocking the normies but also depicting the emotional interiority of the outcasts. It asserts strongly that nerds do rock, even if you feel that "The World Has Turned and Left Me Here." This anthem, combined with "Say It Ain't So," makes it seem that the Blue Album is super angsty, and therefore the appeal of Weezer is simply that — geek rock angst. I mean, you can't mistake the "12-sided-die" reference to Dungeons and Dragons, or Kitty Pryde from the X-Men, in the underrated loner track "In the Garage."
But, the thing is, the angsty-loser analysis only works in 1994, when older millennials were all still very young. What makes the Blue Album remarkable, is that it holds up shockingly well today. If you're tempted to throw it on, the first thing you'll notice is that you don't need to skip a single track. "In the Garage" feels super empowering for a 40-something adult, perhaps more so than it did when you were a tween or a teen.
Weezer didn't make an album that defined a generation, but the Blue Album does define a part of a generation and continues to do so. Hardcore fans will forever argue for Pinkerton or the Green Album as the greatest all-time Weezer record. But, if we're all getting real, Weezer led with their best. They continue to make great music, but if you're looking to remind yourself why they were such a big deal to your younger self, it's time to go back to the beginning.
This article was originally published on