I Saw Two '90s Rock Legends In Concert — And I'm Now Convinced We're All Reliving 1995
We're not experiencing nostalgia so much as a decade's cultural dominance.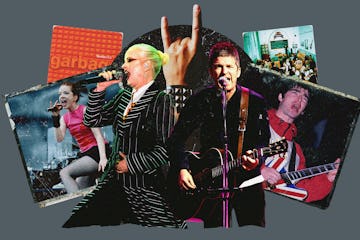 Ariela Basson/Fatherly; Getty Images, Mushroom Records, Creation Records
On stage, at the MGM Fenway Theater in Boston, Noel Gallagher — the famous songwriter of Oasis — is exactly halfway through his set before he jumps into a '90s time machine. Not known for a preponderance of stage banter, Gallagher pauses and says: "Now we're going to go all the way back. Back to when everyone was f*cking cool as f*ck. Until, someone from this great country, f*cked it up by inventing the internet." And then, Gallagher, with his band, the High Flying Birds (which includes two former Oasis members, Gem Archer, and Chris Sharrock) tear into the 1995 mega-ballad "The Masterplan." And in an instant, we're all transported to a time when you couldn't take a photo with your phone because your phone was a device in your house and it would be insane to take it to a concert.
Gallagher's stop in Boston is the last leg of a North American tour, co-headlining with another '90s rock legend, Garbage. When lead singer Shirley Manson starts crooning the angsty hit "Only Happy When It Rains," she's standing behind the drumset, hiding, starting slow, and teasing, as if even she can't believe she's singing this ridiculously perfect rock track. Manson and Gallagher are both 56 years old, a fact which they each allude to at various points in the evening. They were both 28 in 1995, a time when I was 14, the perfect age to be obsessed with Oasis and Garbage. So, it would logically follow that at this concert I was surrounded by fellow aging millennials and/or younger Gen-Xers, right? The median age of a Noel Gallagher+Garbage ticket holder must be 42, the age I'm turning this summer.
Not so much. There's a grandma behind me in a Blondie t-shirt, and there are teens and twenty-somethings crowding the balcony. Noel dedicates "Live Forever" to an exuberantly joyful woman in a white dress, who couldn't have been more than 25. I whisper to my dad friend — who just turned 38 this year — and say, "It wasn't like this at Oasis shows 15 years ago." I'm not exaggerating. Something has changed. The '90s seem to have taken hold of every generation in every direction.
In his 2011 book Retromania, Simon Reynolds argues that "Decades usually have a retro twin; the seventies looked to fifties, in the eighties, you had multiple versions of the sixties vying for attention, and then seventies music started to get rediscovered in the nineties." In a sense, this would mean that the 2020s, as the decade of '90s nostalgia, is actually ten years late. But here's the problem: Before the comeback of the '90s, the actual '90s themselves were much longer than they really were. One of the most popular and enduring 1990s TV shows — Star Trek: The Next Generation — actually began in 1987, and was completely done by 1994, one year before Garbage and Oasis dropped what are arguably, their most famous albums. In the 2011 modern comedy classic Bridesmaids, Kristen Wiig drunkenly insists her right to hang out in first class on an airplane has been violated because "this is the nineties." That was the same year Portlandia told us "The Dream of the '90s Is Alive in Portland." The New Kids on the Block, definitely a '90s pop group, released their first album in 1986. The opening act for Noel and Shirley at this show is the effortlessly cool synth-pop band, Metric, who formed in 1998, but, blew up in 2005, which, in retrospect, was a year that also felt like 1998. As Chuck Klosterman writes in his 2022 book, The Nineties: "Decades are about cultural perception and culture can't read a clock."
Unlike the stark differences in fashion and music between the 1960s, 1970s, and 1980s, if you were to bring an actual time-traveling Noel Gallagher from 1995 to his own gig in 2023, all he would notice was, everybody has an iPhone instead of a cigarette lighter, and that his hair was a little greyer. Ditto Garbage, who, in all respects, rock harder and more proficient than any live rock band touring today. In an age in which creative people of all stripes worry about getting replaced by algorithms, the dream of the '90s might simply be the dream that analog things matter. Garbage is good because they can play their instruments better than other rock bands, perhaps even better than they could in the '90s.
This suggests that Gallagher is kind of right; and that we did become slightly less cool because of the invention of the internet. As he asserted in 2015, live gigs will "never" go away, "because you can't download it. You can't download spirit." This idea suggests that there's an actual '90s spirit. Sure, but can anyone actually define it? The '90s were extremely eclectic, and while it's tempting to simply think of rock in the '90s as "grunge," the existence of Britpop legends like Oasis and Garbage tell a different story. Hell, Blur has a great new album out in July 2023, too. But, in a small microcosm that proves just how omnipresent and eclectic '90s nostalgia truly is/was, on the exact same night I'm seeing Noel and Shirley in Boston, there is a Counting Crows plus Dashboard Confessional gig across town. If after the show, we'd walked into a Boston pub and were confronted with the ska band Reel Big Fish, I wouldn't have batted an eye.
This isn't to say I'm a Counting Crows fan the same way I'm a Garbage and Oasis fan. I'm not. And yet, I respect Adam Duritz, and it turns out, one of the biggest albums of the year, Seán Barna's An Evening at Macri Park, is deeply influenced by Durtiz, and the Counting Crows frontman plays on several tracks. This, we should note, is an album that Pitchfork adores. Yes, even the defining music critic website of the early 2000s is feeling the '90s influence.
But what is that influence, exactly? The easy answer is probably quality control combined with rawness. Films, music, and books from the '90s hold up fairly well today because the art and culture of the '90s sometimes borrowed from previous decades. But the '90s only really pilfered the good stuff. In 1995, Oasis were often accused of just being a shitty version of The Beatles (you can even buy a great t-shirt with the phrase "The Shitty Beatles" with a photograph of Oasis on it) but as time went on, that insult started to sound like a compliment. In 1999, Garbage supposedly sold-out by doing the title song to the James Bond movie The World Is Not Enough. But, in 2022, at the live Sound of 007 concert at the Royal Albert Hall, Garbage was easily the act that sounded the best. The Counting Crows 2000 song "Hanging Around" might be the song that buried the '90s completely, and yet, Durtiz is still here, hanging around, and having a very positive impact on music.
"Oasis sell as many records now per year as we did when we were together," Noel Gallagher said in 2022. "We're as popular now in the eyes of the people as we ever were." Objectively, this is true, simply because it's very easy to measure. In the UK, anyway, "Wonderwall" was the most streamed song from the '70s, '80s, or '90s as of March 2023. That Oasis mega-hit currently has one billion streams on Spotify. That said, Noel Gallagher doesn't even bother playing it. After finishing his rant about how the '90s were better than today, he doesn't say "Anyway, here's Wonderwall." Then again, in a way, he kinda does. "The Masterplan" was the B-Side to the single version of "Wonderwall" in 1995, and one of the more well-loved songs he sang with Oasis. A chunk of the other Oasis tracks he plays throughout the night — "Little By Little," "Going Nowhere," "Half the World Away" — might be considered deep cuts to a casual fan, except of course, the big closer, "Don't Look Back In Anger."
Like Garbage playing "Paranoid" or "Only Happy When It Rains," Noel playing "Don't Look Back In Anger" live is 100 percent a participatory event. It's a song so big, so memorable, that he doesn't really have to sing it at all. 5,000 people can fit into the MGM Music Hall at Fenway, and all 5,000 sing not just the chorus of "Don't Look Back In Anger," but the verses, too.
If you're trying to spend your free time and still engage with pop culture — rather than say, going camping or taking a hike — a '90s nostalgia concert is about as offline as you can get in 2023. We're all there because we want to be there. On the 1995 song "The Bends," Thom Yorke of Radiohead sang, "I wish it was the sixties, I wish I could be happy." But '90s nostalgia isn't like that at all. We are happy because the '90s live on. When we look back on the '90s, we're not looking back in anger. We're looking back in victory.