James Bond Could Suddenly Become The Next Dark Knight Trilogy
Rumors suggest Christopher Nolan could take over the 007 franchise.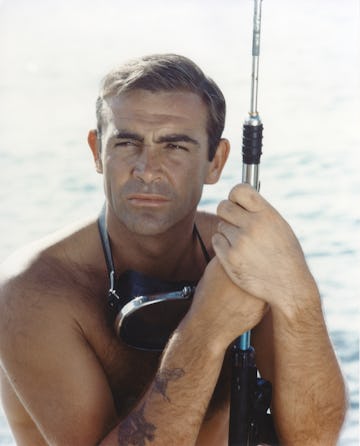 Sunset Boulevard/Corbis Historical/Getty Images
While longtime fans of 007 ponder endlessly about who could play the next James Bond, the writer and director of the next Bond movie might end up being one of the biggest filmmakers on the planet. According to rumors, Christopher Nolan is in talks to produce, write, and direct possibly three James Bond movies in a row. If this actually happens, the Bond franchise could leap into an entirely new realm of cinematic artistry, similar to what Nolan pulled off with this Dark Knight trilogy of Batman films. But is this just a wild rumor or could this actually happen?
According to a reported leak published on World of Reel, an insider familiar with behind-the-scenes Bond machinations claims that: "EON and Amazon are pushing for Nolan and that he's on board, in principle, unless his need for creative freedom isn't met."
The rumor suggests that Nolan wants to do "two to three" Bond films as period pieces, adapting Ian Fleming's novels, which would set the movies either in the 1950s or 1960s. EON, the production company that has made Bond movies since 1962, is more interested in another contemporary reboot, which, of course, sounds like the opposite of what Nolan is going for. This report also points out that Aaron Taylor-Johnson has worked with Nolan before, specifically in the film Tenet. As of right now, Aaron Taylor-Johnson is the name that has come up most often as a possible replacement for Daniel Craig. Christopher Nolan also has a long history with composer Hans Zimmer, who scored Daniel Craig's final 007 film.
Considering the way Christopher Nolan transformed the public's idea of Batman from 2005 to 2012, in many ways, he seems like the perfect director to take the Bond franchise in a new direction. Obviously, his cinematic artistry has only improved since his Batman movies, with the triumph of Oppenheimer being the latest proof of just how talented and unique Christopher Nolan is in the world of filmmaking. Even if he directed just one James Bond movie, it would already have the potential to be the best Bond film ever made.
The World of Reel rumor makes it sound like Nolan's insistence on doing a period piece, versus making Bond contemporary again, could be the sticking point that prevents any of this from happening. Historically, Bond films have always moved forward, taking the post-WWII-era spy through each decade, and updating the character to match the times. Commercially, that kind of thinking is safe. And yet, the idea of a historically accurate James Bond film, which hewed closer to the gritty, intelligent, and compact Ian Fleming novels is extremely interesting. Unlike some of the over-the-top aspects of the films, Fleming's novels are layered gripping, and crucially, believable.
Although the James Bond films are primarily thought of as escapist, a Christopher Nolan trilogy of Bond films could change all of that. Yes, the Daniel Craig films brought Bond down to Earth, but some of Fleming's interesting political commentary on the 1950s and 1960s has never quite come through to the screen. If Christopher Nolan were given complete control of a 007 trilogy, we could see not only some of the best Bond movies of all time, but perhaps, the greatest, and smartest spy trilogy ever filmed.
As of this writing, absolutely none of these rumors have been confirmed by an official source, but, that doesn't mean that in a few years it won't happen. The history of James Bond is the history of shocking developments — both in fiction and in real life. And if Christopher Nolan becomes Bond's boss, and the franchise goes back to the 1950s, the most surprising turns may remain a secret right up until the moment we're sitting in a darkened theater, and we see a mysterious, man in a tailored suit, walking casually across the screen, about to spring into action.