Henry Cavill's New Movie Reboot Could Be Bigger Than The Next James Bond
There can be only Cavill.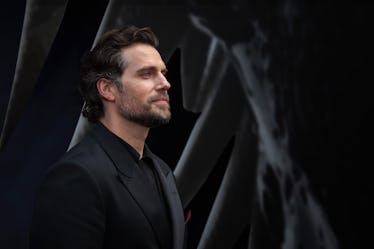 Mike Marsland/WireImage/Getty Images
Before there was Daniel Craig, we almost got Henry Cavill as James Bond. The star of The Witcher and the most recent cinematic version of Superman was very close to playing Bond in Casino Royale, but lost out to Craig, resulting in the current pop culture timeline we're living in. So, naturally, as the search for the next James Bond actor continues, speculation about Cavill getting the part makes a lot of sense. But, interestingly, one movie reboot series that Cavill is tied to could be a better fit for him than 007.
According to John Wick director Chad Stahelski, Henry Cavill is still very much attached to the planned reboot of Highlander — the 80s and 90s franchise focused on swashbuckling immortals dueling throughout history. In a recent interview on the Happy Sad Confused podcast, Stahelski said: "I think we have some very good elements now." He also revealed that this new Highlander will take its time establishing the mythology, with a specific focus on making sure not to get rid of all the immortals in the first movie. Famously, the big tagline of Highlander is "there can be only one," meaning the immortals have to sword-fight until there's only one left, which, after the first movie in 1986, led to some interesting continuity tap-dancing for the various sequels and the beloved 90s TV series.
According to Stahelski this new Highlander reboot isn't just a one-off, but rather, the start of a bigger franchise with at least a few sequels. Fans should expect a new take on elements from the first movie, but not only the first movie. As Stahelski said: "I'll say it for you first, our story engages a lot of the same characters and stuff like that [like the first film]... But we've also brought in elements of all the TV shows, and we're trying to do a bit of a prequel, a setup to The Gathering, so we have room to grow the property."
Henry Cavill's involvement with the Highlander reboot was first announced in 2021, at which time Cavill enthusiastically declared his love of the original franchise, saying then: "I've been a fan of Highlander since I was lad. From the movies in all of their 80s, Queen slathered glory to the TV show with an actor who looked remarkably like one of my brothers...Deep diving into franchise storytelling with all the tools at our disposal, is going to make this an adventure I (and hopefully all of you) shall never forget."
As of now, it's unclear if Cavill will play a new version of Connor MacLeod, Duncan Macleod, or some new Scottish immortal. Either way, if and when the Highlander reboot happens, it could end up becoming Cavill's coolest role yet and might be a better endgame than him putting on the 007 tux.