Next James Bond Frontrunner Actor Might Have Already Booked The Job
A previously rumored new James Bond has reemerged as the possible real deal next 007.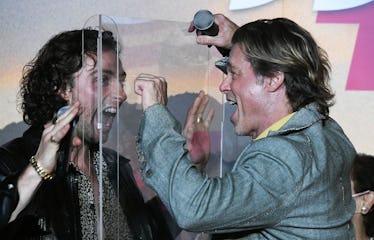 Jun Sato/WireImage/Getty Images
The end of nearly every James Bond movie — including Daniel Craig's fatalistic 2021 swansong — features the words: James Bond Will Return. But at this point, it's not just a matter of when 007 will return, but what he will look like when he does. According to various rumors, which have been circulating for just under a year, former Kick-Ass and Avengers star, Aaron Taylor-Johnson has quietly, already booked the gig for playing the next iteration of the shaken, but never stirred, superspy. And although this Bond rumor fell away for a bit, it's back with a vengeance.
In a new in-depth profile of Aaron Taylor-Johnson on Esquire — which was conducted well before the SAG-AFTRA strike, but just published on August 14, 2023 — there are new clues that Taylor-Johnson has already been cast as James Bond. This means, right now, it's only a matter of time before the rest of the world knows it.
Right now, in this Esquire profile, we're technically seeing Taylor-Johnson doing some press for his upcoming film, Kraven the Hunter, a Sony-led Marvel movie closer to the Venomverse than the actual MCU. Kraven was supposed to come out this October but has now been delayed to August of next year, 2024. This excellent Esquire profile of Taylor-Johnson, written by Alex Pappademas, exists in an interesting null space relative to the Bond rumor mill.
The Holywood strikes mean that everything is more or less shut down, so, Bond boss Barbara Broccoli certainly won't make any announcements during these strikes, but it's entirely possible some deal was made way before this summer.
But is this legit? What's the new evidence that Aaron Taylor-Johnson will become the next James Bond? Well, in the new Esquire profile, Pappademas writes: "...there's talk that he's booked, or is about to book, another fairly giant gig. He will not discuss it, not right now, but the rumor is that he's the top contender to succeed Daniel Craig in the role of James Bond. That he crushed a secret screen test for franchise doyenne Barbara Broccoli last winter."
To be clear, nobody knows anything for sure and Esquire isn't confirming the rumor. Taylor-Johnson isn't confirming it either, but he's certainly not denying it. But he did tell Esquire that he and his wife relocated to the UK last year, and are basically living there permanently. From the new interview: "[I've got] another couple jobs that sort of set me in England for some time."
Now, both Aaron Taylor-Johnson and his wife Sam Taylor-Johnson are from the UK, and apparently, moving back worked out with their children's school schedules, too. At 33, Taylor-Johnson is the father of two daughters with Sam, as well as two step-daughters. Would this family have moved out of California and back into the UK for some Kraven reshoots? This is the question the Esquire piece floats, and for those desperate for some Bond casting updates, it's a reasonable one. We're not quite in a smoking pistol zone here, but at this point, if Aaron Taylor-Johnson was eventually revealed as the next Bond, would anyone be surprised?