Jeffrey Wright Says the Masculinity of James Bond Has "Evolved"
The No Time to Die star talks about his childhood Bond love, and how smart men separate fantasy from reality.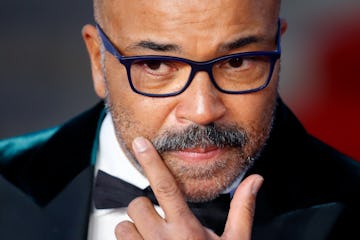 Max Mumby/Indigo/Getty Images Entertainment/Getty Images
The coolest, most relatable dude in No Time to Die isn't Daniel Craig. Making his triumphant return to the world of James Bond in the epic new 007 flick — out this weekend in theaters — is Jeffrey Wright. The 55-year-old father of two is also the star of Westworld, the Watcher in What If? and the current voice of Batman. In the Bond verse, he's back for a third time playing CIA agent Felix Leiter, the man who is James Bond's best friend.
Wright first tackled the role in 2006's Casino Royale — during a crucial moment, he reveals to Bond that he's "a brother from Langley" and encourages the hothead spy to "have a little faith." Just as Craig rebooted Bond in Casino Royale, Wright rebooted Leiter, a cool customer, sporting a hook hand in Ian Fleming's novels, and who, prior to 2006, hadn't appeared in a Bond film since David Hedison played the agent in the 1986 Timothy Dalton outing, Licence to Kill. "It's not about the organizations that they represent," Wright says of Felix's relationship with James. "It's what they represent as individuals, as men. And what they mean to one another."
Just before No Time to Die finally hit theaters, Fatherly caught up with Jeffrey Wright over Zoom to discuss the bromance with Bond, what to expect from his role as Commissioner Gordon in The Batman next year, and how the world of action-adventure films has changed since James Bond and Felix Leiter first started kicking ass in 1963.
"For me, the first combo was Jack Lord and Sean Connery," Wright says with a smile, recalling the inaugural cinematic Felix Leiter and James Bond in Dr. No (1963). "They were both just so suave and so powerful. They existed in this underbelly world that was dangerous and required daring and courage. All stuff that captures the imagination of a young boy."
When Sean Connery's Bond met Felix Leiter (Cec Linder) in Goldfinger, he dismissed the only woman present by saying, "Man talk." "I understood when I was a kid that [James Bond] was a fantasy and that it wasn't biographical. It was grounded in the history of espionage, and it was grounded to an extent in a certain kind of geopolitical reality. I didn't feel myself imprisoned by that. I realized that it was a fantasy. So while I was captured by it, I don't think that I necessarily wanted to be that type of man. Or emulate that behavior. It was kind of titillating. It was fun."
This isn't to say that Wright wants to remake Dr. No, complete with 1960s values and politics. Far from it. "I mean, I suppose, you're buying, to some extent, into a certain geopolitical perspective," he says. "I love James Bond, but I always had a very healthy skepticism of British colonialism and imperialism. If you think about these things critically, you understand the limitations of what that perspective is. I think I was able to do that as a kid."
The 21st-century James Bond franchise has moved those goalposts. The Felix and James of Casino Royale, Quantum of Solace, and now No Time to Die, don't behave at all the way their counterparts did in the '60s.
"I remember seeing Bernie Casey as Felix," Wright points out, citing another Black actor to play his Bond character, in 1983's Never Say Never Again. "So, this has been a process." The newer films not only offer a more diverse array of characters, but they also create huge consequences for Bond's more regressive world views, something that essentially defines the story of the new film."I hate to disappoint anyone, but [in 2006] I didn't think to myself; 'Oh, wow, I'm going to be a Black Felix Leiter.' I don't think of it in those terms. Yes, I'm trying to bring some of my rhythms, some of my cultural experience to whatever role I play. I hope that I'm not a part of a film, like the Bond film or for that matter, The Batman film, to present representation for representation's sake."
To illustrate his point, Wright talks about Gotham City. Next year, he'll star as Gordon in the highly-anticipated film The Batman, led by Robert Pattinson in the titular role. But at the same time, he's the voice of Batman himself on the tongue-in-cheek radio-drama-esque podcast, Batman: The Audio Adventures.
"Gotham City was crafted after New York City, by Bill Finger and Bob Kane," Wright says. "They lived in New York, up in the Bronx, and they were writing this fictionalized version of New York City from the perspective of guys who inhabited the city in 1939. If you're writing stories about a Gotham City in 2021, and it's inhabited almost entirely by white people, that creeps into the strange perverse fantasy about what urban America is. It just doesn't make sense to update the Batman suit and update the Batmobile and not update the citizens that populate the city. It's not for the sake of some strange political correctness. It's the reality of the world that we live in. And to deny it is to just to be dead. The reality is that we are a multicultural society here in America. We are, of course, a multicultural world. It's just a simple thing."
As a parent, as an actor, and as a man, Wright thinks there are all kinds of ways to sublimate certain things that might be called problematic. He points to the arc of Daniel Craig's Bond as proof that fantasies for men don't always stay the same.
"Daniel's Bond is much more emotional. He's much more concerned with love than he is with sexual gratification," Wright says. "The women in these films have more complex and dynamic roles than they did then. Something Daniel and I talked a fair amount about was how to bring that [emotionalism] to the relationship between Felix and Bond. During that era [the 1960s], they represented a certain type of masculinity that I think has been evolved, at least over the course of the films, to where we are now."
For Jeffrey Wright, our world isn't worse because of James Bond, and the exciting adventure and evolution of this fictional world represent dramatic and interesting change. At the end of the day, the daring stories of these characters are escapist fantasies containing grains of wisdom: Be loyal to your friends, regardless of what country you're from. Love your family. Save the day. Be a better man than you were yesterday. Wright admits there are drawbacks to the political and social baggage of what Bond once represented. But he stresses that as a kid, that wasn't the appeal. "Somehow he transcended all of that for me," Wright says wisely. "Because it was just about this guy."
No Time to Die is in theaters now.
This article was originally published on