Here's When The Last New Bluey Episodes Will Actually Get Released
Trying to keep up with the Heelers can be exhausting, but there are plans for more sooner than later.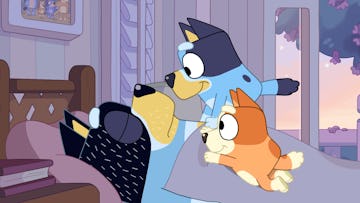 Disney+/ABC
In a short amount of time, Bluey has become an international sensation. A cartoon intended for the very young — that has just as many adult fans — is possibly one of the most popular TV shows in the world. Packed with hilarity, life lessons, and plenty of sneaky celebrity cameos, the series frequently ranks as the number one show streaming on Disney+. But, if Bluey fans have nitpick, it would be the weird release schedule of new episodes, not to mention, the long pauses between those new batches of episodes.
To be clear, more new Bluey episodes are on the horizon — beyond 2023's drop of Season 3B on Disney+ — but the exact release dates for those remaining episodes are somewhat murky. With a schedule that ebbs and flows across continents, divided by mandates from two different international media conglomerates, Bluey is the victim of unfortunate circumstances that result in confusing airdates. (If you were a fan of Doctor Who in the late aughts and early 2010s, you know how this goes!)
Anyway, the situation is as confusing as a recipe for Duck Cake, but Fatherly has the information to hopefully make the downtime feel less like waiting for a Sticky Gecko to fall from the ceiling.
What's happening with Bluey right now?
Bluey fans are currently enthralled in the never-ending third season of the show, which premiered its first block of episodes in its country of origin, Australia, back in September 2021. 11 months later, those same 26 episodes landed in the United States on the Disney umbrella of channels and their streaming platform minus one, "Family Meeting," which was briefly banned from the platform.
Since then, season three has been released in three chunks, with the most recent batch debuting in Australia this past April. American and international audiences typically have to wait a minimum of nine months before they're officially available to watch, but a release date for this last batch has yet to be revealed.
How many unseen episodes of Bluey are left in Season 3?
10 episodes from the most recent batch from the third season aired in this past April, including a pair of episodes that takes the Heeler family on a vacation away from home. Without going into spoilers, viewers can expect more of the usual from the family, including some chuckles and some heartfelt moments.
But here's a wrinkle: A fourth chunk of new episodes is also on deck to debut in Australia, but there have been zero announcements about when this is happening. So just to recap:
There are 10 "new" Bluey episodes not on Disney+ that have already aired in Australia (in April 2023), and that will make it to Disney+ at some point. (More on that below)
There's another batch of totally unseen episodes that haven't even aired in Australia yet, at all.
The final section has been reported to consist of three episodes, and some rumors have suggested these could be released as one 30-minute special.
Still, Regardless of how these episodes are shown, that equals another three episodes, for a grand total of 13 remaining episodes for Bluey lovers in the United States.
When will the next Bluey episodes hit Disney+?
Because it took about eleven months for Season 3 of Bluey to begin making it from Australia to Disney+, the same amount of time seems likely for these 10 episodes from Season 3C. This would mean we'd be looking at March 2024-ish, for those episodes to hit Disney+. It could be sooner, but early 2024 is a safe bet. It's also possible that the other unaired episodes could join this chunk of ten, but maybe not. For now.
Are these the final episodes of Bluey?
Contrary to some erroneous reports, Bluey is not ending after all this third season. A fourth season is planned, but the creative team behind the show is taking a well-deserved break before they begin pre-production for whatever comes next. There's no formal timeline about when Ludo Studio will reconvene to get back into the mix, so be prepared for a potentially lengthy wait. Rumors have also circulated about a Bluey movie being their next big project, but anything is possible
While there might not be a fourth season for a considerable period, there will still be other ways to enjoy Bluey. There's currently an app game available for little kids to play (although it's a bit problematic for families), and a proper video game coming in November for next-gen consoles to keep the Bluey love going.
Either way, in 2023, it's unclear exactly when these remaining thirteen episodes will appear, but for now, the answer is soon.
Bluey is available to stream on Disney+.