New Bluey Episodes Will Demolish Fans — And Confirm One Heartbreaking Fan Theory
The latest batch of Bluey Season 3 is unmissable.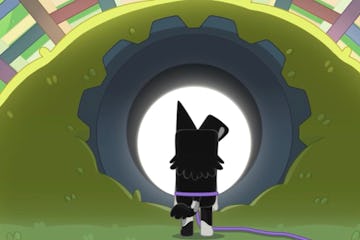 Disney/ABC
Activate dance mode! The wait has been longer than a sausage dog, but new Bluey episodes have finally arrived in the U.S. Starting on July 12, Bluey's third season continues with 10 new episodes debuting on Disney+.
If Season 3 of Bluey seems like it's gone on forever, that's because the season started in Australia back in September 2021, with the rest of the world getting the episodes close to a year later. Several factors caused the season to be split into three pieces, including lockdown and trying to meet the increasing fan demand, as well as some mysterious behind-the-scenes happenings. But now these "new" episodes have finally hit Disney+.
"New" Bluey Season 3B episodes, explained
Because Bluey is created, and airs in Australia first, Bluey fans in Australia already saw this batch of episodes (sometimes referred to as Season 3B) all the way back in June 2022 (Season 3C is currently airing in Australia). However, cunning Bluey lovers found ways to watch these simultaneously with the Land Down Under well before Disney+ announced their addition to the platform.
While there are some hilarious episodes among this group — including the return of a certain fan-favorite hand puppet — Season 3B isn't all laughs. Bluey always manages to touch on heavy topics that destroy the emotions of some adult viewers. Whether it's depression, anxiety, grief, or the general existential dread of raising kids, Bluey has been a therapeutic boon for a good portion of its audience around the globe.
This set of episodes has a few extremely intimate and hard-hitting stories. There's one in particular that will feel close to home for many parents who've had complicated pregnancies, and it's all tied to a fan theory that now seems more reality than speculation.
Here are the three episodes most likely to cause tears and deep feelings. Spoilers ahead!
(Note: The "new" episodes of Bluey Season 3, which were added in July 2023, start with the episode "Musical Statues," which is episode 28 of Season 3.)
Bluey Season 3B: Most Emotional Episodes
"Space" (Season 3, Episode 35 on Disney+) — Mackenzie plays "Space Explorers" with Jack and Rusty, but the game opens a traumatic memory from when this border collie was younger, leading him to seek understanding and catharsis through the help of his imagination.
"Space" is possibly the new "Sleepytime," because it hits that hard. This stirring episode also deals with separation anxiety but goes in a different direction by examining the abstract emotional state of abandonment through the eyes of a kid. Mackenzie huddled in a corner demanding to be left alone will resonate with a lot of viewers who suffer from similar traumas, and it's awful to watch a child that small look as depressed as an adult.
Watching Mackenzie stand in front of a giant black hole is a symbol of how big these emotions can become, practically swallowing him up once he's ready to walk into it and face his problems. With all its enigmatic symbolism, "Space" can be confusing at first for younger viewers (and especially at the end when Calypso somehow gets involved), but it's a powerful episode that tackles overwhelming insecurity in a beautiful way, wrapping up with a joyous conclusion.
"The Decider" (Season 3, Episode 37 on Disney+) — Disguised as an episode about a rugby game, "The Decider" is about picking sides, and who gets hurt along the way. Chucky is torn between supporting the favorite rugby team of his mom, Janelle, or the one Pat (AKA Lucky's Dad) roots for.
"The Decider" might trigger gut-wrenching flashbacks for those who have experienced parents splitting up. This one might also be one that affects kids as much as adults, making it a very tough watch for any age.
Despite being shown through a happily married couple, it's hard not to see an allegory for divorce in this episode. Chucky is given gifts to convince him to come to one side more than the other, there's name-calling (even if it's teasing related to the game), and a child is confused and disappointed that no matter what he does, one parent will always lose. Chucky doesn't care about either team — his dream is that both parents can cheer.
While it doesn't look like Chucky's parents have any marital issues in the show, there are single parents like Winton and Chloe's respective dads. Bluey recognizes not all families are the same, whether by choice or circumstances, and this intense six minutes offers a light at the end of the tunnel for the Labrador family and those with similar histories.
"Onesies" (Season 3, Episode 32 on Disney+) — Chilli's sister (i.e., Bluey's aunt), Brandy, hasn't visited the Heelers in years. When she finally does, Brandy makes one cardinal mistake — never gift a onesie to Bingo, unless you want to unleash her inner beast!
At quick glance, "Onesies" is an imaginative chase episode, as Bingo becomes a cheetah through her pajamas, trying to nom on her family. The heart of the story is when Brandy is revealed to be unable to have kids of her own, and this is the reason she distanced herself from her sister. When this episode debuted in Australia, it was all anybody was talking about because of this! There was some concern about whether this episode would be censored or removed completely due to the mature themes in it, but thankfully it made the cut.
Bluey has a solid history of exploring pregnancy issues in the setting of a kids' show. Season 1 gave us "Early Baby," where Indy recalls her sister's birth through recreations of incubation cribs, and other tender moments from that core memory.
How Bluey Season 3B confirms a big fan theory
One major fan theory that Bluey-heads have obsessed over is the idea that Bluey is actually a rainbow baby. This all began in "The Show" from season 2, where Bingo and Bluey put on a play for Mum and Dad about their parent's relationship. At one point, Bingo pretends to be pregnant with baby Bluey by stuffing a balloon down her shirt. The balloon abruptly pops, and Chilli's enjoyment turns into sadness, with Bandit immediately comforting her. The episode doesn't address this any further, but fans looked into this and began to wonder if Chilli had a miscarriage before Bluey was born.
It took some time, but eventually, we got confirmation that this was very much the case thanks to Isabelle Oderberg's book about miscarriage, Hard to Bear. In it, the author referenced the Bluey episode in question, and show creator Joe Brumm later responded later by confirming this was the case.
Now, in Season 3B's "Onesies," it's made clear that Chilli's side of the family has a history of fertility challenges. Be warned, there's one moment in particular that will trigger the tears, and being aware of it does little to soften the blow. Have lots of tissues ready for this one!
Bluey never shies away from weighty ideas, but the way they handle them is something special. The stories are rarely too on-the-nose, and always open for interpretation for as much as a viewer wants to dig into them. This group of episodes will leave an impact on many, and offer a way to cope for those who have gone through, or are going through, these same issues. Through the Heelers, some of us can heal.
Bluey is available to stream in the US on Disney+.