Natalie Portman And 18 Other Celebrities You Never Knew Were On Bluey
For real life! These famous people are hiding with the Heelers.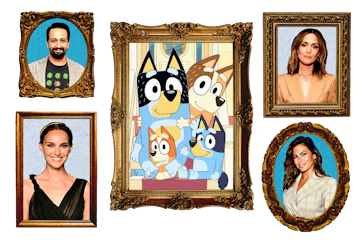 Ariela Basson/Fatherly; Getty Images, Disney+
Anyone who loves Bluey — either on their own or as a co-viewing experience — already understands the allure of the show extends far beyond kids. There are plenty of valid reasons adults with and without children enjoy this series. This is also probably why some adult celebrities have gotten themselves on the show. That's right, there's a handful of famous people who have lent their voices to Bluey episodes, and it's very possible you're not aware of any of them.
That said because Bluey is made in Australia, some of the "celebrity" cameos will be unfamiliar to American readers. But, as the show has grown in worldwide popularity, so has Bluey's celebrity fanbase. By the third season, American stars have appeared way more often. This means, hopefully, that whenever Bluey comes back from its break before starting work on Season 4, there's bound to be even more Hollywood stars popping up. As of now, here's an ongoing list of all the celebrities who have camoed on Bluey.
Meg Washington in "Calypso"
Songstress Meg Washington has been involved with Bluey since the early days of the show, first appearing in the first season episode "Calypso," named for her character. This Australian Shepherd teaches Bluey and her friends at school and utilized her chart-topping voice to sing songs on the show as well, including the memorable "The Gnome Song" from the "Dance Mode" album.
This character has appeared in many episodes, making her one of the more recognizable recurring adult characters outside of Bluey's family. Based on some fairly credible fan theories, there may be more to Calypso than just being an amazing teacher, although fans may never know the truth about how magical this watchdog truly is.
Hamish & Zoë Foster Blake in "Hammerbarn"
Hamish and Zoë hold a special place in Bluey's history. The real-life married couple debuted together in season two's "Hammerbarn," each playing an employee of the mega-store. Zoë was the cheerful cashier, and Hamish was the fed-up sarcastic one who "helped" Bandit find his pizza oven.
They returned together to play Jack's Mum & Dad in future episodes. This makes them the only pair of happily wed performers to work together twice in the series, including playing parents to two kids. It goes without saying they're both fans of the show in real life, and Hamish very much relates to Bandit in many ways.
Layne Beachley on "The Beach"
This multiple-time world champion surfer from New South Wales practically voiced herself during her first season cameo in "The Beach." As Bluey traces her mum's path across the shoreline while singing about being a mermaid with legs, she runs into Layne's character, headed out to catch some waves. The record-setting surfer tells Bluey to enjoy her legs because they only last a day, a short but very sweet and memorable line from this heartwarming episode.
Anthony Field in "Dance Mode"
If you want to talk about children's TV royalty, look no further than Anthony Field. Best known for being the Blue Wiggle in The Wiggles, Anthony first lent his voice to the Postie in "Dance Mode", bewildered by Bandit's rhythmic antics in this second-season classic. The only original remaining member of the iconic musical group, Anthony returned to Bluey to play Rusty's dad a few episodes later in "Army."
Perhaps as a thank you to Anthony and the contributions he and his group made to children during their tenure, a doggified version of The Wiggles showed up in the season three episode "Phones" as a framed photo.
Robert Irwin in "The Quiet Game"
In a show about animals, it makes sense for someone connected to that world to lend a voice. Robert Irwin spoke on behalf of Alfie in "The Quiet Game" from season two, helping Bandit figure out what toy to give Muffin while the girls remain silent, playing the aforementioned Quiet Game.
Irwin is a conservationist and zookeeper at the world-famous Australia Zoo, originally started by his Mum and Dad, Terri Irwin, and "The Crocodile Hunter" Steve Irwin. "I feel like I have a lot to draw from," Robert told the AP regarding his first time voicing an animal in a cartoon. "I definitely know the mind of a dog quite well. And it was fun to sort of step into those shoes."
Leigh Sales in "Baby Race"
While Coco's mum's first appearance was in season one's "Shadowlands," broadcast journalist and author Leigh Sales' most notable cameo was from season two in "Baby Race". The Australian Broadcast Corporation's award-winning Australian newscaster delivered the lines which destroyed so many struggling parents watching when Bella took Chilli by the hand and told her, "You're doing great!"
Sales returned in season three for "Tradies" as "Ice Cream Lady," and is bound to reprise this beloved poodle whenever called upon.
Sean Choolburra in "Grandad"
Regarded as Australia's premier indigenous entertainer, Choolburra is an actor, comedian, and storyteller who can now add Bluey to his diverse resume.
Maynard showed up in season two's "Grandad", trying to help hide Mort and the girls from Chilli, but was distracted by a bite on his fishing line. He returned in season three's "Explorers," where viewers learned Maynard runs a gas station, dislikes phones, and has an affinity for strawberries.
Darren Hanlon in "Sheep Dog"
Born in Queensland, musician Darren Hanlon is best known to Bluey lovers as "Alternative Energy Dog." No, he wasn't a superhero. He was a door-to-door sales dog trying to sell the Heelers on saving with their electric bill in season three's "Sheep Dog." Unfortunately for this good boy, Bandit has temporarily turned into a crazed sheep and ends up on the wrong side of the fray.
Hanlon claimed he went method for the role, joking that he studied spam callers to better understand his part. His one big wish from this cameo – seeing a plushy of his character!
Sam Simmons in "Fairytale"
While Grandpa Bob debuted in season one's "Grannies" voiced by Ian McFadyen, his younger version was played by Australian comedian Sam Simmons.
This season-three episode titled "Fairytale" is a load of fun, an 80's flashback that shows Bandit and his brothers as kids. Barely able to remember the names of children, Bob refuses to un-jinx Bandit, excited at the prospects of having quiet in his house.
No stranger to the world of animation, Simmons also voiced Mr. Wallaby in Peppa Pig in 2016 and currently plays Bad Tony in The Strange Chores.
Sam Cotton and Mick Molloy in "Tradies"
Here's another episode with two special cameos, both popular Aussies from different ends of the entertainment world. In season three's "Tradies," we meet a pair of handymen named Chippy and Sparky, who Bingo and Bluey affectionately nickname "Chocolate Milk" and "Big Belt."
Chippy is an Afghan hound voiced by comedian and cartoonist Sam Cotton, whose enormous TikTok has over 3 million followers. His character's name may be a reference to his many animations involving chips (better known to Yanks as French Fries), and the license plate for his girlfriend's car resembles "Seagull", another popular subject in his work.
Famed comedian and now the host of a popular radio talk show in Australia, Mick Molloy reveled in being the Irish Wolfhound who ultimately befriended the girls. This multi-talented entertainer has done plenty throughout his career, but Bluey seems to mark his first role in a cartoon show.
Lin-Manuel Miranda in "Stories"
If there's one voice that's unmistakable on this list, it's Lin-Manuel Miranda. The creator of Hamilton and In The Heights, as well as songwriter for Moana and Encanto, Lin-Manuel obviously played a species of dog known for their vocal cadence, right?
Nope, he was a horse. Miranda voiced "Major Tom," the talking horse who helps Indy and Winton in the third season episode "Stories." Before he landed the role, Miranda mentioned Bluey was what his family watched the most during lockdown. It's a good thing Lin is never satisfied, and was able to get this guest spot without throwing away his shot.
Eva Mendes in "Born Yesterday"
The Yoga instructor from "Born Yesterday" in season three was provided by model and actress Eva Mendes, star of Training Day, Hitch, and several films from the Fast and Furious franchise.
It turns out Eva is a huge fan of the show – for real life! "The producers from Bluey called [and said] listen, 'We know you love Bluey,' and I'm like, 'Say no more! I'm doing it," Eva explained in an interview with The Hollywood Reporter. "You think it's all fun —it is fun, it lands it and there's some really cool stuff there."
Rose Byrne in "Onesies"
For many adults, "Onesies" is the most devastating episode to watch in season three. It deals with the incredibly serious topic of infertility, juxtaposed with the family being chased around the house by Bingo wearing cheetah pajamas.
Rose Byrne brought sensitivity and nuance to the role of Brandy, Chilli's estranged sister who hasn't visited for years due to her struggles with pregnancy. It's a rough episode to watch, and Rose's performance takes audiences on a journey of grief, acceptance, and joy in an emotional six minutes of television.
Natalie Portman in "Whale Watching"
Sometimes, these cameos are blink-and-miss. In the case of Natalie Portman, her role as the narrator in the nature show Chilli and Bandit turn on while recovering from a night on the town in season three's "Whale Watching" is so subtle and perfect, it blends right into the episode without making a big fuss.
Portman landed the gig thanks to a perfect storm of things happening – in this case, a thunderstorm. Bluey executive producer Daley Pearson was performing a cameo in Thor: Love and Thunder, and saw Natalie reading Bluey books to her children in between he takes. It took practically no prodding to convince Natalie to contribute a voice, and the rest is history!
Ray Warren, Gordon Bray, and Jonathan Thurston in "The Decider"
"The Decider" meant a great deal to Australian fans, referencing real rugby league teams like the Queensland Maroons and The New South Wales Blues in animated form. Adding credence to the episode, real rugby personalities offered their signature voices to give it the true State of Origin experience.
Throughout the third season episode, in-game commentary and announcements were provided by legends of the game, like retired footballer Jonathan Thurston, journalist Gordon Bray, and NRL commentator Ray Warren, who retired in 2022 after announcing 99 Origin games through his career - now technically 100 thanks to Bluey.
Bluey also features some homegrown celebs from The Land Down Under as recurring characters, including stage and screen actress Miranda Tapsell as Dougie's mum in "Turtleboy", comedian Emily Taheny as a next-door neighbor and Judo's mum Wendy, Jane Hall as Rusty's mum, Adele Vuko as Jasper's mum, Anna Daniels as Lucky's mum Janelle, and Greta Lee Jackson as Buddy the pug's mum.
Stay tuned for updates to the list as Bluey released more episodes, and even more famous people, potentially, sneak, their way in.
Bluey is available to stream in the US on Disney+.