Is Bluey Ending? Massively Popular Kids Show Will Take A "Break" After Season 3
Here's why the show's relentless release of new episodes will slow down after 2023.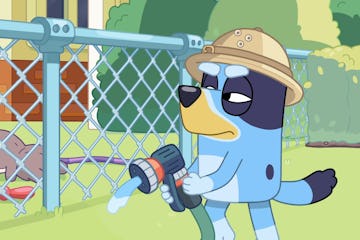 ABC/Disney
It feels like Bluey fans are living through a real-life version of the "Wagon Ride" episode, waiting as calmly as they can for more adventures with the Heeler family to drop like a sticky gecko on the ceiling. While there's still a handful of episodes yet to air, there's some sad new info for fans who share the same amount of patience as Muffin.
Alongside industry accolades and enormous television ratings, Bluey's popularity exploded since its debut, now including plush toys and articulated figures, snack foods, two albums, a touring stage show, and even a float in the Macy's Thanksgiving Day Parade. As the third season comes to a conclusion in Australia, with episodes from this group recently arriving on Disney+ in America, Bluey is on fire. But, the Bluey team is pumping the brakes. The team behind Bluey has recently announced they're taking a short break from the series before making plans for the future.
"We are just going to get our heads on a bit," explained Daley Pearson, Bluey's Executive Producer and Ludo Studio co-founder, in an interview with Australia's Courier Mail. "It's been four or five years and we've made 154 episodes. It is kind of unprecedented to do that back-to-back. It was very intense … We are just coming to the end of season three, and trying to think about what's the best way to make it better."
There's no concrete timeline for when season 4 will go into production, with Pearson adding, "The more we ask ourselves [when work will begin on season four], the longer it will be, which is why I hesitate talking about it too much."
Bluey has been non-stop since it debuted, and relentless in its production schedule. Internally, the studio aims to maintain the high-quality fans have come to expect of their work and don't take for granted the impact they made on their audience. "The amount of families who have taken Bluey in and trust this show with their kids, it's a privilege that we don't, and have never, taken lightly… ever," Pearson said.
Remaining Bluey Season 3 episodes
Australia still has the three-part Season 3 finale to air at a date yet to be determined, while Americans are waiting for those and the remaining 10 episodes which just aired in The Land Down Under. Following this, Ludo Studios promised a series of shorts (yes! even shorter than regular episodes!) that will pop up at some point after Season 3 concludes in Australia, which will hopefully find their way to international markets sometime later.
Bluey fans have grown accustomed to waiting, whether they like it or not. But it's safe to say Bluey fanatics will always be ready for more, no matter how old they are. And if you're feeling pressure in your own life, look at it this way: Even the people behind Bluey have to take a break.
Bluey is available to stream in the US on Disney+.