Bluey: Let's Play Mobile Game Explained — And Why Parents Are So Furious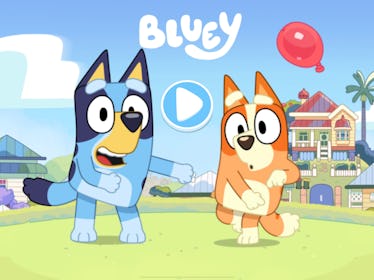 Budge Studios
Start charging your smart devices, because the first-ever Bluey mobile game just arrived — for real life! This officially licensed app invites kids and adults to explore the Heeler house to create new adventures with the familiar canine cast. But, there are a few flaws here and one huge problem that could make this game less fun, and many parents are already fuming about it.
So, is this game worthy of your child's valuable screen time? Fatherly sat with this app for a few hours to get the inside scoop and figured out what's the good, the bad, and the Muffin after she misses naptime.
Bluey: Let's Play, explained
Bluey: Let's Play is a mobile game based on the TV show Bluey. It follows the titular six-year-old Blue Heeler dog, her younger sister Bingo, Mum and Dad, and a who's-who of dog breed friends and family as they have silly fun, learn life lessons, and cause hordes of adults to uncontrollably weep.
Earlier this summer in Australia, Ludo (the makers of the Bluey cartoon) released their last big cluster of new episodes ahead of the season three finale, while Disney+ released a batch of episodes previously unseen in America. It wasn't long after when the folks behind the successful show revealed they'd be taking a break after the last episode of season three airs, meaning there won't be any new animated Bluey content for a long time.
BBC Studios joined with game maker Budge Studios to release this app on August 15, 2023, a welcome surprise during a Bluey lull. It's important to note this is not the same Bluey game that abruptly leaked last month, and there's still no new info to report on about it at this time.
How to get Bluey: Let's Play
Bluey: Let's Play is an app-based game available in the Apple App Store or in Google Play. This means it works on iPhones, iPads, or Android-based phones and tablets.
Bluey: Let's Play is advertised as a free-to-play "interactive app gaming experience" with "story-driven episodic gameplay with activities inspired by fan-favorite moments from the series." But, what does that actually mean? Let's open the app and take a look!
How to play Bluey: Let's Play
The game opens with a homepage of the Heeler home exterior, offering two free spaces to play (the kitchen and the backyard), five locked rooms (we'll come back to that!), and a sixth labeled "coming soon" that looks like episode "Camping."
Players insert characters in each room, dragging them with their fingers to place them in different areas. After a character is placed, they can interact with environmental elements, such as bouncing on a trampoline or using the tree swing in the backyard. Melanie Zanetti as mum Chilli is the only voice in the game, offering occasional lines of encouragement, or suggesting things players can do. Yes, that's right, you won't hear Bluey's actual voice in the game, just the mom!
Unique objects scattered around each room can be held by the characters, including some with animated features like water guns that can soak Bingo and Bluey, lawn gnomes that cause colorful flowers to levitate in the backyard Fairy Circle, or condiment bottles that squirt ketchup or vinegar. There are also objects that the characters can't directly interact with but are still interactive. Pictures frames on the wall can be straightened, lights flicked on and off, or Australian flora and fauna can be tapped to set in motion. After digging mounds of dirt by dragging a shovel on them, or raking the errant leaf piles, try building the pizza oven in the backyard by clicking on its unopened box. After it's assembled, feed your characters by hovering a slice over their hungry mouths!
Combining ingredients in the kitchen reveals fan-favorite foods like Pavlova, and yes, even Duck Cake! The shovels, rakes, and larger objects can't be held by any in-game characters, but all food items can be, and they make that classic big-eyed face of excitement when they do!
A boom box in every room plays a few familiar tunes from Bluey (emphasis on a few – it's just three), which can be just as easily cycled as it can be switched off. if you don't want to hear "Fruit Bat" on an endless loop, we recommend turning this off.
And, for the very observant, there are long dogs hidden all over the house, a running gag seen in every episode of the animated series.
Bluey: Let's Play isn't really free
So, here's the big problem for families. For a so-called "free-to-play" game, there's a hefty price tag attached if you want to enjoy the full Bluey: Let's Play experience.
The kitchen and backyard are currently the only free levels to play, and Bingo and Bluey are the sole playable characters. What's missing is the living room, bathroom, playroom, kids' bedroom, and deck, along with a load of Bluey and Bingo's friends, neighbors, and relatives like Mackenzie, Lucky's Dad, Rusty, and many more.
To unlock the remaining five rooms and 20 additional characters, parents will have to pay a monthly subscription of $9.99! This adds up to less than a third of the levels and only 9% of the playable characters available without spending even more.
Parents on social media have been vocal about the ongoing subscription model instead of one-time fees to permanently own these items. One parent wrote on Reddit that they were "never showing my kids this lol," while another added "I hope my son never finds out about this game.... it will break my heart to tell him that he can't have a game based on his favorite show because there is no way I'm going to pay $6.99 a month for any mobile game especially one for a small child." (Note: It appears some early downloads of the game featured a $6.99 price point, rather than the current $9.99 price.)
It's not unusual for games to offer premium elements or additional content with a real-world cost. My Singing Monsters makes a fortune using that model, and it built the Candy Crush empire. The difference here is once the subscription ends, everything disappears until the wallet comes out to restore them!
Since the game just launched, Budge is offering a special deal, charging $4.99 for the first month before kicking into the full amount on the next billing cycle. Parents can cancel at any time, but the fact remains – it's a monthly fee that's nearly the same as a streaming platform, except it's something only your kids will use instead of your entire family. To be clear, this isn't the kind of game that adults will enjoy, unlike the show, which adults can, of course, watch alongside kids.
Should you subscribe to Bluey: Let's Play?
Gaining access to the remaining levels add loads more playtime to the game. After all, it's five more rooms with distinctive toys and objects to interact with and 20 more characters at your child's fingertips.
On the deck, players can combine things to make sausage sandwiches or fairy bread. Bluey and friends can stack piles of plush toys or building blocks up to the ceiling in the kids' bedroom, while a Crocodile Dundee-esque toy in the living room can be filled with crocs until it pops! In the playroom, a piñata hangs from the ceiling ready to be shaken, or you can feed Chattermax for a big surprise. A box of balloons can be found here too, allowing players to play "Keepy-Uppy" using their finger, but not using the in-game characters — and that feels like a big mistake.
If you were hoping for the characters to play together in the game, that won't happen. The characters don't interact with each other, or the objects beyond holding them. They can bounce on beds or trampolines, or even play a drum kit found in the living room (one of the best parts of the game), but the depth ends there.
The most disappointing part of the paid version is the lack of additional voices. Yes, there are more lines from Melanie to guide players, but the rest of the cast remains silent. The fact that Muffin can't ride a flamingo in the backyard while screaming her head off is immensely upsetting to this adult fan, and fans of any age will lament it as a misstep.
Is Bluey: Let's Play fun?
Let's face it, paying a subscription for a game aimed at such a young group seems like the worst concept to parents. Here's why: Once a child gets a taste of the full version, it'll be near impossible to go back, waiting for the fateful day when they finally tire of the app. But, do the kids really need the paid version?
The greatest strength of the game is the open-ended storytelling. The player controls what happens, limited only by their imagination, and the toys available in their virtual toybox. It's the kind of game where the narrative is shaped completely by the player, and that freedom can be wonderful to explore.
There's a good amount of silly fun to be had with the free version, like making endless piles of duck cakes or ceiling-high stacks of plates or filling the room with cabbages from the fridge. It's just unfortunate how much is inaccessible behind that paywall. Kids are smart, too. It will be clear to them that they can't access the rest. Plus, it's very hard to create meaningful stories with only two characters, making the whole "free" claim feel disingenuous. There's potential here to keep your kids entertained and involved in a more mindful way than something like Cut the Rope 2, but a lot of that will vary depending on a child's imagination.
It's understandable why so many parents are upset about this. Most people would rather pay once to own something, rather than lease it in an endless cycle which ultimately becomes a forgotten fee haunting their wallets for days to come. A wholesome show like Bluey doesn't seem aligned with such a predatory level of greed, and it's frustrating to see the Heeler family compromised like this. It may be a Bluey game, but philosophically, this isn't really Bluey.