Everything We Know About The Bluey Movie — For Real Life
Rumors of a Bluey movie abound. Here's what's happening.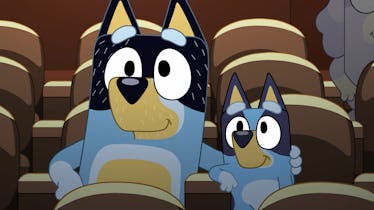 Disney/ABC
Bluey is easily the most popular kids' show on television around the world. The Australian animated series about a family of Blue Heeler dogs catapulted into fame in 2020, and its audience hasn't stopped growing. With more episodes coming in the future, and Blueymania reaching new heights, it seems like the perfect time to expand into bigger ventures.
So, will the Heelers join The Rugrats, Transformers, and other TV toons who moved the big screen? Will there be a Bluey movie? Let's sort out the fact from the fiction.
Rumors of a Bluey movie
According to a star of the show, a Bluey movie could very well be on the horizon.
The source of this rumor is Melanie Zanetti, who stars in the show as Chilli AKA Mum! Speaking during the red carpet at Australia's Logies Awards (the equivalent of the Emmy Awards in the US), Melanie was asked about taking Bluey to the big screen. "I do think it's time for a Bluey movie," she explained, "I would be 1000% open to doing that."
That's a pretty big statement, coming from the same event where Melanie also crushed a certain scandalous fan theory. The Bluey community has been clamoring for a feature-length film since before season 3 dropped, and while this isn't anything official from Ludo (the studio behind the series), it's still a glimmer of hope.
What would a Bluey movie be about?
It's trifficult imagining an episode of Bluey lasting longer than an hour. There's been a handful of thematically connected episodes, such as Bingo's birthday in "Duck Cake" and "Handstand" from season two, or a recent vacation arc in season three which hasn't aired yet outside of Australia (because the Aussies get the episodes first, and the rest of the world waits 8-12 months due to contractual obligations).
There are rumors the finale for this most recent season will be a three-parter, but that only adds up to around 21-24 minutes excluding ads. Bluey's Big Play has been successful, transitioning the Heelers from screen to stage, but even that is under an hour. It would take some clever planning to find a way to keep the little ones entertained for that duration, a task that adults can relate to in the season 1 episode "Movies."
Bluey movie release date?
Right now there's not a Bluey movie release date, because there's not a Bluey movie. In fact, Bluey Season 4 doesn't have a release date, mostly because the show is taking a break. With Season 3 coming to a close in its home country later this year, the folks behind Bluey are taking a break to recharge their batteries. So, after that, anything's possible. Maybe even a movie. If the show can maintain its viewership during the hiatus, and ideally increase it tenfold when it returns, the possibility of bringing Bluey to the big screen could be for real life!
Stay tuned to Fatherly though. This story is almost certainly going to develop.
Bluey is available to stream in the US on Disney+.