Bluey Voice Actress Shuts Down One Very Scandalous Fan Theory
Is there an affair happening in the background of Bluey?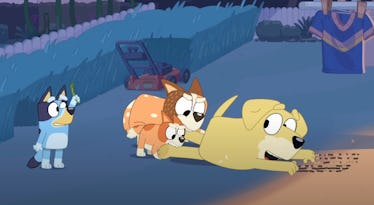 ABC/Disney+
No matter how old a Bluey fan is, the show is all about thinking beyond what's in front of the viewer and seeing things for what they truly are. For kids, this means, to think freely and explore new ways to interpret the world through play. For adults, it's about analyzing hidden messages, looking beyond the plot to find a deeper meaning. Sometimes, that results in outlandish fan theories. And now, one of the stars of the show just addressed a big and very salacious fan theory and has had enough of it.
Melanie Zanetti, the voice of Chilli Heeler, chatted with Yahoo Lifestyle during the Logie Awards; an awards show similar to the Emmys which celebrates Australian television programs. When asked by the reporter about wild Bluey fan theories online, Melanie set the record straight.
"I've heard some slanderous things about Chilli and Lucky's dad, which are not true, just for the record!" She finished with, "Bandit and Chilli forever!"
Rumors about a secret tryst between Chilli and Lucky's Dad, Pat, have been around since the first season of Bluey. Many Redditors postulated something fishy was going on between the pair based on their interactions in several episodes. For example, in "Dance Mode," Pat really enjoyed Chilli's smooth moves while crossing the street, while Chilli was quick to compliment Pat when he showed off during "Stumpfest."
In contrast to this theory, others speculate about a hidden affair between Bandit and Wendy, Judo's mum. Some have even suggested the Heeler parents are swingers, based on the pineapple motif seen through the family home that is often used as a symbol for those who engage in open adult relationships.
There are other fan theories that have been proven truthful, with new ones forming (like who really is Calypso) after every new batch of episodes. A show as wholesome as Bluey will never tread into murky waters about topics as mature as open relationships unless they really wanted to get the show banned. Headcanon notwithstanding, viewers will believe whatever they want, whether it's fact or fiction.
A new group of Bluey episodes recently dropped on Disney+ in the US, while Australia is gearing up for the third season finale very soon. There's no info on when the fourth season will show up, with the Bluey creators taking a break to refresh themselves. When the series does return, it's highly doubtful we will hear Bluey say, "This episode is called Ménage à Trois."
Bluey was nominated for Outstanding Children's Program at the Logies, but ultimately lost to Crazy Fun Park, surprising everyone in attendance and around the world. "I know everyone comes up and goes, 'We didn't think we were going to win,'" explained Crazy Fun Park creator Nicholas Verso, "But seriously, we were up against Bluey."
Bluey is available to stream in the US on Disney+.