Bluey Video Game Is Coming Soon – But When Will We Get To Play It?
A button-mashing version of the Heeler family is really happening.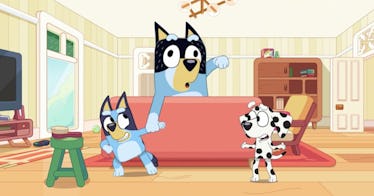 ABC/Disney+
Bluey is an easy show to fall in love with. It's given families a show they can all watch together and legitimately enjoy. Even though it's only been out since 2018, we ranked it very high on our 100 Best Kids Shows list for a reason. And now, like all classic kids' shows, Bluey will be turned into a video game. But when is this actually coming? And what will the Bluey video game be like?
Is this for real life? Seemingly, the reports of the Bluey video game are real. The first report was discovered, oddly, by a gaming bot on Twitter, which searches for new video game classifications coming to Australia. It revealed a listing for a new Bluey video game, complete with a few other details to tantalize gamers. So far, other outlets are reporting this as legit confirmation, too. But, it's possible we could still view this as a "leak," since it's not been actually announced. At this point, here's what we know.
What's the Bluey video game about?
The official description for the game reads:
"Follow the Heeler family on a holiday adventure to find a treasure hidden by Bandit and his brothers many years ago. The game takes place in 5 iconic show locations, and its story mode tells a family-friendly adventure about creating your own cherished memories with your family."
Which "iconic show locations" the game will include remain a mystery. The Heeler house has to be one of those, and Calypso's school will likely be another. Perhaps the game will revisit some familiar places like the campgrounds where Bluey first encountered Jean Luc, or trek back to the beach, where the Heelers have holidayed in previous episodes.
What kind of game will the Bluey game be?
It's too early for an age-listing since there's no gameplay to grade yet, but it's safe to bet the Bluey game will be intended for very young children. Adult Bluey fans will have to wait longer for a JRPG Final Fantasy-style epic. Sigh.
There's no official info on what families can expect from gameplay, but Bluey seems ripe for a WarioWare experience, with mini-games galore to move the story along. For a show all about creativity where no two episodes are alike, offering a game with many smaller games seems like the perfect method to offer diversity for little kids while maintaining the integrity of the show. Imagine a classic pong-style game with Bandit and Stripe, a follow-the-leader rhythm-based game like "Dance Mode," or a virtual version of the game that launched the entire series, Keepy Uppy.
If this theory becomes reality, and Muffin doesn't get a Mario Kart-style racing mini-game among them, expect a few riots to break out on social media.
What systems will the Bluey video game get released on?
According to the classification listing, the Bluey game will be playable on PC, PS4 and PS5, Xbox One, Xbox Series X/S, and the Nintendo Switch. The Switch is an obvious choice for a title like it, allowing gamers to play it at home or on the go.
While the Switch allows for portability, this is not a mobile game, so playing it on a smartphone is out of the equation. Likewise, playing the Bluey game on a Mac is also currently not listed, so PC and console gamers will be the only ones able to enjoy it.
Who's making the Bluey video game?
The publisher is Outright Games, a company with an extensive history of publishing video games based on licensed franchises. Their catalog focuses primarily on general ages games aimed at younger children, highlighted by titles like Peppa Pig, Paw Patrol, DreamWorks Dragons, and PJ Masks.
The developer is Artax Games, an independent company based in Spain that specializes in children's games. Their previous work includes mobile games like Super Splat Dogs, and the Ruff-Ruff Tweet and Dave series, as well as the multi-platform Iro Hero and The Crow on the Stone.
When will the Bluey game be released?
The listing unfortunately lacks any indication of when gamers can expect to have this in their hands. The likelihood of it coming out this year is not impossible, but there's no concrete evidence to point us in any direction other than pure speculation.
Wait, aren't there already Bluey video games?
The new info about the Bluey game marks the first official console game for Bluey. But, as of right now, the official website features some web-based games of Keepy Uppy and Magix Xylophone.
Bluey is available to stream in the US on Disney+.