The Best Dad Jokes of the Past Decade
From stand ups, Twitter dads, celebrities, and one President.
by Fatherly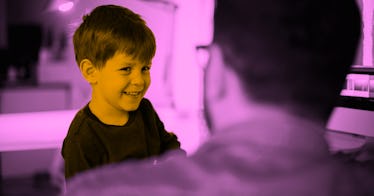 What, really, is a dad joke? It can be a corny one-liner or a sharp pun; it can be educational or mischievous. But, more broadly, it should wrestle broadly with the weirdness of what parenting brings: the personality changes, the relationship changes, the major life changes, the weird, random shit kids spit out on a daily basis. When thinking about some of the best dad jokes of the past decade — and, yes, we mean some because there are too many to count — we went with those that we went back to again and again. Musings from stand ups, Twitter comedians, celebrities, and one former President. Some came big with the corny; others distilled the big picture realities of parenthood and modern life (the good, the bad, and the very ugly) into bite-sized pieces. All made us laugh.
Cran-Fastic
The Joke: "When somebody at your table tells you that you've been hogging all of the side dishes, you can't have any more, I hope that you respond with a creed that sums up the spirit of a hungry people: 'Yes, we cran.'"
Who said it: President Obama. No president embraced the dad joke quite like President Obama, who, with a gleeful grin, snatched every opportunity to drop a cringe-y pun or corny one-liner. In particular, his annual turkey pardoning ceremonies were an excuse to let loose a salvo of Thanksgiving-centric jokes, like the one above.
That's Cold
The Joke: "Went to Disneyland because my daughter's obsessed with Mickey Mouse. She was so excited when I got home and told her."
Who said it: Ryan Reynolds. After welcoming his first child with Blake Lively in 2014, Reynolds, he of the perfectly coifed hair and oh so many quips fully embraced the self-deprecating, did-he-really-just-write-that? art of dad tweeting. More examples: "Can't decide between a midnight blue minivan with all-wheel drive and foldable rear seats or a coffin.";" Being a Dad isn't just about eating a huge bag of gummy-bears as your wife gives birth. It means being comfortable with the word hero." Dad twitter is often filled with very unfunny stabs at humor. More often than not, Deadpool lands the blade.
Annihilating Grief
The Joke: "If one more person wishes me 'strength' on my 'healing journey, I'm going to throw a balloon full of piss in the window of every candle store on the planet."
Who said it: Patton Oswalt. Is this a traditional dad joke? No. But context is everything. This line is said in Oswalt's Netflix comedy special Annihilation, in which he deftly combines his traditional absurdist, and often brilliant, comedy while also opening up about the death of his wife, crime writer Michelle McNamara and what it was like for he and his daughter. The special has as many wet-your-pants moments as emotional-gut punches. That he manages to tip-toe across the wire to achieve both is extraordinary.
There Are Too Many For Me
The Joke: "We have five children and there were moments when I was like, 'Oh, my gosh, if anything' happens to my wife, those five kids are gonna be put up for adoption."
Who said it: Jim Gaffigan. On his 2017 special Noble Ape, Gaffigan also mined humor from difficult circumstances, weaving his classic every man jokes about food, schlubbery, and dad-life, while also telling the story of his wife's cancer scare and resulting surgery. It was scary stuff (Jeanie, is fine; she co-wrote and directed the special with her husband) but he manages to be himself while dredging up funny vingettes about eating her recovery food gifts, the strangeness of hospital names, and his dopey inability to understand medical jargon.
Impressive, Man
The Joke: "I forgot the diaper bag so I'm at the doctor's office with diapers hanging out of my pockets and I think the moms in the lobby are impressed."
Who said it: James Breakwell, aka @XplodingUnicorn. Few comedians have nailed the Twitter dad joke game — and the unintentionally hilarious things kids say — as deftly as James Breakwell. He regularly shares musings on parenthood, often told in script-formatted exchanges between him and one of his four young daughters. His clever tweets have earned him more than 1 million followers and a host of others who've tried — and largely failed — to replicate his style.
True Vulnerability
The Joke: "Every time my father shaved his beard, it was the only time we saw him look vulnerable."
Who said it: Adam Sandler. Sandler's return to stand-up in 100% Fresh showed that even the funny, fratty dude friend you loved in the 90s can evolve into a loving parent without losing the silliy, sophomoric humor that made him so genuinely lovable to begin with. For men born in the eighties and who grew up in the nineties, watching Sandler's new standup special is like having a drink with that guy you knew in high school only because he happens to be in town and you're the only person he knows in this new city where you happen to live. You weren't best friends with this guy, but it's nice to check-in with what another man thinks about being older.
Serious Stuff, Man
The Joke: "This is serious stuff, man. I'm going to put this on video for you, and when you're old enough, we'll come back and watch it. Deal?"
Who said it: Roy Wood Jr. In Father Figure, the Daily Show correspondent wrestles with race, politics, and what it's like to be a black man in America today. It's smart, hilarious, and important stuff, which makes the line above, which Wood says backstage to his newborn son, all the more meaningful. And funny — he's saying it to a newborn, after all.
Parental Guilt Knows No Boundaries
The Joke: "I don't know if you know, but every time a brown father says log kya kahenge, a star actually falls from the sky. 'I don't want to be a doctor!' 'Log kya kahenge!' No! 'I don't want to marry!' 'Log kya kahenge!' Why? I bet you, when Mahatma Gandhi told his parents he was going to liberate India, even they were like, 'Log kya kahenge! 'Stop marching. The British are going to talk shit about us. Why are you bald and skinny? You're never going to get married.'"
Who said it: Hassan Minhaj. "Log kya kahenge" is a Hindi phrase that roughly translates to "What will other people think?" It's something that defines a lot of cultures, as it's more or less a passive aggressive way of guilting someone into sticking to cultural norms. When telling a story about his own father's use of the phrase on their visit to meet Minhaj's fiancé for the first time during his special Homecoming King, Minhaj nimbly pirouettes around a ridiculous — and touchy — subject that speaks to a parent's fear of change.
She Doesn't Like It When We Talk
The Joke: ""She's like the meanest heckler I've ever encountered, like a heckler who not only hates what I'm saying but every word individually in any context. Then my wife said, Oona doesn't like it when we talk."
Who said it: Mike Birbiglia. In The New One, a taping of his one-man Broadway show of the same name, Birbiglia, of Sleepwalk with Me fame and the fantastic film Don't Think Twice, yet again shows off his storytelling chops, weaving a yarn about becoming a first time dad. The story, which, like all Birbiglia material is very linear but goes on 10-minute long side trips, is mostly focused on marriage and fatherhood, which means that Birbiglia alternates between feeling sorry for himself and making fun of himself. But one of the best bits this small line that focuses on his newborn daughter and speaks to what happens with parents realize they can no longer speak to each other. And not for any reason other than your kid won't let you. This joke is hilarious, and partially because it's a very common thing and literally no one ever talks about it
Communication Challenge
The Joke:. "I was married for 16 years. Yes. That was a long run. Hamilton won't last for 16 years. I was married for 16 years in the era of the cell phone, which means my 16 years is actually longer than my parents' 40. In 16 years, I had more contact with my ex-wife than my parents had in 40 years. Okay? My father used to leave for work at 6:30 in the morning and come home at 8:30 at night. And during the day, he and my mother had absolutely no contact at all. None, okay? That's what a relationship used to be. The kids could have been dead, but he wouldn't have found out until he got home. "The kids are dead." "What time did they die?" "Eight hours ago." "Damn, I missed it." And you know what else? They actually missed each other. They actually missed each other. You can't miss nobody in 2017. Not really. You can say it, but you don't really miss the motherfucker, because you're with them all the time. They in your fuckin' pocket. As soon as you leave, you get a fuckin' text. You get a ping. You get a beep. You get a fuckin' Facebook. You get an Instagram. You get a fuckin' FaceTime. And then your woman says, "You act like you don't wanna talk." What the fuck are you talkin' about? I know everything you did today and I know how people felt about it. I gave you five likes, bitch. I gave you three smiley faces and an eggplant."
Who said it: Chris Rock. In his fantastic 2018 special Tambourine, Rock wrestled with everything from divorce and infidelity to porn addiction and police shootings. His most memorable bit, while not about fatherhood specifically, speaks to the difference context of marriage today: we are always connected so what's the point of connecting when you get home? The point he makes in the special — he does, after all, openly reckon with his past failings — is that that connection matters. Otherwise, you'll be on stage talking about how it all went wrong.
This article was originally published on