Scarlett Johansson's Baby Is More Popular Than Her And Parents Can Relate
See, a baby can make you cool. Even if you're Scarlett Johansson.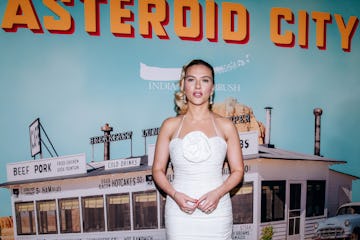 Nina Westervelt/Variety/Getty Images
Scarlett Johansson admits that she was able to bond with her co-workers on the set of her latest movie thanks to some help from her family.
According to People, Johansson admitted that her son Cosmo and her husband, Colin Jost, helped make her popular by proxy on the set of her new movie, Asteroid City. And while some might think her performance — or her own star power — might have made her friends on set, it was their son who totally stole the show.
"I actually wasn't popular; it was just the baby," Johansson said. "People were excited to see the baby, not me. They're like, 'Oh, it's you. Where's baby?'"
Since Johansson's baby was young while she was filming Asteroid City, Jost, and Cosmo joined her so she could spend time with them between takes.
"My family came [with me to set]," she recalled. "My husband and baby did because we had just had a little baby."
She wasn't the only one who had family join her, but her son was definitely the youngest set guest.
"Some people had partners that came up," Johansson continued. "Most people were alone, I think. A lot of people had children too, but maybe a little bit older."
"I just had a tiny, tiny baby," she said, adding that Cosmo was like the "set baby."
Jason Schwartzman, a co-star of the film and a frequent collaborator of Wes Anderson's, said that he thought all the cast members were "excited to see the joy" of a brand new baby.
Earlier in the week, Johansson shared the secret to a happy marriage. In her opinion, the magic answer is simply laughter and connection.
"I'm married to a writer; he's a comedy writer," she said. "He can get, like, very in his head sometimes, he's sort of introverted. I'm extroverted, and so I think the key for us is just always checking in, just asking at the end of the day, 'How was your day?'"
Her secret to a happy marriage certainly ties into her husband and son being there on set with her for the movie. And while she and Jost have only been married for three years, she's not the first Hollywood celebrity to say that spending time with your partner and making each other laugh are secrets to a happy marriage. Rita Wilson, Tom Hanks, Kevin Bacon, and Kyra Sedgwick have all shared similar sentiments, and those couples have been married for several decades.
Asteroid City hits theaters on June 23, 2023.