35 Years Later, Tom Hanks and Rita Wilson Are Still Marriage Goals
Here's some of their best marriage advice.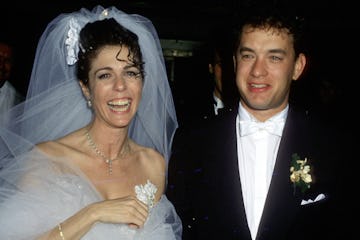 Jim Smeal/Ron Galella Collection/Getty Images
In late April, America's favorite couple — Tom Hanks and Rita Wilson — celebrated their 35th wedding anniversary, a massive milestone for any marriage but especially so for marriage in Hollywood.
To make the occasion, on Sunday, April 30, Wilson shared a photo of her and her husband on social media and marked their special day with a cake.
"35 years of marriage," she wrote. "April 30, 1988. Love is everything."
But what's their secret? Many Hollywood couples have them — or, in Kevin Bacon's case, pretend they do not. But over the years, Wilson and Hanks have both doled out snippets of wisdom on how they work through the ebbs and flows of life while remaining in love.
Back in 2015, when Hanks was asked what his secret to a long-lasting marriage was, he said it boiled down to three words: "Don't be stupid," he joked. "I think that anybody that gets married is partaking in an act of bravery."
But, really, through their 35 years together, Hanks and Wilson have been through a lot together. And, at the center of other nuggets of wisdom they've dropped over the past three decades is that they're each other's biggest cheerleaders.
In 2015, Wilson was diagnosed with breast cancer, and she said having Hank by her side was pivotal. "I was so amazed, so blown away by the care my husband gave me," she told New York Times. "It was such a normal, intimate time."
And Hanks, again, was there to sing her praises. "All I can do is bow down before the courage of my wife."
And decades ago, in 2001, Hanks told Oprah that marriage isn't like what you see in Hollywood movies.
"I won't deny that [fate] was part of us finding each other, but our relationship isn't magic the way it's shown in movies," he said, according to Brides. "In real life, our connection is as concrete as me sitting here. We both know that no matter what, we'll be with each other, and we'll get through it."
He continued, "My wife has made me 100 percent man. I was only about 68 percent until I met my wife. That woman has loved me skinny, she's loved me fat, she's loved me bald, she's loved me hairy. That woman, I know, loves me. I'm a lucky man."
In 2019, when Wilson was inducted into the Hollywood Walk of Fame, she told Us Weekly her marriage is "like anything. We got married, we committed to each other, we love each other and we work hard at our relationship."
"Not only do we love each other," she continued, "we really like each other, and we like being together, and we support each other and we keep the communication channels open. That's always important."