The Secret To Kyra Sedgwick's Marriage To Kevin Bacon Is Totally Delightful
Kyra Sedgwick talked about the pressure she feels to keep her "long and happy marriage."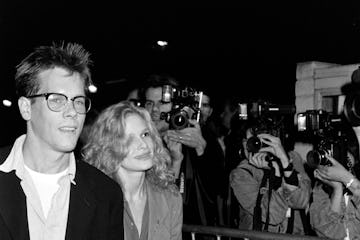 WWD/WWD/Getty Images
By any standards, being married for 35 years and counting feels rare to find. However, actors Kyra Sedgwick and Kevin Bacon have not only been able to maintain their romance and friendship for over three decades, but they've done it under the lights of Hollywood and all the pressure that comes with that. And what's their secret? The key is a four-word sentence, according to Sedgwick. And it's a pretty funny four-word sentence that seems just too easy to be true.
In a new interview with Salon, Sedgwick opened up about her marriage with Bacon and the pressure she feels to keep her "long and happy marriage" for others. She also revealed a simple but effective secret to making a marriage last through all the good and bad times.
"Everybody always asks you about your long and happy marriage," the Salon reporter asked Sedgwick. "I don't want to ask you about that part of it because I don't even want to know what the secret is. But do you ever feel pressure?"
Sedgwick admitted she does feel pressure, but that's not the whole picture. "My gosh, I totally feel pressure. I feel pressure," she shared, "but I also feel pride, which is funny because I think that for so many years, I was quietly proud of us."
She continued, "It felt, there's this word again, but like a lack of humility to be proud somehow. Now I'm like, actually, there's humility in the pride. Because it's been a long time, and it hasn't always been easy, of course."
But being in the public eye has made them aware of how much people are really rooting for them, recalling a story of an argument they had that made headlines.
"It's funny because it's been a lot of years, but one time we were in our 10th or 20th year, and we had a fight at a restaurant. I ended up in the paper, and it was just like, 'Oh, can't even have a little argument?'" she recalled.
"It was barely even an argument. We didn't fight; it wasn't loud, but whatever they saw. I feel like we have a lot of people counting on us to make it work."
As for the secret to why their marriage works, it actually sounds really simple — practically hilariously so.
"But the truth is, the secret to a happy marriage is not getting a divorce," she admitted. "I just heard that, now I'm going to steal it. Someone said it. I can't remember who."
Of course, advice like that isn't so simple — but it is funny to think it could work out as simply as that. After all, Kevin Bacon once gave his own hilarious piece of marriage advice — that you should never take marriage advice from celebrities.
But in all seriousness, Bacon also shared that the secret he has to make the marriage work with Sedgwick is all about the little things that help them continue to fall in love with each other.