50 Years Ago, James Bond Fully Rebooted With The Most Dadcore 007 Ever
This really never happened to the other fellow...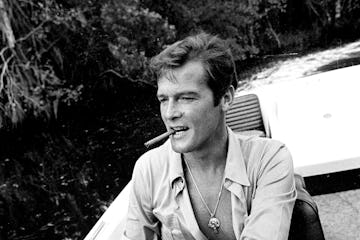 Anwar Hussein/Getty Images News/Getty Images
What if James Bond smoked cigars and drank bourbon? Prior to the 1973 film Live and Let Die, the image of James Bond was a guy who rocked cigarettes and sipped martinis. But, fifty years ago, on June 27, 1973, Roger Moore took over the role of 007 with a movie that could never be made today. Although the legacy of Moore's Bond has grown more positive over the years, his first film was an utterly bananas mishmash of styles that is largely remembered more for its title song than for anything that happens in the actual movie. But, fifty years later, Live and Let Die is still essential Bond-viewing for one key reason: This was the movie that tried to actually make Agent 007 seem like a regular guy and succeeded in creating the most dadcore Bond ever. Mild spoilers.
Prior to being cast as Sean Connery's successor, Roger Moore was already a household name. This feels hard to believe, but it's utterly true. As the titular character of the spy-mystery TV series The Saint, Roger Moore had already been playing a James Bond-ish character for eleven years before Live and Let Die hit theaters. This means that in 1962, the same year Sean Connery first starred in Dr. No was also the same year that Roger Moore debuted as Simon Templar in The Saint. Based on the novels Leslie Charteris, the character of the Saint also pre-dated Ian Fleming's Bond by twenty-five years, meaning, in some ways, Roger Moore had been playing the original literary Bond for over a decade before he became the cinematic Bond.
But, there's one big difference between the Saint and 007: the Saint works for himself and is more like Batman, while, of course, 007 works for MI6. In a sense, in Live and Let Die, Roger Moore embodies a more independent James Bond. We don't see 007 at all in the pre-titles teaser, and when we do catch up with Bond, he gets his assignment from M (Bernard Lee) while he's at home, in his flat. Bond makes his boss a cup of espresso, which M regards with disdain, saying of the at-home coffee maker "Is that all it does?" It's like the reverse of an OK Boomer eye-rolling from M's generation to Bond's, which gives the illusion that this version of 007 is younger and hipper than Sean Connery.
In reality, Moore was three years older than Sean Connery, and 45 years old when he filmed Live and Let Die. This made him fifteen years older than George Lazenby was in On Her Majesty's Secret Service, and fourteen years older than Sean Connery had been in Dr. No. In 2023, this historical fact bodes well for the over-forty crowd who may-or-may-not become the successor to Daniel Craig. (Henry Cavill, a fan-favorite to take over as Bond is only 40!). But the truth is, Moore's appearance as a younger, bare-chested Bond, combined with his actual older age created the synthesis of what James Bond became for generations of movie-goers; a corny dadcore hero. When using his magnetic watch to takedown the zipper on the dress of a French secret agent, Moore's Bond responds to a compliment by saying "Sheer magnetism darling." At this moment, Bond basically becomes a parody of himself, and, honestly, it's glorious. Even the name "Roger Moore," feels like it could belong to a '70s adult film actor, which only makes the corniness of Live and Let Die work even better. On top of all of this, Moore owns the silliness of James Bond, which is partly why Live and Let Die is (mostly) so rewatchable.
The theme song for this film was, famously, composed and sung by Paul McCartney, while the score traded the usual Bond composer of the time, John Barry, for long-time Beatles collaborator, George Martin. At times, Martin's score makes you think you're watching a movie that is slightly better than it actually is. This doesn't mean the score is better than a John Barry Bond score, but it does fit this film perfectly, for better or worse.
Although Live and Let Die contains some cringeworthy moments inspired by Blacksploitation films of the '70s, overall, the film almost goes out of its way to make James Bond seem uncool. His Black allies in New York are cooler than him, as is the villain, Dr. Kananga (Yaphet Kotto). Jane Seymour as the Tarot-reading Solitaire is way cooler than Bond, and, even though Gloria Hendry's Rosie Carver is presented as scatterbrained, she feels way more down-to-Earth than Bond. The only way to make James Bond seem cool in this movie is, basically, to create a ridiculous Southern cop, J. W. Pepper, who is best described as Dukes of Hazard character dropped into a Bond movie.
The humor of J. W. Pepper probably hasn't aged well with most audiences, and why the character came back from the next film, The Man With the Golden Gun, is baffling. But, the existence of this "quirky" Sheriff is a microcosm for everything about Roger Moore's Bond era; Moore played Bond like an uncool dad who thought he was cool. And then, upon meeting J.W. Pepper, we were sure that yes, Bond was cooler, if only slightly, than this joker.
James Bond never wears a dinner jacket or a tux in Live and Let Die, which is another reason why the movie feels more dadcore than its predecessors. Bond's globetrotting isn't Eurocentric either, he goes to places many American audiences actually visited or lived in; specifically, Harlem and Louisiana. The chase sequences are impressive, but, for Americans, there's a sense that this was the movie where you could imagine Bond in your backyard. In some ways, Live and Let Die was the template for the style of action hero we got on American TV in the following decade with shows like Knight Rider. Yes, it was all over the top, but you could picture it all actually happening. In what might be the absolute best scene in the movie, Bond hijacks a small plane, at a flying school, and takes an old woman named Mrs. Bell along for a joyride. Bond never actually makes this plane fly, but merely drives it around, breaking off the wings, and evading the bad guys. At the end of the scene, he says, charmingly, "Same time tomorrow, Mrs. Bell?" in a way that feels like a punchline that shouldn't work, but totally does.
007 driving a plane with no wings, and never taking off might make Roger Moore sound like an utterly uncool James Bond. And, in 1973, that was kind of the point.
Live and Let Die is currently streaming to rent on Amazon. on Here's Fatherly's guide to where to stream all the James Bond movies right now.