Who Will Be The Next James Bond? Here Are Our 10 Best Bets
Who will replace Daniel Craig? Here's what the field of 007 hopefuls looks like.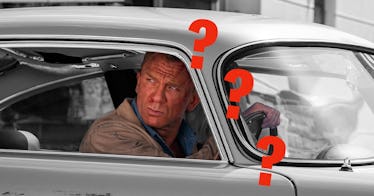 MGM
Who will play the next James Bond? It's now been well over a year since Daniel Craig's swansong in No Time To Die, and the casting rumors for the next 007 are bonkers.
Historically, Craig's tenure as Bond was somewhat unprecedented insofar as he's been embedded into the public consciousness as James Bond for a decade-and-a-half, with a significantly smaller output than at least two of his predecessors. Craig's new Bond films became cultural events insofar as they were anticipated as much as they were actually watched. So, who the hell is going to replace him? Bond boss Barbara Broccoli has gone on record that the character of James Bond will always be a man. But what will that man look like? Will it be an actor we've already heard of? Here are our wild predictions, ranked from least likely to most likely.
10. Richard Madden
After his turn in the Marvel epic Eternals, 36-year-old Richard Madden has suddenly jumped onto many lists of oddsmakers. Although the betting odds of who will play an actor in a big movie franchise don't always reflect reality, in this case, this makes a certain amount of sense. Madden looks the part, he's Scottish (like Sean Connery!) and is sort of the perfect age: Not too young to be a convincing Bond, but not too young that he can't do several movies before retiring.
9. Idris Elba
For years fans and pundits have wondered if the mega-popular actor Idris Elba would take up the mantle of 007. Elba has gone on record many times saying that it's not going to happen. But recently, certain tabloids have suggested he is going to be in a James Bond movie — but not as Bond. Instead, the rumor (and it's just a rumor) is that Elba would play the villain. This is a path Elba has gone down before, playing the villain in Star Trek Beyond (2016) and in the Fast and Furious spinoff, Hobbs & Shaw.
So, will it happen again with Bond? Although Elba would be great in a Bond movie — playing 007 or not — the whole thing feels very unlikely at this point. There have just been too many denials over the years and having Elba show up as a baddie after the public wanted him as Bond feels like slap in the face. If we're wrong, we're wrong, but Elba as Bond feels like it probably won't happen.
8. Matt Smith
Okay, so, Matt Smith isn't technically on any of the lists — except ours! If you're familiar with the actor — who just slayed it in Last Night In Soho — you know he has a certain danger to him and a certain goofiness. If the next era of Bond went in a more lighthearted director, Matt Smith could become the Roger Moore to Daniel Craig's faux-Connery. In a good way. Plus, when Smith starred as the 11th Doctor in Doctor Who, he proved he could rock a bow tie, something essential for Bond. Bow ties. Are. Cool. And so is Matt Smith.
7. Tom Hardy
He's been Bane. He's been Venom. He's even played the younger clone of Captain Picard. Could Tom Hardy make a convincing James Bond, or do we associate him too much with anti-heroes? Back in September 2020, a huge rumor made the rounds that not only was Hardy in contention to play Bond but that the deal was a lock. Since then, we haven't heard much, but if there's one actor on this list who feels very similar to the rugged and dangerous feeling of Daniel Craig, it's probably Tom Hardy. But will it happen? Is Tom Hardy 007's reckoning? Some betting sites and oddsmakers are saying Hardy is in the top slot. It doesn't mean anything, but people are (literally) betting that Hardy could get it.
6. Regé-Jean Page
The star of Bridgerton seems like a great pick to play Bond, and ever since it was announced that he's not doing a second season of the Netflix show that made him a huge star, the internet has been buzzing with the idea that he might be the next Bond. However, Page has specifically downplayed these rumors pointing out that once you become a tiny-bit well-known male actor in Brittian, suddenly everyone is talking about Bond; "That's fairly normal and I'm flattered to be in the category of Brits that people have noticed. The concept of having plans in this moment in history is mildly hilarious. I've given up making them."
5. Henry Cavill
Back before Daniel Craig was cast as 007 for Casino Royale, Henry Cavill auditioned for EON and was seriously considered. Yes, you probably think of Cavill as Superman, (or The Witcher, or more recently Sherlock Holmes) but in 2005 he was very close to becoming Bond. Sure, he's famous for his faux-American accent, but Cavill is British. At 39 years old right now, he's kind of the perfect age to take over for Bond. And, if he got it, he'd be the second Bond to have played Sherlock Holmes (Roger Moore played Holmes in 1976), and the absolute first who had also played Superman.
The odds for Henry Cavill are also pretty darn good, too. Plus, now that he's no longer playing Superman or the Witcher, he's free?
4. John Boyega
That's right. Finn from the Star Wars sequel trilogy is a real contender for a new Bond for several reasons. For one thing, his fame could actually mean that doing Bond could almost scan as John Boyega doing that franchise as a favor. The Bond films need Boyega, arguably more than he needs them. The notion of a Black Bond has been floated for a long, long time. Boyega was born in London, meaning Bond is, in some ways, a natural fit. That said, Boyega is 30 years old, which would make him the same age as George Lazenby. Though, as Esquire notes, even Boyega has admitted he's still a "bit too young" for the role. But is he really?
3. Sam Heughan
Of all the names on this list, Sam Heughan has been given a lot of pen, discussing the possibility of becoming the next Bond. The star of Outlander has said he doesn't want to "jinx" his chances at becoming Bond, and most recently added that he didn't think Bond should be too "posh." As Jamie on Outlander, Heaughan has already made a huge name for himself as a TV leading man. Notably, Roger Moore and Pierce Brosnan did the same thing before becoming Bond. Heaughan is also Scottish, and if cast as Bond, would be the first Scottish Bond since Sean Connery.
2. Aaron Taylor-Johnson
In late 2022 and early 2023, the most talked about hypothetical new Bond is Aaron Taylor-Johnson. Probably most well-known for his role as Quicksilver in Avengers: Age of Ultron, and both Kick-Ass movies, Taylor-Johnson is a fantastic actor. He's so good, in fact, that he's the kind of actor you can't believe was in all the movies he's actually been in. He most recently starred in Bullet Train and is set to be in The Fall Guy with Ryan Gosling.
Despite doing a lot of different accents in his movies, Taylor-Johnson is English. Rumors say he's even met with the Bond producers. So, who knows, he may already have the job.
1. Someone You've Barely Heard Of
Something we've all forgotten: When Daniel Craig was cast as James Bond, the initial response from fans and the press was not great. If you were a hip kid who watched a random British thriller, then you knew he was amazing in Layer Cake. If you'd gone to see the first Angelina Jolie Tomb Raider film, then you were aware he was in that movie, but you probably forgot because he was playing second fiddle to freaking Angelina Jolie. The point is, Daniel Craig was not Daniel Craig in 2006. When he was cast, he was disparaged as "James Blond" since, apparently, some people thought Bond had to have really dark hair. It's also notable that in the early press for Casino Royale Daniel Craig's haircut was totally different than the close-cropped look we're used to. When he was the first cast, for many, he didn't feel like Bond yet.
Obviously, from the first moment of Casino Royale, all of that changed. James Bond doesn't become James Bond until we see him on screen. And whoever follows Daniel Craig will be exactly the same, regardless if they were famous for doing something other than drinking very precise martinis.
Here's where to stream all the James Bond movies online.
This article was originally published on