007 Things You (Probably) Didn't Know About The First James Bond Movie — Dr. No
Without this 1962 film, the Bond franchise would have been very different.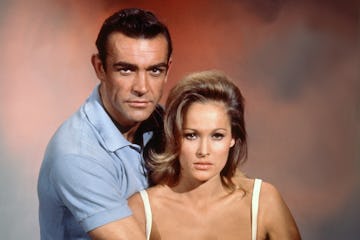 Sunset Boulevard/Corbis Historical/Getty Images
Every October 5, lovers of spy movies, readers of escapist novels, and fans of pun-laden dad jokes all celebrate "James Bond Day." It's the anniversary of the theatrical release of Dr. No, which first smashed into cinemas in 1962. Starring Sean Connery as the indomitable superspy James Bond, the entire landscape of pop culture was forever changed by this film. As one of the most successful movie franchises of all time, the story of the James Bond univesre is as shocking as it is thrilling. (And that's not even taking into account the hugely successful novels that were largely published a decade before!)
But, how much do you really know about the first Bond movie? Here are seven facts about Dr. No that may have slipped through your intelligence net, presented here, for everyone's eyes only.
7. That's not Connery in the opening
The famous opening "gun barrel" sequence — in which, through the telescopic lens of an unseen assailant we see James Bond for the first time — does not actually feature Sean Connery. Instead, stuntman Bob Simmons is standing in for Bond, wearing a hat to disguise the fact that is 100 percent, not Connery. The first three James Bond movies — Dr. No, From Russia With Love, and Goldfinger — all feature Simmons in the opening. Sean Connery didn't open his own Bond movie until 1965's Thunderball. Like many of the elaborate opening titles of early Bond films, this sequence was designed by Maurice Binder.
6. Dr. No's theme is a love song
The tradition of having a noted singer belt out the opening number of a James Bond movie didn't actually happen until 1964's Goldfinger when the legendary Shirley Bassey warned us about that titular supervillain. From Russian With Love did have a song with lyrics sung by Matt Monro, but the version played over the closing credits, not the opening credits. At the very beginning, with Dr. No, the Monty Norman-composed (but John Barry-arranged) famous "James Bond Theme" serves as the opening song. However, an original in-universe song, "Underneath the Mango Tree," written by Monty Norman, and sung by Diana Coupland is the closest thing to a theme song for Dr. No. The character of Honey Ryder (Ursula Andress) sings this song to herself as she famously emerges from the ocean. Sean Connery, as Bond, sings back to her in his own voice.
5. Dr. No isn't even close to being the first Bond story
Although Dr. No was the first major motion picture produced by EON in their long-running Bond film series (25 movies to date!) the script was based on the sixth James Bond novel written by Ian Fleming. Like several Bond films, novels, and short stories, Dr. No is partially set in Jamaica owing to the fact that Ian Fleming wrote his Bond stories at his house (called "Goldeneye") in Jamaica. Of the 1960s Bond films, Dr. No and From Russian With the Love are probably the closest to the actual books in terms of tone and plot.
4. The first James Bond screenplay was co-written by a woman
Although the James Bond franchise has a complicated history of sexism, both Dr. No (1962) and From Russia With Love (1963) have screenplays partially credited (on-screen) to the Irish screenwriter Johanna Harwood. A non-male screenwriter didn't work on a James Bond movie again until Phoebe Waller-Bridge co-wrote No Time To Die (2021.) The legacy of Johanna Harwood lives on in Kim Sherwood's James Bond universe novel Double Or Nothing (2022), in which an agent named Johanna Hardwood is 003.
3. Bond's Sidekick Became a Massive TV Star
Actor Jack Lord played CIA agent Felix Leiter in Dr. No, a role that was later played by several actors over the years, most recently, by Jeffrey Wright. After Dr. No, Jack Lord would become a household name for his role in the cop show, Hawaii Five-O in which he played Steve McGarrett from 1968 to 1980. In the '70s, Jack Lord was arguably more famous to American TV audiences than James Bond.
2. Bond is heard before he's seen
In Dr. No, the introduction of James Bond takes place in a now-famous casino sequence. But, interestingly, we hear Bond speaking to Sylvia Trench (Eunice Gayson) during their card game, before we see him. Off-camera Bond says "I admire your courage, Miss...?" She responds, "Trench. Sylvia Trench. I admire your luck, Mr...?"
Sylvia's last name before the first name thing is what sets Bond up for his classic line, "Bond. James Bond." And yes, as Sean Connery utters those words, that's the first time we see 007's face.
1. Sean Connery Almost Wasn't James Bond
At first author Ian Fleming was very opposed to the casting of Sean Connery, simply because the rugged actor didn't match what he imagined the suave spy to be in his mind's eye. In the books, Bond is described as looking like the musician and actor Hoagy Carmichael, who does not a bit like Connery. Hilariously, Carmichael was an American, so having him be the inspiration for Bond's physical appearance is surprising. Also, somewhat shockingly, producers Harry Saltzman and Albert "Cubby" Broccoli picked Carey Grant as their first choice!
On top of all of that, the first on-screen James Bond also was also American. In the TV series Climax! in 1954, Barry Nelson played James Bond in a truncated adaptation of the first novel, Casino Royale. Later, owing partially to their shared Scottish backgrounds, Fleming warmed to the idea of Connery playing Bond and seemed to approve of the actor's performance, prior to the author's death in 1964.