James Bond Just Got Rebooted And The Story Is Better Than No Time To Die
Kim Sherwood's new novel Double Or Nothing thrillingly expands the 007 franchise.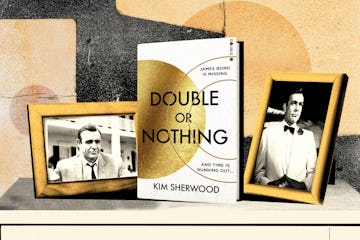 Ariela Basson/Fatherly; Getty Images, Shutterstock, Harper Collins
We may receive a portion of sales if you purchase a product through a link in this article.
If you've never read a James Bond novel, there's never been a better time to jump in with a new take on the franchise. Although the fourteen original Ian Fleming books will be re-released throughout 2023, by the Fleming estate in the U.K. and Harper Collins in the U.S., there's another way to get into a new take on the world of 007. Out this week, is a full reboot of the James Bond universe in the 21st century. It's a new novel called Double or Nothing, and it's more thrilling and even more accessible than the most recent film, No Time To Die. If you're looking for a great read that is as slick as it is smart, this book has it all.
Double or Nothing is written by rising star Kim Sherwood, and it's the first in a planned trilogy of novels about Double-O agents who are not James Bond. In fact, the entire premise of Double or Nothing begins with the idea that James Bond is missing, and that three other agents from his section — 003, 004, and 009 — have to unravel a globe-spanning mystery that connects to Bond's absence. Kim Sherwood tells Fatherly that the creation of new agents in the Bond universe doesn't break the literary style of Ian Fleming, but instead, gave her the ability to expand the possibilities of the narrative.
"If I borrow the point of view from Fleming, then I can move into these different minds and can also look at a theme from the outside," Sherwood says. "And, having three characters took the pressure off just one character. In a traditional Bond narrative, he's our knight, out on a quest, and he goes out on his adventure, then he's cut off from support and he's by himself. Whereas, I have multiple characters, so, they're not having to carry the narrative burden on their shoulders alone. And they're also not being compared one-to-one with Bond."
Sherwood's three new agents are Johanna Harwood (003), Sid Bashir (009), and Joseph Dryden (004). Harwood and Bashir are in a kind of love triangle with James Bond, who went missing on a mission before the novel begins. Both Harwood and Bashir feel responsible for the loss of 007, which creates fascinating emotional entanglements; Harwood has mixed feelings for Bond, while Bashir views him as a kind of mentor. Meanwhile, Dryden is an agent who is sustained by some cybernetic enhancements, which makes him a kind of low-key cyborg agent for MI-6. Moneypenny has been promoted in this reboot, and the character of "Q" is now a quantum computer AI, instead of a human. All in all, this novel feels like a thrilling Netflix series following all of these agents on twisty mysteries with huge global stakes.
But, part of what makes Double or Nothing really work as a contemporary novel isn't just the spy action, it's the complicated romance. For Sherwood, this is baked into the DNA of older books, too.
"Romance actually plays a really large part of [Fleming] stories," Sherwood points out. "The spy genre evolved out of the Victorian sense of a romance. And for James Bond, I've always loved the idea of who is the ex-lover? In Tomorrow Never Dies, I love when Terri Hatcher appears as Pierce Brosnan's former lover. I like how that adds tension to the relationships, and I was inspired by that for this book."
Still, the propulsive style of Double or Nothing is a spy thriller first, with elements of romance woven throughout. And even though James Bond is missing the present tense of the novel, he appears throughout in flashbacks, and in memories, as a kind of suave Obi-Wan Kenobi, guiding the characters in the overall mystery.
More than the Daniel Craig films, and more than any of the cinematic reboots, Double or Nothing feels like a true reimagining of the concept of James Bond and the Double-O section of MI6. In this book, the stakes are as high as they are in one of the Bond films, while the plot unfolds more like one of the twisting old-school Fleming potboilers.
Kim Sherwood's personal love of Bond prevented her from totally reinventing the character. Bond is still Bond, but his world is now very contemporary. With this book, she's done the impossible: Shake up Bond more than any previous reboot has, and make this universe feel urgently relevant to the 21st century, while at the same time capturing the one thing that makes it all so appealing — coolness. No matter what you read this year, nothing will make you feel cooler than Double or Nothing.
Double or Nothing is out now wherever books are sold.