The Most Popular Baby Names In Australia Are A Unique Inspiration For Expecting Parents
Here are the most popular names in Australia to help get your search started.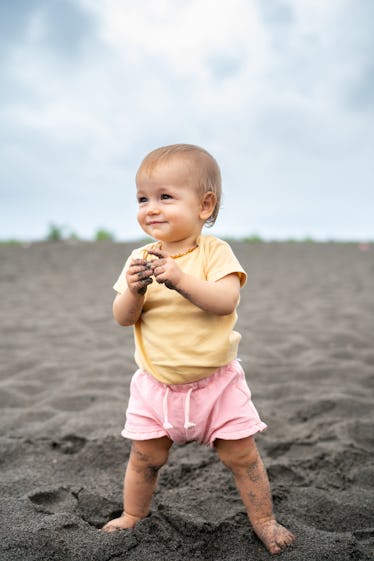 StockPlanets/E+/Getty Images
There is so much that goes into choosing the perfect name for our babies. There are the most popular baby names in the U.S. — like Emma, Noah, Liam, and others — that have dominated the baby-name game for years. Then there are the ones that aren't as popular but are quickly gaining favor, like the Yellowstone-inspired Dutton and other unique baby names. But no matter what direction you go in, if you need some baby name inspiration, why not look to farther seas — like to the most popular baby names in Australia?
McCrindle Research found that there are two names that continue to dominate top baby name lists in Australia, according to The Guardian. When we say dominate, that's not hyperbole — the top boy name has been reigning for a decade, and the same top girl names have been circulating in the top for decades too.
"Oliver continues its place as the most popular boys name for over a decade and is the most popular name overall in Australia by a significant margin," the report notes. "In fact, it is the only name on both lists to have over 2,000 occurrences. After falling to second place in 2021, Charlotte makes its way back to the top as Australia's most popular name for baby girls."
For the girls, three names have been in the top 10 list for 12 years: Charlotte, Olivia, and Mia, the survey found.
The survey also found that gender-neutral names have been popular in Australia for all genders of kids. Names like Taylor, Morgan, Jamie, Charlie, Riley, Jordan, and Casey have been moving up in the popularity list.
The most popular baby boy names in Australia:
Oliver
Noah
Leo
William
Henry
Jack
Theodore
Hudson
Charlie
Luca
The most popular baby girl names in Australia:
Charlotte
Amelia
Isla
Olivia
Mia
Ava
Matilda
Ella
Grace
Willow
Check out the full report, including some other trends and findings, here.