1,000+ Unique Girl Names You Will Love
Harper's a beautiful name, and there will be three of them in your daughter's kindergarten class.
by Emily Kelleher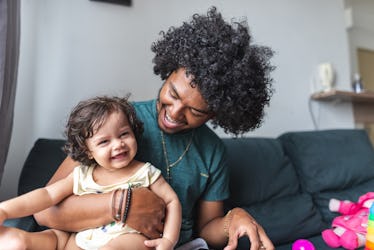 wagnerokasaki/E+/Getty Images
Nothing more exciting than talking through all the possible baby names for your soon-to-arrive daughter. Of course you want to land on a name that you and your partner both love, something that's memorable — a baby name that's both unique and uniquely her. But it's not easy staying ahead of the baby-name zeitgeist… the Emma's and Morgan's will soon be nipping at your heels. And even if parents agree that they want a baby name that's unusual, creative, or rare, finding an uncommon name that works on other levels and suits both parents can be a tall order.
The Social Security Administration keeps track of the name of every child born in the United States, so we know which names American parents like to use for their kids — and how those preferences and popularity change over time. Those numbers can help you differentiate between truly unique girl names and those that thousands of other parents also thought were one-of-a-kind ideas. Think you're the only one considering Harper? Pffft. It's been one of the most popular baby girl names since 2014. So, to help you out, we've sorted through decades' worth of baby names to present this list of unique baby girl names. Take a look and choose wisely.
Uncommon Baby Girl Names
Paola. Paola means small in Italian and in 1995 was the 584th most popular baby girl name in the U.S.
Cora
Maya
Brea
Fleur
Alena
Meara
Amiah
Ashlyn
Hape
Sariah
Esmé
Ember
Aria
Leanna. Leanna has dropped nearly 1,000 spots on name popularity charts since it peaked as the 746th most popular baby name in 1990. Of Latin origin, the name — meaning light or graceful meadow — now ranks 1694th.
Marlowe
Milana
Marleigh
Malia
Kimia
Annika
Alanna
Eden
Aubrielle
Aliana
Isla
Elliana
Ellie
Ada
Kaelie
Addison
Karina
April
Arabella. Arabella is Latin in origin and means "yielding to prayer." It dates back to the 12th century with the birth of Arabella de Leuchars, who was the granddaughter of William the Lion, King of Scotland.
Gracie
Mimi
Hailey. Hailey has roots in Old English and comes from the word heg or leah, which means hay and meadow, respectively. In 2017, it was listed in the top 100 popular names, at number 72.
Beeba
Zya
Rya
Lou
Aida
Journee
Milani
Harley
Armani
Acacia
Katana
Kienna
Allegra
Lace
Liora
Lexley
Mavis
Blaise
Maylah
Corinne
Deirdre
Olea
Emilijah. Emilihah is a Lithuanian variant of the name Emily that means emulating. It ranked as the 16923rd most popular girls name in 2021.
Pyper
Evalina
Fable
Peregrine
Drea
Oakley
Liora
Adley
Sybil
Kilah
Judith
Anastasia
Piper
Cinnamon
Emersyn. Emersyn is of British origin and a variant of the name Emerson. It means brave and powerful and ranked at number 147 in regarads to popular girls names in 2019.
Kehlani
Estelle
Tania
Skylar
Perla
Mika
Josie
Ilse
Akia
Sienna
Allegra
Holly
Amalie
Teagan
Giada
Shivani
Naomi
Millicent
Rochelle
Trinity
Rasha
Kindra
Polly
Sonya
Cecilla. Cecilia is the feminine form of Cecil and comes from Latin origin. It translates to the word blind and derives from the Roman clan, Caecilius. In 2021, it ranked at 132 in popular girls' names in the U.S.
Celebrity-Inspired Baby Girl Names
Azalea. Azalea means dry in Greek. Swedish botanist, Carl Linnaeus, chose this name for the colorful flower because it could survive in sandy soil. In 2020, Azalea ranked in the top 1,000 girl's names in the U.S. at 960.
Selena
Marilyn
Aaliyah
Gwyneth
Luna
Adele
Kylie
Rihanna
Iggy
Tyra
Viola
Kit
Alessandra
Hallie
Ava - Ava DuVernay is an Oscar Award-winning filmmaker whose projects include Selma and A Wrinkle in Time. It was the 4th most popular girl's name in 2021.
Hadley
Ivy
Annalise
Blue
Jolie
Joplin
Lennon
Sia
Rebel
Saoirse
Presley
Wilde
Stormi
Cosmo
Psalm
Jupiter
Lyra
Rumi. Rumi comes from Japanese origin and means beauty, flow or lapiz lazuli. In the U.S. it ranked at 2,985 in 2021 in terms of popularity.
Forest
Sailor
Jett
Joplin
Remington
Inez
Haven
Reynold
Sloane
Grey
Fallon
Reign
Hendrix
Billie
Ariana - Some say Ariana Grande can sing like an angel, which seems on-brand as Ariana means holy.
Ashton
Audrina
Betty
Bristol
Edie
Giada
Freida
Gisele
Jada
Keira
Lana
Kimora
Lena
Khloe
Kendall
Leighton
Liv
Lupita. Lupita Nyong'o is a Kenyan-Mexican actress. In addition to winning an Academy Award, she's also been nominated for two Primetime Emmy Awards and a Tony Award. Her notable projects include Black Panther, 12 Years a Slave, and multiple appearances across the Star Wars franchise.
Miley
Pippa
Presley
Rooney
Rita
Selena. Selena is both a celestial and Greek word that means moon. It comes from the word selas, which means bright. In 1995, it was the 91st most popular girl's name in the U.S.
Reese
Portia
Nina
Serena
Solange
Uma
Winslet
Gravity
Bodhi
Bear
Moroccan
Kulture
Birdie
Giulette
Mickey
Gio
Ivey
Banks
Rani
Leona
Hart
Hayes
Lio
Seine
Dream
Anacá
Journey
Classically Unique Baby Girl Names
Amelia. Amelia emerged as the top British name in 2011 and spent several years at number 1, waning after 2017. The Latin roots of the name, Amal, mean industriousness or hardworking.
Arya
Aurelia
Brielle
Chantria
Dionne
Everleigh
Eloise
Fay
Freya
Genevieve
Harlow
Jamila
Juniper
Lorelei. Lorelei has Germanic roots and was originally used to describe the cliff on the Rhine River. It means alluring or temptress and ranked at 444 in most popular names in the United States in 2021.
Louella
Maia
Moira
Odette
Meriah
Penny
Poppy
Sienna
Snow
Stella
Tayla
Taylor
Tory
Violet
Willa
Xena
Elodie
Indigo
Selah. Selah comes from Hebrew origin and means praise or pause. In 2021, it snatched the title for 386th most popular name in the U.S. Fun fact: The name is found 34 times in the Hebrew Bible.
Brinley
Celine
Bianca
Matilda
Bonnie
Beatrice
Gianna
Diana
Margaret
Rosalyn
Sally
Rebecca
Kate
Kathleen
Caitlin
Evie
Katrina
Lea
Scarlett. Most people — and certainly all fans of Marvel movies — associate this name with the color red. But it also referred to medieval fabric dyers and cloth merchants who were known for vibrantly colored garments.
Zoe
Priscilla
Theodora
Delilah
Han
Jane
Janet
Lorena
Luciana
Seraphina
Ada
Audrey. This name of English origin, meaning "noble strength," will be more unique for girls who live in the United States than in England. It currently clocks in as the 60th most popular name for babies born in the U.S. while it's 17th on worldwide popularity charts.
Claudia
Cynthia
Verity
Victoria
Monica
Dawn
Aster
Dahlia
Jasmine
Lori
Lora
Violet
Violetta
Zinnia
Greta. Greta was listed at 16 for the most popular name in Italy in 2020. It stems from the German name Margarethe, which translates to pearl or creature of light.
Marie
Antonia
Celia
Charlene
Augusta
Anita
Clarice
Eudora
Evangeline
Imogen
Kat
Inez
Layla
Myra
Moira
Marion. Marion is a gender-neutral French name that means beloved or star of the sea.
May
Odessa
Sadie
Viv
Cool Baby Girl Names
Belle. Belle is a French word that means beautiful. In America, it ranked at 857 in 2021. It also means fair or lovely one and is often placed at the end of other names like Isabel or Anabel.
Tinsley
Ariel
Rory
Aida
Hattie
Willow
Amabella
Serena
Renata
Magnolia
Mercedes
Clementine
Ramona
Emmy
Anabella
Hazel Popular in the 19th century, Hazel has seen a resurgence of late and is currently the 25th most popular name for baby girls.
Ella
Frankie
Kaz
Layla
Wren
Lessie
Lillee
Sage. Sage has Latin roots which translates to wise or healthy. It's a unisex name that climbed the charts to 179th most popular moniker in 2021 in the U.S. Ancient Romans believed that burning sage helped impart wisdom.
Lillia
Rylee
Zenni
Charmaine
Mabel
Phoenix
Noelle
Stevie
Ruby
Selma
Tillie
Una
Willa
Mia
Emaline
Danica. Danica is both a cool name and a unique name as it doesn't even crack the top-1000 baby names. Slavic in origin, Danica means Venus or morning star. According to ancient Slavic mythology, Danica was a day star that was often worshipped at daybreak and thought to be the Sun's younger sister.
Jobelle
McKay
Julane
Octavia
Nadia
Yolanda
Irie
Tessa
Raquel. Raquel has significance in both Hebrew and Latin cultures. It means innocent ewe or lamb in Hebrew and is a Spanish variation of the name Rachel. It ranked at 914 in popularity in 2021.
Delanie
Chaya
Asantewaa
Petra
Arianne
Clea
Unusual Old-Timey Baby Names
Azariah. Azariah in Hebrew, means helped by God. It stems from the word Azar, meaning to help or support. In 2021, it was the 755th most popular girl's name.
Gwendolyn
Beatrix
Henrietta
Colette
Claudette
Charmaine
June
Constance
Bessie
Brigitta
Daisy
Eleanor
Greta
Scarlett
Ellery
Edith - Edith is one of the few names to rank in the top 50 for girls born in the United States for at least 50 consecutive years. With Old English origins, Edith has remained commonly used in English, Dutch, German and many Scandinavian languages.
Holly
Etta
Elyse
Alyssa
Cora
Maude
Maeve
Minnie
Nadine
Elaine
Adeline
Miriam
Celeste
Adelaide
Edna
Prudence
Pear
Birdie
Marianne - The roots of Marianne branch out into multiple cultures. While French in origin it's a blend of the Latin for Marie, meaning star of the sea, and the Hebrew for Anne, which means grace. In French culture, the name symbolizes liberty and equality.
Lilith
Frances
Carrie
Gertrude
Fanny
Agnes
Maggie
Della
Sadie
Maud
Lydia
Addie
Lottie
Amelia
Henrietta
Leona
Augusta
Eleanor
Dorothy
Ola
Louisa
Vera. Vera has roots in Slavic culture and means faith, but in Latin, means faithful. In 2021, Vera was listed as the 228th most popular girl's name.
Winifred
Betty
Hilda
Cornelia
Harriett
Abbie
Roxie
Adeline
Eileen
Irene
Enid
Esther
Barbra
Connie
Debora
Doris
Shirley
Ruth - Ruth is a character in the Old Testament and who is one of only two women to have a book in the Bible named after them. Of Hebrew origin, the name Ruth has a handful of meanings grounded in friendship, which is a central theme in the Book of Ruth.
Tabitha
Joan
Luella
Ottilie
Augustina
Aurinda
Beverly
Caddie
Carlene
Delphine
Eseld
Eunice
Gretel
Liesel
Rosamonde
Celestine
Miriam
Eliza. Eliza ranked 140 in the most popular female names in 2017. The Hebrew gender neutral name translates to God is satisfaction or joyful.
Angelica
Peggy
Ella
Phillipa
Prudence
Paulette
Location-Inspired Baby Names
Aspen. Aspen has American, and British roots and means shaking tree. It's also the name of a fancy Colorado ski resort. In 2020, it was listed as the 224th most popular girl's name in the U.S.
Arizona
Nola
Paris
Kumasi
Brooklyn
Savannah
Sydney
Helena
Georgia
Athena
North
Alden
Chelsea. Chelsea is an affluent area of London that is home to one of the most popular soccer clubs in the world. However, as a baby name, it has seen a steep decline in popularity. While Chelsea was the 69th most popular girls name in the U.S. in 1990, it is now down to the 930th spot.
Zuma
Catalina
Cheyenne
Asia
Geneva
Sierra
Valencia
Vienna
Jordan
Aldari
Alaska
Chicago
Ireland
India
Madison
Odessa
Geneva
Austin
Boston
Berlin
London
Albany
Alexandria - Currently the second most prominent city in Egypt behind only Cairo, Alexandria sits on the Mediterranean Sea and has been a historically significant port city that at one point housed the world's largest library.
Aspen
Bristol
Catalina
Chelsea
Cheyenne
China
Dakota
Delta
Eden
Elba
Haven
Helena. Helena hails from Greek origin and means shining light. It's also a variant of other names like Eleanor and Helen. The moniker Helena ranked #535 in 2015 in popularity in the U.S.
Lorraine
Madeira
Mali
Milan
Montana
Nirvana
Nevis
Peyton
Charlotte
Kent
Nara
Dominica
Odessa
Verona -
Brighton
Valencia
Quintana
Lille
Sedona
Juneau - When is a baby name cooler than cool? When it's also the name of a city in Alaska. A gender-neutral name that doesn't make the most popular baby name charts, Juneau means young or queen of heaven.
Normandy
Denali
Shenandoah
Venetia
Acadia
Windsor
Kumasi
Lincoln
Campbell
Lucerne
Paxton
Ravenna
Turner
Valencia
Amalfi
Benicia
Cairo
Davenay
Easton
Israel
Medina
Sabetha
Segovia
Zaire
Iola
Jewell
Perry
Kenya. Kenya came in 894th place in terms of popular girl's names in 2015. This name has cultural origin in Africa and means a mountain of white or striped one.
Writerly Baby Girl Names
Gloria. Gloria means immortal glory in Latin. In 1926, this glamorous name topped the charts at number 20 in popularity.
Sylvia
Cheryl
Zadie
Alcott
Blake
Bronte
Mirabel
Iris
Austen
Alice
Beatrix - English writer Beatrix Potter wrote The Adventures of Peter Rabbit and a handful of other stories about the famed bunny in the early 1900s.
Celie
Daisy
Hermione
Prim
Virginia
Shel
Jo
Flannery
Sylvia
Maya
Beezus
Angelou -
Jessi
Pippi
Wendy
Antonia
Cosette
Daisy
Elinor
Estella
Francie
Gwen
Pecola
Cordelia
Cressida
Luciana
Portia
Regan
Arya
Cersei
Lara Jean
Minerva
Karenina
Dion
Scout
Rosalind
Charmain
Alcina
Amber
Amelia
Apollonia
Arden
Arwen
Ballade
Alcina
Cadence
Carinthia
Catronia
Celeste. Celeste is diminutive of Latin origin and means heavenly. It was listed at number 354 in 2020 in terms of popularity and can come in the form of other names like Celestine or Celestia.
Charmain
Electra
Cynthia
Estelle
Francesca
Griselda
Heaven
Jancis
Jerusha
Kinsey
Linnea
Lolita
Lynette
Malvina
Mavis
Mignon
Tara
Una
Albertine
Anais
Arrietty
Cordelia
Clarissa
Ellery
Janie
Henriette
Lisbeth
Pamela
Matilda
Rosalind
Waverly
Tacy
Ambrose
Auden
Estella
Angelina. Angelina came in at 290 in 2020 regarding popular girl's names. This name comes from a collection of Greek, Italian, and cultures and stems from the name Angela, which means angel.
Lyra
Bennet
Precious Baby Girl Names
Pearl. Pearl has English roots and means precious gemstone. It's also the birthday stone for June babies. In 2015, it was listed at 624 for most popular girl's names.
Ruby
Amber
Ivory
Opal
Jewel
Crystal
Sapphire
Amethyst
Zen
Sage
Silver
Amaranth
Laila
Topaz. Topaz comes from Latin culture and means golden gem. In 2021, it wasn't listed very high in terms f popularity and came in at number 13,756.
Sutton
Lillian
Aubree
Brielle
Ivy
Julianna
Athena
Nova
Norah
Pippa
Carnelian
Allana
Gem
Gemma
Goldarine
Aziza
Precious
Alaine
Laina
Blossom
Carmel
Celine
Elodie
Gardenia
Jade. Jade is a British name that means stone of the colic or stone of the side. This one-syllable name was the 126th most popular female name in 2015.
Genevieve
Creative Baby Girl Names
Olive
Haisley
Jasmine
Astrid
Charlie
Summer
Sky
Ezra
Winter
Aurora
Chloe - Chloe means blooming or fertility in Greek has been in the top 30 baby girl names since 2000.
Christina
Chrysanthemum
Isador
Sam
Lavender
Lyric
Alaia
Millie
Juliette
Teagan
Hollis
Haylo
Gypsi
Seraphina - Seraphina is derived from the Hebrew word seraphim —- the highest ranking angels of God according to Jewish scriptures. The name means burning ones, as the seraphim, are known for their zealous love and intense passion.
Symphony
Spirit
Romona
Reverie
Prairie
Pixie
Tatum
Arna
Orion
Amity
Allegra
Ahmeira
Leilani
Lemon
Letina
Annika
Bronwen
Juno
Maceline
Bray
Cordelia
Celeste
Citra
Chenoa
Calista
Preppy Baby Girl Names
Harley
Riley
Reagan
Piper
Spencer
Henley
Parker
Annalise
Sonia
Mae
Amora
Peyton - A gender-neutral option that should appeal to football fans, Peyton has spent the past decade as a top-100 baby name.
Blair
Ingrid
Paige
Annabeth
Brie
Vivian
Adalynn
Valeria
Tree Inspired Baby Girl Names
Hazel
Marlowe
Aspen
Oakley
Maple
Ash
Willow
Juniper
Elm
Ivy
Acacia - While acacia literally means thorny, the name evokes images of the beautiful acacia flower that the tree's impressive thorns fiercely protect.
Alameda
Alyvia
Banyan
Barbossa
Beech
Ghusun
Kazia
Lilac
Lorena
Elswyth
Defne
Cheney
Banyan
Flora
Paisley - Paisley is of Scottish origin, though is more well-known as a patterned fabric from the Scottish town of the same name. It's fitting that the name is gender-neutral, as paisley patterns are often used for neckties, clutch purses, and luxury scarves.
Raven
Regina
Felicity
Elowen
Ashby
Ashtyn
Berkley
Ellery
Emsley
Hollen
Idra
Margo
Palmer
Shea
Cassia
Cedar
Yvette
Maple
Kezia
Oaklyn
Oleana
Tilia
Orinda
Yesenia
Yvonne
Cataleya
Elodie - Eoldie's popularity in the US peaked in 2019 when it reached top 1000 name status for the first time in over 100 years. The name Elodie remains reasonably popular today, with a current ranking of 737.
Lilac
Lily
Poppy
Rosie
Tansy
Birch
Earthy Baby Girl Names
Lake
Brooke
Terra
Dawn
Kai
Coral
Ember
Nettal
River
Rain
Rowan. While originally a masculine name of Irish and Scottish origins meaning little readhead, Rowan has been adopted as a gender-neutral name in recent times. The Rowan tree was thought to protect against witchcraft and sorcery, and fruits red berries in the autumn.
Ash
Elm
Autumn
Azure
Emerald
Ember
Meadow
Plum
Genesis
Gardner
Everest
Apollo
Echo
Brynn
Embry
Leanne
Meadow
Rylan
Terra
Oak
Rayne
Ellery
One-Syllable Baby Girl Names
Bee
Cee
Dee
Fay - Fay is a diminutive name of French origin, that means fairy, though it's roots go even deeper to the Latin fata, which translates to fate or destiny. Fay also provides parents the luxury of alternate spelling spellings, including Fae, Faye, and Fey.
Nii
Vee
Kit
Anne
Mae
Blaire
Claire
Eve
Viv
Skye
Shae
Reese
Tess
Rae
May
Lynn
Lark
Hope - While Hope doesn't usually top the list of most popular baby names, it has been used consistently for over a hundred years. It's ranked among the top 1,000 names given to girls born in the United States since 1880 and has been among the top 500 since 1909.
Faith
Greer
Tae
Cy
Rae
Kate
June
Jude
Joy
Herb Inspired Baby Girl Names
Anisa
Dill
Basil
Saffron
Cory (Coriander)
Fern
Thea
Rosemary - While commonly associated with the herb Rosmarinus Officinalis, the latin roots of Rosemary are found in the Latin Rosmarinus, meaning dew of the sea.
Clover
Marigold
Primrose
Aloe
Rye
Merrybell
Alcea
Chloris
Space Themed Baby Girl Names
Adhara
Alpha
Ara
Aria
Artemis
Astra
Astrid - Astrid is a Scandanavian name meaning divinely beautiful. It has gained a foothold in pop culture, having appeared as a character name in the movie How to Train Your Dragon and the TV shows Fringe and Once upon a Time.
Aurora
Carina
Cassiopeia
Catarina
Celeste
Ceres
Chandra
Cordelia
Cosima
Eris
Estella
Gaia
Galellea
Iroh
Jupiter
Larissa
Leda
Leia - Forever enshrined into sci-fi lore, Leia is a name that holds different meanings across multiple languages. While in Hebrew, it means weary, it means child of heaven in Hawaiian. In Assyrian, it means mistress, and in Latin, it means lioness.
Leila
Libra
Lo
Lucine
Lyra
Maia
Nebula
Nova
Rhea
Star
Thalassa
Santa
Zaniah
Zeba
Zenon
Pretty Baby Girl Names
Alessia
Amanda
Amara
Aminata
Amora
Angelina
Arabella
Araceli
Aurora
Ava
Bianca
Bonita
Brooke
Callista
Camilla
Catalina
Celestia
Chiara
Chloe
Citlali
Clarissa
Courtney
Dahlia
Delphi
Eden
Eliza
Elowen
Emilia
Olivia
Ophelia
Penelope
Phoebe - Phoebe is the 535th most popular baby name for girls. It means radiant or bright, and refers to the Greek god of the sun, Phoebus Apollo.
Quinn
Rebecca
Rosalie
Ruby
Savannah
Scarlett
Shelby
Sophia
Stella
Summer
Ellie
Mila
Lily
Audrey
Naomi
Cecelia
Valerie
Lane
Rarest Baby Girl Names
Africa
Alda
Alohi
Axelle
Brea
December
Delia
Delora
Demetria
Devora
Devyn
Elodie
Elora
Emerald
Enola
Esmeralda
Esperanza
Estelle - Estelle may seem more popular than it is in reality, as both Friends and Sienfeld had recurring characters who went by that name.
Etta
Faye
Fern
Florence
Geneva
Gianina
Ianthe
Ione
Katja
Lyra
Maeve
Myra
Oceane
Ophelia
Oriana
Pandora
Safiyya
Sierra
Tullia
Vita
Winona
Xoey
Zahara
Zosia
Santana
Zelia
Thalia
Nora
Annika
Beryl
Bronwyn
Aven
Darya
Ellery
Gaia
Honey
Jessamine
Ouima
Katalia
Liesel
Levi
Nakiyah
Merida
Kaomi
Amity
Letina
Audrina
Nicolette. Nicolette comes from a French derivation of the Greek name Nicole, which means victory of the people. In Greek mythology, Nike is the Goddess of victory.
Orchid
Reverie
Tazia
Talullah
Thea
Tinlee
Verity
Wanda
Zelda
Kaydee
Yvette
Xylah
Zinnia
Wren
This article was originally published on