1,000+ Unique Baby Boy Names That You Won't Regret
Looking for a one-of-a-kind name for your baby boy? Look no further.
by Emily Kelleher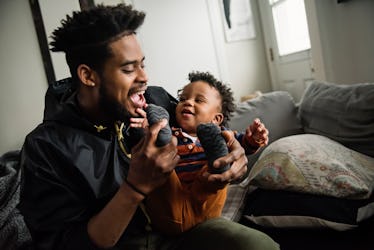 martinedoucet/E+/Getty Images
There are lots of wonderful traditional baby boy names — we all know and love Jakes, Johns, and Williams. But there are thousands of uncommon baby names worth exploring too, unique baby boy names that illuminate how special a sure-to-be-prodigious offspring will be. And while parents may agree that they want a unique baby boy name, that can mean very different things to different people. So we've covered all the bases, below.
Choosing a meaningful baby name is never as easy as it sounds. Luckily, the Social Security Administration publishes annual lists of the most popular names each year, dating back to the 1800s. Parents considering a boy name like Noah, Elijah, Mason, or Logan should know their baby boy will be in good company, as those names are among the top 10 most popular boy names every year. But the Social Security lists also tell us which baby boy names are uncommon. If you're looking for original or unusual boy names — ones that will set your kid apart from the Erics and Bens in his class and keep things interesting, we've got you covered. This list of 1,000-plus unique boy names just might include the name you've been searching for.
Boys Names Inspired by the Natural World
Peak. Peak is a unique Old English word that means the top of a mountain or hill. It is often used as a surname.
Puma
Arbor
Fox
Gray
Jay
Lynx.
Pike
Summit
Wilder
Wing
Robin
Tiger
Warren. Warren has diverse European roots, and in French, means park keeper. In German it translates to protector or loyal. In 2015, it ranked at 399 in popular male names.
Wolf
Oakley
Juniper
Phoenix
Fraser
Eden
Forrest
Dale
Conan
Elm
Eoghan
Everly
Fern
Ferris
Fiore
Fisher
Lark
Linden
Lance
Oriel
Sky
Yael
Nova
Lupin
Dale. Dale is an Old English name that means valley. This gender neutral name also has British roots and in 2001 ranked in popularity at number 411.
Hawk
Heath
Geo
Darby
Cedar
Cullen
Birch
Brent
Bryn
Marshall
Clay
Bjorn
Cashel
Cullen
Mason. Mason is an English name that means artisan who works in stone. It also means brick layer and topped the charts at number three in popular boy's names in 2015.
Dionne
Boys Names Inspired by Places
Eugene. Eugene. Eugene has Greek and French roots and means well-born or noble. It peaked in popularity in 1970 and in 2020, ranked at 840 in popular boy's names in the U.S.
Knox
Roman
Rome
Vermont
Albion
Amador
Bergen
Camden
Caspian
Ellis
Everest
Garrison
Harlem
Hudson
Kent
Lowell
Memphis
Ferrera
Eugene
Diego
Francisco
Hamilton
Santiago
Kyle. Kyle means narrow, confident, reliance and trust. This Gaelic word also translates to slender. Kyle was listed as 313th most popular boy's name in 2020.
York
Denver
Israel
Peyton
Zaire
Bailey
Aspen
Camden
Cairo
Caspian
Cairo
Jordan
Orlando
Lawrence
Raleigh
Salem
Sydney
Troy
Wyatt
Carlisle
Laredo
Richmond
Lyon
Austin. Austin is a Latin name that means great, magnificent, and majestic. It's also the name of a city in Texas and listed at 90 in popular boy names in 2020.
Uncommon Names for Baby Boys
Alvin. Alvin is a 19th century name with Old English roots that means noble friend. In 2020, the name Alvin ranked at 682nd most popular boy names in the U.S.
Arnie
Avi
Bennett
Cary
Dalton
Declan
Emery
Erskine
Leighton
Lyle
Merrick
Raffiel
Tancredi
Peyton. Peyton is an English name that means fighting man's estate. It was listed in the top 1,000 baby boy's names at 432 in 2020.
Tracy
Eason
Evans
Finn
Lawson
Bailey
Bentley
Benton
Braxton
Burke
Anders
Barrett
Eagan
Grady
Harley
Lonnie
Marion
Daylen
Greyson
Raiden
Ryder. Ryder is listed at 108th in popular boy's names for 2020. It's a gender-neutral name that means horseman or rider.
Plain Cool Baby Boy Names
Orme. Orme is a Norse word that means serpent or dragon. The name Orme is the 11,007th most popular surname.
Bassel
Hayden
Logan
Ollie
Walker. Walker has English roots and means fuller of cloth. It was listed at 206th in terms of most popular boy names in 2020.
Wyatt
Everett
Hugo
Cadogan
Ivan.
Baby Boy Names Inspired by Space
Jett. Jett comes from Old English and means free or black stone. In 2020, Jett was also listed at number 278 in a list of most popular male names.
Orion
Apollo
Armstrong
Astro
Galileo
Jupiter
Phoenix
Rocket
Solar
Aldrin
Altair
Calypso
Comet
Leo. Leo is a German moniker that means brave people or lion-hearted. It was super popular in 2020 and ranked at 36 in a list of popular boy names.
Cosmo
Holmes
Janus
Neptune
Red
Saros
Tarique
Taurus
Trek
Vulcan
Sol
Rigel
Pollux
Spock
Aries
Eos
Aten
Cielo
Draco
Elio
Hoku
Kepler
Archer
Jericho. Jericho has roots in Hebrew and Greek culture. It means city of the moon and ranked at 997 in popular boy's names in 2020.
Classically Cool Baby Boy Names
Amir
Armondo
Brookes
Bruce
Buck
Cedrick
Darius
Ezra
Gustavo
Howie
Jace
Jermaine
Leroy
Matteo
Naeem
Pierre
Terrell
Omar
Terrence
Irvin
Names Inspired by the Arts
Lawrence
Albrecht
Alberto
Auguste
Gianluca
Lorenzo
Henri
Gustav
Julian
Pierre
Roy
Salvador
Vincent
Fredrick
Marcel
Norman
Romare
Mies
Leonardo
Ang
Arlo
Jasper
Winslow
Calder
Chanel
Dix
Donatello
Matisse
Pablo
Toulouse
Sullivan
Yves
Willem
Degas
Cezanne
Claude
Raphael
Rembrandt
Sandro
Rene
Baby Boy Names With a Musical Ring
Cole
Dion
Nico
Rufus
Hendrix
Waylon
Axel
Jax
Miles
Willie
Andre
Lennox
Austin
Billie
Stevie
Aria
Michael
Laurent
Marley
Jagger
Hendrix
Jude
Louie
Frankie
Amos
Elvis
Kai
Simon
Amadeus
Dean
Ozzy
Bruno
Joel
Foster
Django
Van
Quincy
Fabian
Beck
Luciano
Mercury
Wayne
Presley
Donovan
Lionel
Niall
Calloway
Macy
Guthrie
Alanis
Nirvana
Ellington
Sade
Axl
Elton
Famously Memorable Names for Boys
Denzel
Khalid
Ashton
Dax
Dean
Elon
Keanu
Reynolds
Idris
Ira
Liam
Oliver
Ethan
Samuel
Hudson
Aaron
Colton
Cooper
Robert
Vin
Legend
Creative Baby Boy Names
Angus
Harnan
Henley
Izaak
Jayden
Meyer
Milton
Otis
Ronin
King
Historic Baby Boy Names
Marcus
Remington
Abe
Booker
Carter
Cato
Churchill
Cornelius
Demetrius
Desmond
Franklin
Grant
Grover
Phillip
Jessie
Marco
Maynard
Nelson
Reginald
Saxon
Weston
Napoleon
Inspired Baby Boy Names
Elian
Elijah
Samson
Chandler
Claude
Cornell
Dewey
Esau
Frances
Hamilton
Asa
Lex
Luigi
McKenzie
Micah
Misha
Moses
Noah
Prince
Tupper
Essam
Sporty Names for Baby Boys
Wesley
Aiden
Bradley
Brady
Crew
Duke
Flynn
Nate
Nolen
Parker
Roderick
Willson
Lebron
Jordan
Kobe
Bale
Beckham
Carson
Palmer
AJ
Woods
Lachlan
Dino
Evander
Jonas
Keane
Nelson
Trae
Klay
Stephen
Neymar
Kevin
Sebastian
Tiger
Floyd
Manny
Luis
Jaymes
Alexis
Shaun
Canelo
Carl
Elliud
Sophisticated Baby Boy Names
Ahmed
Alden
Alfonso
Ari
Arturo
Arvin
Avery
Basil
Blaine
Brogan
Callum
Carver
Cecil
Collins
Colton
Damon
Darnell
Dennis
Dillon
Edmond
Elie
Ernest
Gillean
Guy
Harold
Herbert
Howard
Hubert
Hugh
Hyacinth
Irving
Jabaar
Jack
Jackson
Jaime
Javier
Jeremiah
Jerry
Julius
Keith
Landen
Lee
Leon
Leonidas
Lester
Linden
Mario
Marv
Miguel
Milo
Owen
Perry
Preston
Quaid
Ramone
Randall
Ray
Reggie
Riaz
Russell
Scout
Thaddeus
Theo
Thurman
Tripp
Ward
Washington
Xander
Zaxton
Zayden
Writerly Baby Boy Names
Edgar
Elliot
Tristan
Antoine
Atticus
Blake
Dashiell
Fitzgerald
Ford
Homer
Jean
Jedediah
Langston
Maddox
Manuel
Maurice
Octavio
Sawyer
Scout
Seamus
Beckett
Tyl
Cosmo
Dashiell
Ezekiel
Fitz
Ishmael
Jacques
Laird
Luca
Oscar
Penn
Raphael
Wilder
Wolf
Zander
Zane
Zephyr
Malakai
Malcolm
Mars
Matthias
Micah
Milo
Handsome Baby Boy Names
Abraham
Ace
Aiden
Alastair
Alexander
Amare
Ambrose
Amos
Anderson
Andre
Andrew
Angus
Arlo
Armstrong
Asher
Ashton
Aspen
Atlas
Atticus
August
Axel
Barrett
Beau
Beckett
Beckham
Benedict
Benjamin
Benji
Bennett
Benson
Benton
Booker
Braxton
Brent
Bridger
Brooks
Bryant
Cavanaugh
Hassan
Jamal
Kenneth
Nohea
Alistair
Beautiful Baby Boy Names
Aaron
Abner
Adric
Aidan
Aldous
Alf
Alfred
Alvin
Ambrose
Andris
Anthony
Anton
Anwyll
Aodhán
Aquila
Arlo
Armand
Arthur
Avi
Axel
Barney
Baxter
Bede
Bernard
Bertram
Bram
Brogan
Boaz
Caleb
Cam
Campbell
Carlton
Carney
Cash
Caspian
Cecil
Chester
Chidi
Christensen
Clem
Clifford
Clyde
Cornelius
Cosmo
Crosby
Cyril
Dai
Damian
Damon
Dashiell
Dawson
Dewey
Dexter
Ebbe
Eben
Egil
Eli
Emerson
Ferdi
Flick
Flynn
Gabe
Gage
Gus
Hamnet
Harvey
Henning
Herb
Hugo
Husayn
Iggy
Ike
Ivo
Modern Baby Boy Names
Maverick
Sterling
Nash
River
Auggie
Leland
Bowie
Remy
Jaxon
Maxwell
Rowan
Silas
Nico
Enzo
Levi
Paxton
Rhett
Nyx
Alfie
Zora
Old-Fashioned Boy Names
Abe
Abner
Ahab
Benjamin
Isaac
Alfred
Archibald
Wilbur
Arthur
Atticus
Baldric
Bartholomew
Benedict
Bernard
Cadmus
Caleb
Carl
Cedric
Clarence
Clement
Cuthbert
Dorian
Douglas
Edwin
Edmund
Emmet
Ernest
Francis
Frederick
Gerald
Gilbert
Gregory
Giles
Harold
Hamish
Hector
Herbert
Hershel
Hugh
Hugo
Humphrey
Ivan
Jude
Jerome
Leopold
Lewis
Lucius
Malcolm
Merrill
Mortimer
Myron
Norbert
Norman
Orson
Orville
Oswald
Percival
Ralph
Randolf
Peregrine
Roderick
Roland
Rupert
Saul
Seymour
Stuart
Theodore
Tobias
Tristan
Uriah
Vernon
Victor
Virgil
Walter
Wendel
Silas
Finn
August
Elijah
Ethan
Levi
Owen
Amis
Beau
Eli
Evan
Guy
Otis
Otto
Cecil
Jethro
Malachi
Maximilian
Reginald
Rainier
Silvester
Solomon
Wilfred
Josiah
Micah
Fausto
Gaston
Ignacio
Pascal
Roman
Sancho
Strong Baby Boy Names
Christopher
Lee
Vin
Wes
Tripp
Michael
Bodhi
Saint
Amiri
Eliam
Colter
Ozzy
Loyal
Khai
Evander
Camilo
Mac
Jiraiya
Banks
Gian
Wylder
Elio
Kylian
Cillian
Bridger
Onyx
Zyair
Koen
Tatum
Odin
Roy
Watson
Anakin
Creed
Rocky
Jarvis
Elon
Bowie
Granger
Cassian
Kalel
Fantasy Boy Names
Anakin
Ajax
Alexios
Angel
Azul
Bastian
Baxley
Bazz
Baratheon
Calix
Calixto
Chantz
Crux
Cignus
Eddard
Elex
Essex
Exodus
Fairfax
Jedi
Joff
Merlin
Lex
Lexxer
Rheagal
Sandar
Khal
Cersei
Oberyn
Bran
Dickon
Tyrion
Conleth
Stannis
Gendry
Loras
Olly
Meryn
Othell
Bowen
Sora
Kairi
Ventus
Maleficent
Saphira
Murtagh
Orik
Eragon
Baldor
Balden
Royal Boy Names
Adrian
Albert
Augustus
Arthur
Carl
Charles
David
Felipe
Frederik
George
Henry
John
Philip
Richard
Rupert
Umberto
William
Malik
Gabriel
Sverre
Windsor
Tor
Earl
Baron
Juan Carlos
Ramiro
Leroy
Kumar
Cynfael
Raj
Tao
Aslan
Jareth
Ignatus
Mikhail
Duke
Vladimir
Montague
Cornelius
Nikolai
Hanover
Wilhelm
Emmanuel
Ahan
Eshanth
Jai
Aaron
Brice
Gaurav
Harish
Boy Names That Mean Moon
Chan
Elatha
Getsumei
Rakesh
Vikesh
Bader
Ainar
Aldrin
Artem
Hyperion
Jerah
Luan
Marvi
Luna
Qamar
Oberon
Delano
Meztili
Yamir
Yue
Baby Boy Names With One Syllable
Ace
Ash
Beau
Dru
Gus
Quinn
Reese
Ross
Shane
Shaw
Tao
Ty
Vance
Clyde
Kye
Wells
Trent
Baby Boy Names With Two Syllables
Auden
Aaron
Adam
Aiden
Andrew
Austin
Arnav
Bentley
Brandon
Bryan
Caleb
Carter
Connor
Cooper
Daniel
David
Dylan
Eli
Ethan
Easton
Evan
Garrett
Henry
Hudson
Hunter
Ian
Isaac
Jackson
Jacob
Jaden
Jonah
Jordan
Joseph
Kayden
Landon
Levi
Liam
Logan
Lucas
Mason
Matthew
Michael
Nathan
Noah
Owen
Parker
Patrick
Robert
Ryan
Taylor
Thomas
Tyler
William
Wyatt
Boy Flower Names
Fiorello
Aaron
Anetris
Arnit
Admon
Aciano
Anthony
Aloe
Cedar
Crisanto
Clem
Fleuri
Fleury
Indigo
Iris
Jared
Kamal
Quill
Shamrock
Rue
Sorell
Trevor
Valerian
Zephyr
Gilford
Mallow
Rhodes
Zahir
Catkin
Blodwyn
This article was originally published on