The Most Popular Baby Names Of 2022 Are Officially Here
Here's to lookin' at you, Emma.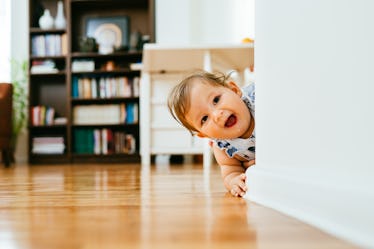 MelkiNimages/E+/Getty Images
Choosing a baby name is tough! Parents feel a ton of pressure to choose just the right name based on their personalities, what baby names are popular, how names sound with last names, family tradition, and even what the initials spell in a monogram (avoiding initials like SOB or DIK, for example!).
To help narrow their choices, many parents will look to baby name lists for inspiration or to know what names to avoid so they don't have the 12th Madeline in their Kindermusik class. But for the most official data in the U.S., the Social Security Administration always releases the most popular baby names from the previous year. And to make it super useful, the SSA compiles searchable databases so expecting parents can search their top names by popularity or see where they ranked in previous years — all the way back to the 1880s if you want to get super old school.
And now, the wait is over: the most popular baby names of 2022 were just announced. The main takeaway? They are giving old-timey vibes. No Paisleys or Makaylas or Brynlees or Tanners or Hawks or Jaxsons here. Gen Z and young Millenials seem to like their baby names with a touch of Victorian England and a splash of the Roaring '20s.
Most Popular Baby Names for Boys in 2022
The list of the most popular baby names for boys in 2022 contains exactly the same names as last year, though James did bump Elijah out of the number four spot, and Henry vaulted past Benjamin and Lucas to claim number seven. Theodore held tight to number 10, though, maintaining its spot in the top ten for the second year in a row.
Liam
Noah
Oliver
James
Elijah
William
Henry
Lucas
Benjamin
Theodore
Most Popular Baby Names for Girls in 2022
Luna made its break into the top 10, bumping last year's Harper down to 11, and Ava dropped two spots down to number seven, leaving Sophia and Isabella poised to move up the ranks and unthrone Olivia and Emma, who have traded the number one and number two spots since way back in 2014.
Olivia
Emma
Charlotte
Amelia
Sophia
Isabella
Ava
Mia
Evelyn
Luna
What's trending?
Now, just because the top ten sound like names from The Great Gatsby doesn't mean today's parents aren't getting creative. Some of the names that are growing the quickest in popularity are not your grandma's baby names. These names made the biggest jumps from 2021 to 2022 — bold moves for bold names.
10 Boy Baby Names Growing Fastest In Popularity In 2022
Dutton
Kayce
Chosen
Khaza
Eithan
Waylen
Aisaiah
Karim
Kaizen
Zen
10 Girl Baby Names Growing Fastest In Popularity In 2022
Wrenlee
Neriah
Arlet
Georgina
Amiri
Arleth
Amayah
Winona
Love
Inaya
What's not trending?
It takes a while for big changes to happen to the baby names list, and there are rarely surprising coups when it comes to the top ten, but names do come and go, and popularity wanes. Here are the names that decreased most dramatically in popularity in 2022.
The 10 Boy Baby Names That Decreased Fastest In Popularity In 2022
Jacoby
Turner
Aydin
Juelz
Jamal
Jesiah
Kace
Maurice
Kole
Cullen
The 10 Girl Baby Names That Decreased Fastest In Popularity In 2022
Tatiana
Alaiya
Jaylene
Aarna
Zoie
Paityn
Ellison
Aviana
Addyson
Kyleigh
10 Most Popular Baby Boy Names From 1922-2022
The SSA also compiles a list of the most popular names of the last 100 years. Think of your parents', grandparents', or great-grandparents' names, and chances are good they're on this list.
James
John
Robert
Michael
David
William
Richard
Joseph
Thomas
Christopher
10 Most Popular Girl Names From 1922-2022
Mary
Patricia
Jennifer
Linda
Elizabeth
Barbara
Susan
Jessica
Sarah
Karen
Incidentally, Karen maintained a top 10 presence from 1951 to 1968, peaking at number three in 1965. The name was still popular into the 1980s and was included in the top 1,000 all the way up to 2020 when it ranked 824, for, well, reasons. In 2022, 330 people chose the name Karen for their babies, leaving it well short of a spot in the top 1,000.