You Can Thank 'Yellowstone' For This Year's Fastest Rising Baby Name
Hint: It's not "John," but you're close.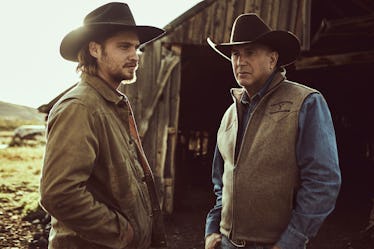 Paramount
There are many reasons a particular baby name can spike in popularity. Sometimes it's a resurgence of an old classic, or maybe a royal baby shepherds in a new era for Louis' everywhere. In modern times, more often than not, a short-term blip in baby name popularity comes out of a character in a popular movie or TV show. Five years ago, you saw the (odd) rise of Daenerys . Today, well, this past year's fastest-rising baby name owes its time in the spotlight to Paramount Network TV show Yellowstone.
New data from the Social Security Administration, which tracks the popularity of baby names through birth records, shows two names are on the fast rise in the United States. Both the first and second fastest-rising baby names are inspired by the hit TV show Yellowstone — Dutton and Kayce.
The baby name Dutton is inspired by John Dutton III, the lead character in Yellowstone, played by Kevin Costner. The show is one of the most watched on TV right now, and people love it so much that it's led to two spin-off shows which continue to follow the Dutton dynasty.
Given the show's popularity — and the strong principled qualities of the character that inspired the name — it's no surprise that between 2021 and 2022, the name Dutton shot up 986 spots on the popularity list, moving from 1821 to spot 835.
Sophie Kihm, the editor-in-chief of baby name website Nameberry, told The Wall Street Journal that Dutton also falls under the trend of names that conjure up cowboys. "If you really want to capture this cowboy-western aesthetic, Dutton is that name right now," she said, noting Stetson is another example of a cowboy-inspired name after the hat brand.
But Dutton isn't the only baby name on the rise inspired by Yellowstone — the second-fastest rising name is also a nod to the show — Kayce. Portrayed by actor Luke Grimes, Kayce Dutton is the son of John Dutton III. It, too, had a fast rise, jumping 490 spots on the popularity list, moving from 1077 to 587.
There's also a third name on the list that can be directly tied to Yellowstone — Tate, the son of Kayce. Although it didn't rise as high as Dutton or Kayce — landing around mid-way on the list, it jumped 70 spots, moving from 304 to spot 234.
There weren't any girl names on the list inspired by Yellowstone — but, Wrenlee, the fastest-rising girl name, also has that unique cowboy feel to it.