Daniel Radcliffe Is A New Dad And He's Already Making Great Parenting Choices
Harry Potter star Daniel Radcliffe and his long-time girlfriend Erin Darke have welcomed their first baby.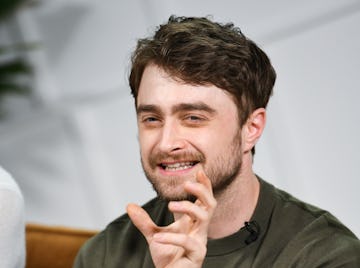 Getty
Congratulations are in order for Harry Potter star Daniel Radcliffe and his long-time girlfriend Erin Darke. The two were recently spotted pushing a stroller, marking their official entry into the wonderful world of parenthood. Here's what we know about the first-time dad — and why we're not likely to know much else.
The Daily Mail was the first to report the news that Radcliffe and Darke welcomed their first child together after they were photographed walking in New York City while Radcliffe pushed a stroller.
Although reps for the couple did confirm to People that the two have officially entered parenthood, we're not likely to hear any specifics about Radcliffe and Darke's first child. The pair are notoriously private about their private life, even when it comes to their decade-long relationship. Knowing this, it's reasonable to expect almost zero details about their new bundle of joy, including the sex, name, or even birthdate of their little one.
In October last year, Radcliffe made it clear that he has no intention of raising his kids in the spotlight of Hollywood but would love for his kids to enjoy the magic of film sets.
"I wouldn't want fame for my kid," he said. "... I think the other thing that's hard about being famous when you're young is you haven't figured out who you are yet. If you are having a perception of your identity reflected back at you, where everyone else expects you to be a certain thing while you're still figuring out what you want to be, that can be really hard for people."
That doesn't mean they wouldn't work in Hollywood at all. "I would love them to be around film sets," Radcliffe admitted to Newsweek.
"Film sets are wonderful places. I think a lot of the time it can be wonderful for kids. But it's really the fame side of it that should be avoided at all costs."
Radcliffe isn't the first Potter alum to become a dad — in 2020, Rupert Grint, who played his best friend Ron Weasley in the series, welcomed his daughter Wednesday. Of fatherhood, Grint said to Bustle: "[My daughter has] relaxed me. I used to be a real insomniac."
Most recently, Radcliffe was on set filming the inaugural episode of a new series produced by The Trevor Project featuring a round table discussion with transgender youth.
"It was an absolute privilege to get to meet and listen to this incredible group of young people," Radcliffe said. At the end of the day, if you're going to talk about trans kids, it might be useful to actually listen to trans kids."