Daniel Radcliffe's About To Become A Dad — And Knows Just What To Avoid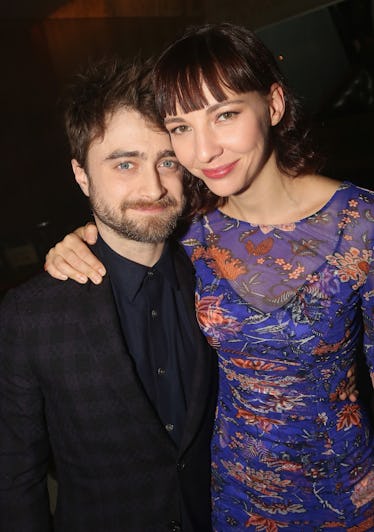 Bruce Glikas/FilmMagic/Getty Images
Daniel Radcliffe has a lot to celebrate this year. The Weird star is going to be a dad; his representative confirmed that he and his long-time girlfriend, Erin Darke, are expecting. Although the happy couple is very likely planning ahead for this big milestone, it sounds like Radcliffe is already planning for his kid's future, too. And he doesn't want it to involve acting.
On March 25, a representative for the couple confirmed that Radcliffe, who obviously first became famous from Harry Potter, and Darke are going to become parents. The couple didn't share the announcement themselves (a paparazzo photo of Darke and Radcliffe sparked baby speculation). That's pretty on par with how protective they are about their personal life, and it seems like Radcliffe has similarly private plans for his future kid.
Last year, Radcliffe spoke with Newsweek, and he was clear that a life in the spotlight wouldn't be something he wanted for his future children. "I wouldn't want fame for my kid."
However, he does hope that his kids will embrace the film industry in other ways.
"I would love them to be around film sets," he said. "A dream would be for them to come onto a film set and be like, 'God, you know, I'd love to be in the art department. I'd love to be something in the crew.'"
Radcliffe has been open about how he struggled with the amount of fame his role in the Harry Potter series brought to him at a young age. He was only 11 years old during the first movie, and he credits his parents with helping him keep "perspective," and living outside the Hollywood spotlight helped, too.
"I don't know what it would be like to grow up in LA from the age of 10 and continue growing up there," he told BBC Radio 4's Desert Island Discs in 2020.
"I think the other thing that's hard about being famous when you're young is you haven't figured out who you are yet," he added. "If you are having a perception of your identity reflected back at you, where everyone else expects you to be a certain thing while you're still figuring out what you want to be, that can be really hard for people."
Radcliffe and Darke aren't the only famous parents who wish to keep their kids protected from the public eye. Blake Lively and Ryan Reynolds have candidly discussed their feelings about paparazzi taking photos of their four kids, Mindy Kaling has been vocal about her decision to shield her two kids from her fame and not post them online, and Prince Harry and Meghan Markle have chosen the same quieter life for their kids, Archie and Lilibet.