Watch Daniel Radcliffe Host A Panel Talking To Trans Youth
Daniel Radcliffe hosts the inaugural episode of a new series produced by The Trevor Project featuring a round table discussion with transgender youth.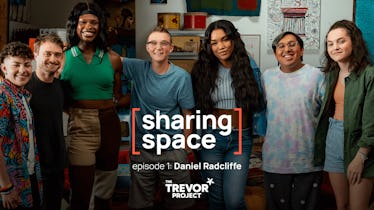 The Trevor Project
Daniel Radcliffe hosted the inaugural episode of a new content series produced by The Trevor Project featuring a round table discussion with LGBTQ+ young people, centering their lived experiences and hearing their concerns while discussing allyship to commemorate the Transgender Day of Visibility.
The new show, called Sharing Space, hopes to elevate the voices of those who are under attack right now through anti-trans legislation across the United States, specifically in Republican-controlled state legislatures.
"This vitriolic rhetoric is incredibly harmful to trans and nonbinary youth, who already face disproportionate levels of victimization, violence, and suicide risk," The Trevor Project notes.
"We listen to so many people talk about trans youth and hear them talked about so often in the news, but very rarely do we actually hear from these youth directly," Radcliffe said about the conversation. "It was an absolute privilege to get to meet and listen to this incredible group of young people. At the end of the day, if you're going to talk about trans kids, it might be useful to actually listen to trans kids."
Throughout the episode, Radcliffe invited the trans and non-binary folks to share their stories, specifically asking how they felt as a child coming to understand their gender and how it might not align with how others saw them.
"I just basically got the message from my peers, from society, from my family that I shouldn't be who I was and the things that I liked and the things I enjoyed were things that I should have to hide or pretend not to like," one of the youths, Sameer, said. "And I should kind of like put on this mask and act like I was what people wanted me to be."
At one point, Radcliffe asks the group to talk about their own experiences — and about why we should trust children when they tell us who we are. What follows are powerful testimonies, including from teen Jaslene who came out to her parents when she was 6.
"I just feel like it's just living proof that I obviously knew who I was just like everyone else does," she said.
"If it's a big decision to decide I'm a girl, it's a big decision to decide I'm a boy," another teen, Dayley, said.
"I think we don't give children enough credit for coming into this world and having a sense of purity and understanding for themselves," said Deity, another trans youth.
Later in the conversation, Radcliffe asks about allyship, admitting that he's not fully comfortable with the word "ally."
"Anytime you hear somebody self-refer to themself as an ally, I'm always like, 'I'm suspicious of you,'" he admitted. "But there is an original meaning to that word and there is [sic] some people who embody that very powerfully."
One young person in the episode, Mateo-Luis, said being a good ally means trying to understand other people's point of view.
"Sometimes it takes for someone to really step into what we would consider allyship, for someone to understand what it's like to live in your shoes," he shared. "Because a lot of times we don't live in anyone else's shoes and we only think about what it's like in ours."
The full episode of Sharing Space — a thoughtful and meaningful watch — is available now on The Trevor Project's YouTube channel, with new episodes released throughout the year with different hosts.