The Best Easter Baskets for Kids of All Ages
Your kids will keep using these cool and classic baskets long after the Easter bunny has hopped on.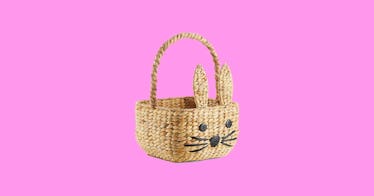 Whether or not your family celebrates Easter as a religious holiday, there are plenty of good reasons to supply your kids with an Easter basket — for Easter egg hunts, decorated eggs, and chocolate Easter bunnies, of course, but also for any other day of the year on which a kid needs a cool, unusual, or classic container for collecting treasures. And however you celebrate on Easter Sunday itself, it's a perfect day for gathering with others outside, with lots of kid-friendly activities, jokes, and rituals to keep everyone happily entertained.
The best Easter baskets are playful, but not over-embellished; big enough to store all the candy and Easter eggs kids collect throughout the day, but small enough to stow away after the day's activities are over; and most of all, the best Easter baskets can be used as a fun accessory for any other family outings long after the Easter bunny has hopped on. Here are the best Easter baskets — from classic to customized — to use and admire throughout the year.
The Best Easter Baskets: Toddlers to Tweens
Every product on Fatherly is independently selected by our editors, writers, and experts. If you click a link on our site and buy something, we may earn an affiliate commission.
This article was originally published on