Amazon Prime Day 2019: The Best Tech, Kitchen, Baby, Toy Deals
Amazon Prime Day is July 15-16. Here are the best deals, free Amazon trial memberships and much more.
by Donna Freydkin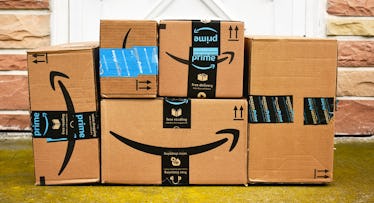 Getty
This is a roundup of the best Amazon Prime Day 2019 deals out there and is updated on a minute by minute basis to bring you the best and most worthy products at the best price, so bookmark this page.
Prime Day is Amazon's biggest, global shopping event held exclusively for Prime members. Prime Day 2018 was a day and a half of the retail behemoth's best deals and it started on July 16, 2018. Prime Day 2019 promises to be even bigger. Why? Because it's the fifth year that Amazon has had Prime Day and every year, the deals get more mind-boggling and run the gamut from parenting gear to toys.
You know the Instant Pot. You love the Instant Pot. And you need this six-quart, WiFi-enabled Instant Pot, which also serves as an electric pressure cooker, rice cooker, slow cooker, yogurt maker, cake maker, steamer, food warmer, and sauté powerhouse. It's also voice-controlled via Alexa.
No more sawing through steaks. With these glorious knives, your filet mignon will be eaten as it should be. These steak knives feature carbon stainless steel blades that seamlessly slice through meat and chicken. And yes folks, they're only $80, down from $160.
The original and still the best, the Instant Pot normally sets you back $100. Now, it's $60. And for that price, you get a pressure cooker, a slow cooker, a rice cooker, a steamer, a yogurt maker, a food warmer, and it also sautés.
This brilliant WiFi-enbaled Dyson air purifier senses pollution and allergens, captures them in a sealed HEPA activated carbon filter, and projects purified air around the room. Any room.
This Cuisinart knife set includes a chef's knife, a slicing knife, a santoku knife, a utility knife, a paring knife, a bird's beak paring knife, steak knives, shears, and a sharpener.
You never have to sharpen a knife again, because this set does it for you. These knives are made from high-carbon, no-stain steel, and are labeled so you always use the right one.
This WiFi-enabled robot vacuum is truly a leader in the category. We know, because most of us have one. It gets rid of pet hair and allergens. And its power-Lifting Suction delivers 10 times the air power for improved cleaning performance.
Not only do you get wonderful knives, but they come with their knife carry bag. These kitchen knives are made of Japanese Super Damascus VG10 67 layer steel and are forged by hand.
Don't insult this brilliant oven by calling it a mere air fryer. It has nine functions, and lets your toast a bagel, roast a duck, bake a cake, air fry chicken thighs, and dehydrate meats to make your own dried fruit and beef jerky. And it's going to be a major deal on Amazon Prime Day.
This lemon juicer also works with limes, and its nylon and stainless steel construction means you'll have it for a good, long time.
When you slot your knife into each respective opening, you sharpen it. That's because each slot, with the exception of those for steak knives, features a built-in knife sharpener.
What's worse than overcooked steak? Undercooked chicken. Avoid both with the Meater+, which has dual temperature sensors to monitor internal meat temperature up to 212°F and external temperature up to 527°F at the same time.
If you love coffee, you need a pour over coffee maker, because it uses ideal brewing temperatures, a specific water-to-coffee ratio, and a controlled water flow to make the best cup of java you'll likely ever have. And this one, by Mr. Coffee, takes all the guesswork out of the process by taking you through it. It has an integrated auto-measure scale that automatically figures out the right amount of coffee and water.
Are you ready for the BMW of blenders. Then spring for this Vitamix. It has five program settings, for smoothies, hot soups, dips and spreads, frozen desserts, and self-cleaning. Yes, it cooks soups for you. And get this: the blender's motor base is able to read the container size you've chosen and automatically adjust program settings and blending times accordingly. Minds. Blown.
If you're a photo hobbyist or just want to give yourself a piece of mind when it comes to your vital computer documents, backing up your files has never been cheaper than this at $130. This Mac- and PC-compatible device backs up two terabytes of data and is drop-, shock-, dust-, and water-resistant.
Now you have zero excuses for not working out. Garmin's Forerunner smart watch will track how far, how fast and where you run. It monitors your heart rate, and has a display resolution 128 x 128 pixels.
These Beats Solo3 wireless headphones let you take calls, control your music, and give you up to 40 hours of battery life. Plus, of course, premium sound.
This Apple watch has a 30 percent larger display and a 50 percent louder speaker. It has electrical and optical heart sensors, plus a digital crown with haptic feedback. It has a 64-bit dual-core processor and gyroscope for fall detection.
You can always locate your earbuds with a special Bose locator feature. And these headphones give you clear sound, are sweat and weather resistant (with an IPX4 rating) and come with 3 different pairs of StayHear+ Sport tips to make sure you always have a great fit. You get up to five hours of play time with each charge.
From Norwegian producer and DJ Kygo, these headphones also have what's called active noise cancellation, meaning you can literally remove any aural disturbances in your space. Available on Amazon Prime Day.
The Braun Series 9 electric razor has five unique shaving elements, with each meant for different types of hair. You get the closest shave possible, along with a trimmer that lifts and cuts flat-lying hairs.
This electric bike is meant for casual cyclists who bike to work, and could use a boost. It's designed for the city, and lets you customize your ride with the 250-watt hub-drive pedal-assist motor with a thumb pad controller and LED display.
No more wasting water on already-lush lawns. This smart sprinkler lets you set your own schedules based on plant type and sun exposure. And it uses weather data to automatically adjust your irrigation schedule based on local weather forecasts. So no lawn watering if it's raining.
Learn your origins with this DNA test, which includes an ancestry service plus more than 90 DNA-based online reports on your health and wellness.
This fantastic electric toothbrush is used by most editors at Fatherly. And yes, it removes gunks and gunks of plaque, gives you fresh breath, and keeps your gums healthy.
For a little piece of mind, this wireless three-camera system detects motion and then captures it in HD, sending an alert to your phone while recording the event to the cloud. Its included batteries are expected to last for two years before requiring replacement.
What doesn't this speaker do, is a better question? Echo connects to Alexa to play music, make calls, set music alarms and timers, ask questions, control smart home devices, and turn lights on and off. It has Dolby sound. And it lets you call folks hands-free.
The Echo Plus serves as your smart home hub. Thanks to its built-in Zigbee hub, you can easily set up and control your compatible smart home devices. The speaker is powered by Dolby play 360° audio.
It's 100 percent wireless and is IP65 weatherproof-rated. You get full HD surveillance: 1080p resolution, combined with night vision technology. Best of all, no monthly fees. The security camera comes with a 16GB microSD card that stores up to one-year's worth of recordings. It works with Alexa.
Amazon's Fire TV Recast is a DVR that lets you watch and record shows or sports events at home with Fire TV or Echo Show, or on-the-go with a compatible mobile device, with zero monthly fees. You can record two shows at once. It's the DVR, reinvented. And its normal price is $230. Just think, you can watch the Women's World Cup final over and over and over again.
Note that the list price is $299, so this a no-joke discount. You get the Ring Video Doorbell Pro and the Echo Dot speaker. You can answer the door from anywhere, and watch your home on video courtesy of the Ring Video Doorbell Pro. You can monitor your property in HD video, and check-in on your home at anytime. No more shenanigans while you're away.
Amazon periodically discounts its smart speaker, and the Echo Dot is now $22, which is the lowest it's been. It has a fabric design, and a much improved speaker for richer sound quality. Of course, you can stream music, set alarms, call your friends, check the weather, and ask Alexa really stupid questions. Or have her fart on command.
Amazon's best-selling Fire TV Stick, now with Alexa voice remote, lets your control and launch content, and regular volume. Best price ever.
Fire TV Cube is a hands-free streaming player powered by Alexa. You can ask Alexa to turn on the TV, and play your marathon of Stranger Things. Plus you can use it to control the power and volume on your TV and change channels.
We love this great DVR, which lets you record two things at once and store up to 75 hours of HD programming.
It's Alexa, next level. The Echo Show lets you stream movies and audio books, it has a 10.1 inch HD screen for viewing, and lets you make video calls with Skype, Alexa and Echo Spot/Show.
The Echo Plus is the ultimate smart home speaker that lets you have Alexa control your lights, door locks, and temperature. It has upgraded sound courtesy of its speakers powered by Dolby play 360° audio.
This best-in-class kids' tablet has a seven inch screen, a slew of features, parental control options galore, and the freedom to grow with your child. We cannot sing its praises enough. Our own kids use it.
You'll get plenty of use out of this HD Fire tablet. It features a 1280 x 800 high-definition display, comes standard with 16 GB of storage, and gives you free unlimited cloud storage for all your Amazon content and photos taken with your Fire tablet.
This Kindle e-reader is waterproof and has the line's highest resolution display at seven inches and 300 ppi.
Amazon's Ring Video Doorbell Pro lets you see, hear and speak to visitors from your phone, tablet and laptop, and sends alerts as soon as it detects motion.
This indoor/outdoor security camera has free cloud storage, two-way audio, and lets you record and view in up to 1080p HD video during the day and with infrared HD night vision in the dark.
It's a truly intelligent thermostat that understands when to turn on your heating or cooling equipment based on your home's unique energy profile.
Via its smart sock, the Owlet baby monitor tracks your baby's heart rate and oxygen levels. The sock connects to a base station that glows green when everything is okay, but uses lights, sounds and app notifications if your baby's heart rate or oxygen levels are too high or too low.
This play mat is fantastic because of its baby-friendly high-contrast patterns. It plays 20 minutes of music, and has an adjustable canopy for different play positions, as well as support for tummy time.
There's something weirdly, profoundly satisfying about making your own baby food. And the Magic Bullet baby food maker includes a power base, batch bowl, baby blend blade, milling blade, and a silicone batch tray.
Dads will dig this baby carrier. It evenly distributes weight, sparing your back. It fits all family members, with its highly adjustable waist belt. It fits babies from four to 36 months. There's a side pocket to store your phone or keys.
Normally $110, this jogging stroller is now $78. That is not a typo. You get large bicycle tires, a front swivel wheel, reclining padded seat, and a child and parent tray. It's compact and folds up for travel. It's suitable for babies six months and older, maxing out at 50 pounds.
It's a four-in-one car seat that gives you 10 years of use, transforming from rear-facing to forward-facing to backless belt-positioning booster. It fits kids up to 120 pounds. Graco's Simply Safe Adjust Harness System adjusts the height of the harness and headrest to 10 positions in one motion, for total comfort. Normally, you'd pay $300 for it.
We're not sure what makes these so rip-proof, but they never fall apart or lose their shape. These toy organizers and laundry hampers are normally $20. They fold away when not in use, and are 17.5 inches tall.
When it's time for tummy time, babies will dig this play mat. Normally $70, it has a bee and butterfly cloud mobile, a wind chime, and a peek-a-boo tree.
The Ergobaby carrier supports your tot in an M position. It fits babies four to 36 months (12-36 pounds) and has a wide wraparound waistband that maximizes comfort and provides lower back support. And it allows for breastfeeding.
This super-wide baby gate opens up to 192 inches wide and stands 28 inches tall. It has a 40-inch wide door for easy access, and when you're done with it, it converts into an eight-panel play yard.
When you use this sleep training clock in soother mode, your baby hears white noise, rain, and a lullaby. And the nightlight has a soft glow with three brightness levels. And it is available on Amazon Prime Day.
This changing mat cover has elasticized edges and contoured design to prevent sliding and shifting and is sized to fit most standard changing pads.
This table and chairs set is great for a playroom, but won't be an eyesore in your living room either. It's made of wood, with a child-safe finish. Assembled dimensions: table: 24.5″W x 24.5″D x 21″H; chair: 16.25″W x 15.5″D x 22.75″H.
This convertible crib also morphs into a toddler bed, a day bed, and a full-sized bed with a headboard and footboard. The daybed rail is included. It has a three-position mattress height adjustment that lets you lower the mattress as your baby begins to sit or stand.
We're not wasting your time showing you deals where you save a buck or two. Instead, check out this jungle gym, which is suitable for kids three to 10, and has a 600 pound total weight capacity. It's an outdoor gem.
Not only is this one stunner of a play kitchen, with its speckled granite-style counter top and a sink with faucet and taps that turn. But the stovetop burners and ice makers have lights and sounds.
It's a scooter! It's a unicorn! It's everything we love! First it's a wagon and then it easily converts from a ride-on to a scooter. For kids up to four years of age.
This unicorn sprinkler comes with stakes to keep it in place, and is 6.5 feet fall. Meaning, it's taller than you.
Summer is not summer without ridiculous pool floats. This pretzel pool float fits up to three kids. What a salty deal.
When is Amazon Prime Day 2019?
Amazon Prime Day 2019 is now! It's July 15 and July 16, and there's a slew of deals on products that Fatherly readers want and need. We're talking baby carriers, speakers, headphones, knives, toy kitchens, Instant Pots, and strollers.
It's gotten to such a point that it now starts earlier, with some pretty crazy deals leading up to it, and bleeds over into the following week. Get ready to see deals on Amazon devices, too.
Every product on Fatherly is independently selected by our editors, writers, and experts. If you click a link on our site and buy something, we may earn an affiliate commission.