New Bluey Episodes? Nope. But Disney Is Dropping Bluey In A Different Way
You won't need a streaming subscription to watch these episodes of Bluey anymore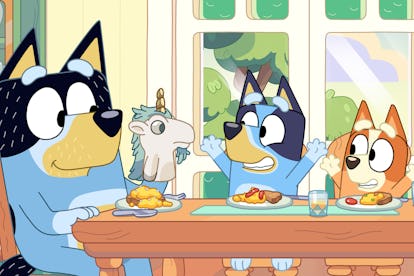 Disney
Bluey fans have been as patient as they can while waiting for new episodes to arrive in the United States. But, Disney has heard your pleas, but we may have to wait a little longer to get exactly what we wished for.
In an official press release sent earlier today, Disney announced ten episodes of the popular Australian cartoon Bluey will make their American network premiere on Disney Junior and the Disney Channel starting on November 6, 2023. Each six-minute episode will debut each weekday through Friday, November 17, at 7:30 AM EST, with encores throughout the day.
Are these new Bluey episodes for 2023?
Let's be totally clear - the press release is not announcing brand-new episodes of Bluey. The ten episodes arriving on Disney TV were initially released this past summer, so if you already have a subscription to their streaming platform, chances are you've already watched this batch. This is simply the Disney Junior and Disney Channel debut of them. That means they will now be part of the rotating lineup of Bluey across their many networks, meaning you can catch it on live television whenever they air.
This group, referred to as Season 3B since it's the second cluster of episodes from the ongoing third season, features some exceptional episodes that we have all the details about if you haven't seen them and want to be spoiled. It includes two episodes featuring celebrity cameos and a few highly emotional ones that will cause many adults to be hit right in the feels, along with the usual antics of the Heeler family and their friends. I'm excited for the world to see the next part in the Grannies' story with "Granny Mobile," but I'm not ready to be randomly flipping channels and end up bawling when I see "Space."
For fans who have already seen these episodes, don't worry! Additional episodes from season three will debut on Disney+, Disney Junior, and Disney Channel in 2024. There are still ten episodes that have only aired in Australia, and three even in their home country haven't aired yet. In the past, it's taken around nine to ten months for countries outside of Australia to officially receive rights to show the latest Bluey episodes, and that time is inching closer with every passing month.
Bluey fans online have been clamoring about more new episodes, including a rough estimate of when the remainder of the third season will arrive in the U.S., and if there will be a Halloween episode, based on the influx of merchandise showcasing the Heelers and friends costumed or trick-or-treating. Fatherly asked Ludo Studio for any updates on either of these topics and was unfortunately met with "no comment" at this time.
There have not been any updates on the fourth season of Bluey, although we do know the creators will be taking a pause for a bit before returning to the drawing board to work on whatever comes next.
Bluey is available to stream in the US on Disney+.