Next James Bond 26 Actor Leak Is (Probably) Fake
One rumor says a "gun barrel" trailer is coming in March. Let's calm down.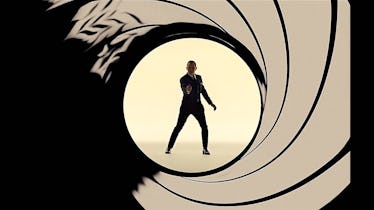 MGM/EON/Sony/Amazon/United Artists
James Bond is dead. Long live James Bond! In March 2023, just two months from now, some sources suggest that the next James Bond actor will be revealed in a shocking "gun barrel" trailer. But is this secret report the work of a Bond villain, or a true informant? When we consider the sources, it seems almost certain nothing has been decided yet. But, that doesn't mean the rumored name to play the next Bond isn't the right one.
On January 4, 2023, numerous reliable outlets reported on a rumor that the producers of the James Bond franchise — namely Barbara Broccoli — had already met with former Marvel actor and Kick-Ass star Aaron Taylor-Johnson, and that his casting as the next 007 was already in the bag. This "leak," comes from two tabloid-ish sources:
Because of these dubious sources, some cautious pundits, like Mike Reyes over at CinemaBlend, have pointed out that everyone should pour massive grains of salt on these rumors. Additionally, the idea of a "gun barrel" trailer before filming or a script has even been prepared feels, historically, ludicrous.
When will the next James Bond be announced?
While it's tempting to think of the James Bond franchise along the same lines as Batman or Marvel, the truth is, for over sixty years, it's been run, more or less, as a family business. Although Amazon currently has the new distribution rights to future Bond projects, the production company, EON, has a certain way of doing things. James Bond actors always audition using lines from the same Sean Connery scene in From Russia With Love. And, as Reyes points out, there's always a press conference to announce the new Bond actor before some kind of teaser trailer. The way these things are done has historical precedent, and with this franchise, those precedents matter.
Producer Barbara Broccoli — who took over the franchise from her father, the late Albert "Cubby" Broccoli in 1995 — has overseen the tenures of two Bonds: Pierce Brosnan and Daniel Craig. Following the release of No Time To Die, she's made it clear that the next James Bond film (the 26th in the official film series) won't start shooting until 2024, at the earliest.
So, while it's reasonable to assume that EON is looking for the new Bond actor (2024 is not that far away) there's also nothing concrete to suggest the next James Bond actor has already been cast or that Aaron Taylor-Johnson has definitely got the part.
When is the Bond 26 release date?
It's somewhat possible all these rumors have some truth to them, and Taylor-Johnson may end up as the new 007. Just don't expect a surprise trailer in the middle of March 2023. And the reason why not to expect that is connected to the hypothetical release date of the next James Bond movie.
If we're getting a new Bond announcement this year, the good money is on Summer or Fall for some kind of confirmation. But next year is even more likely. Way back on October 14, 2005, Daniel Craig was announced as the new James Bond. Previous to that, Pierce Brosnan was announced as the new Bond on June 7, 1994. In both cases, these announcements happened about one year before each respective new Bond's movie came out. If Bond 26 doesn't even start filming until 2024, then it's more likely we'll find out in 2024, right before filming. If the movie starts filming this year then, yes, it's possible someone could be confirmed this year.
In any case, there's certainly time for at least a dozen martins between now and the new Bond announcement, so relax, and get to shaking and not stirring.
Here's Fatherly's complete guide to where to stream every single James Bond movie right now.