Why The New Dungeons & Dragons Feels Like The '80s Movie You Never Got
Here's why Honor Among Thieves was designed as an '80s throwback — for the whole family.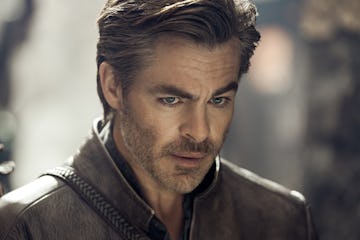 Paramount
We may receive a portion of sales if you purchase a product through a link in this article.
Arguably, there are two problems with blockbuster movies. Either the movies are too hardcore to take the kids, or not hardcore enough to be cool. For very little kids, parents can rely on the brilliance of Puss In Boots: The Last Wish or, the over-the-top charm of The Super Mario Bros. Movie. But, let's face it, the kinds of movies we grew up loving were the ones that pushed the boundaries of family viewing; movies like Raiders of the Lost Ark or Goonies or Return of the Jedi. Does anybody make movies like that anymore?
The answer is yes: The new Dungeons & Dragons movie — Honor Among Thieves — plays out like a classic '80s movie, generously designed for a big audience. And, if families slept on this excellent adventure flick when it hit theaters in March 2023, now is the time to correct that. Dungeons & Dragons: Honor Among Thieves just started streaming on Paramount+, is available for digital purchase now, and hits DVD and Blu-ray on May 30th.
Starring Chris Pine, Michelle Rodriquez, Sophia Lillis, Justice Smith, Regé-Jean Page, Daisy Head, Chloe Coleman, and Hugh Grant, Dungeons & Dragons: Honor Among Thieves is like a hilarious version of The Fellowship of the Ring, a rollicking adventure with a lot of heart that never becomes a parody, but instead, is just fun, and surprisingly as sweet as it is badass. If your 8 or 9-year-old is interested in fantasy, this will become their new favorite movie, easily.
But why does this movie feel the way it does? How did co-directors Jonathan Goldstein and John Francis Daley capture this slightly retro flavor? Why does Dungeons & Dragons: Honor Among Thieves feel like an '80s movie that we never got? Short answer: it wasn't an accident. It was made this way on purpose.
"Look, I think you can look back at this other era of cinema," producer Jeremy Latcham tells Fatherly. "You see a movie, and you're changed forever as a human being. But, crucially, it's also a real movie. So, you're dad's like 'I'm letting you see this. Don't talk during this. This is a real movie for Dad.' That was what we wanted to do here. We wanted it to work for the whole fam. And I think that that's kind of gone away in cinema. Everything's either become so big and dumb that it doesn't work for anybody, or it's just a little too intense to bring the littles to, and it's lacking the wholesomeness."
Honor Among Thieves is probably too scary for the under-6 crowd, but, unlike other borderline family entertainment that some parents let their kids watch anyway (read: newer Marvel or Star Wars films) this movie is slightly more generous. Every kid can find their surrogate character, from the shape-shifting young girl, Doric, to the hapless sorcerer, Simon, to the stoic, old-school dragon slayer, Xenk. And then, of course, for the parents, you've got Chris Pine as the adventurer dad, trying to be a better parent with the help of kick-ass maternal figure, Michelle Rodriguez as Holga.
Latcham has plenty of experience making movies like this, too. He's been a producer on several Marvel movies including The Avengers, Spider-Man: Homecoming, and the first Guardians of the Galaxy. And he thinks these kinds of super-teams are essential for the sorts of movies he thinks are great for the whole family.
"I love making ensemble films, obviously," Latcham says. "I made Guardians, I made Avengers. Even Spider-Man Homecoming is an ensemble film in a lot of ways. So, it comes naturally that there would be really strong female characters and really strong male characters. And that means giving everybody a real thing. The world and rules of Dungeons & Dragons made it really fun to have all the powers and abilities laid out that way; where you have a real team and you feel them all working together and everyone's strengths and everyone's contributions add up to make this better whole. That's what makes an ensemble good to me. That's what makes a team movie good to me. We can see ourselves."
Dungeons & Dragons: Honor Among Thieves currently holds a score of 91 percent on Rotten Tomatoes. This is significant considering its wordy title, and the baggage of previous Dungeons & Dragons movies, which, let's just say, are not rave-worthy. On top of that, in theory, D&D has one of the most complicated fantasy worlds out there. You could argue being overly complicated and inaccessible, is, on some level, the whole point of Dungeons & Dragons. And yet, Honor Among Thieves is breezy and is just as welcoming to a newcomer, as it is to someone who has several twenty-sided dice. For Latcham, it was all about "doing the homework," to make sure the movie matched what D&D fans would love, but also making sure the movie appealed to everyone.
Maybe families will want to start playing D&D together after seeing the movie. Maybe not. Either way, the power of Honor Among Thieves is its unique place in contemporary adventure movies. It's exciting without being too violent. It's warm, but with high stakes that feel real — which is saying something considering magic spells and dragons are central to the plot. Much more than any of the recent Fantastic Beasts films, this is the rare fantasy film that really is for the whole family.
"As a father, this was the kind of movie I wanted to make," Latcham says. "I was like, 'Can we get the wholesomeness back?' I think we made a movie that everybody sits around, has popcorn, and is talking about afterward. To me, that's nice. That's why we love movies."
Dungeons & Dragons: Honor Among Thieves is streaming on Parmaount+.now, and will hit Blu-ray and DVD on May 30, 2023.
This article was originally published on