The Mario Movie Is About to Blow Up. Parents, Get Ready
Your kids won't shut up about the movie. Here's how to prepare for the inevitable.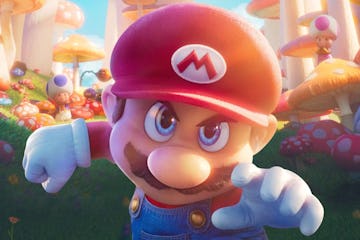 Universal
For many parents, this is a current reality: Your child saw a trailer for The Super Mario Bros. Movie, and now all they do is ask when they can go see it and why can't they see it now. Can you blame them? It's an extremely colorful animated film featuring one of the most popular characters on the playground. Kids can buy Mario shoes, tote Mario backpacks, have Mario parties, play Mario Party, visit Mario World and even drive real-life Mario Go-Karts. Really the only thing kids haven't yet experienced Mario in is a big, beautiful movie.
Obviously, you're going to see this movie. You have no choice. Don't even read the reviews, even though some of those reviews are kinda bad.
Here's your complete guide to what know about the Super Mario Bros. Movie right now.
Super Mario Bros. Movie Release Date
The Super Mario Bros. Movie hits the big screen on Wednesday, April 5th in the U.S. and the majority of overseas film markets. It was actually moved up from its original Friday, April 7th date, which should tell you how bananas seeing this movie will probably be. (And how early you should get tickets.) I hope you like dark rooms full of screaming children!
In April, the movie is only out in theaters, but given that most movies these days are out on streaming and/or on home video 45-ish days after their premiere, you may be able to expect it in your living room in mid to late May. Maybe. The studio behind The Super Mario Bros. Movie is Illumination. They are also responsible for the intensely popular Despicable Me/Minions movies–which is owned by NBC Universal, so you'll probably be able to catch the movie on the Peacock streaming service.
What Is The Super Mario Bros. Movie About?
A bad spiky dinosaur-esque dude named Bowser (voiced exquisitely by Jack Black) wants to conquer a bunch of fantasy kingdoms, all of which feature in the various Mario games. The Mushroom Kingdom, led by Princess Peach (Anya Taylor-Joy), rallies to stop him and receives some unlikely help in the form of two plumbers who have fallen into this fantasy world: Mario (Chris Pratt) and Luigi (Charlie Day). Peach's sort of vassal/head administrator Toad (Keegan-Michael Key) and Donkey Kong (Seth Rogen) round out the cast.
Mario and Luigi find they can get lots of cool powers from various items in these fantasy kingdoms, like mushrooms, flowers, stars, leaves, bells, and so forth. None of it makes any sense but all of it is relentlessly cute and fun.
They also drive go-karts on impossible race tracks and the final trailer of the movie features a gorgeous sequence on Rainbow Road, typically the hardest race track in any Mario Kart game. So the film is making creative use of a wide variety of Mario games here. Which is wild, and if your kids play those games at all, this looks to be a hugely validating cinematic experience.
Is The Super Mario Bros. Movie For Kids?
Kids over 5 or so, are likely going to adore it but you'll see a fair amount of adults in the theater, as people have been playing Mario games since 1985 and this is Mario's first true big-screen outing. It's taken that long! So yes, there's an element to the movie that may be courting grown-up children who just love Mario. But, again, this is a kids' movie, made by the same studio that gave the world the Minions. So, keep that in mind.
Of note, The Super Mario Bros. Movie is rated PG, not G. So, this means there's more action and punching than in a G-rated movie, and also, like Puss and Boots: The Last Wish (also rated PG), more edgy humor, too.
Parents! Buy Super Mario Bros. Tickets RIGHT NOW
You've been warned. This movie is going to be big. We're talking, about possibly lines around the block big. If you want to make sure your kid isn't sobbing come April 5, get your tickets right now. Don't wait. Don't forget. Just do it.
Wait, I Remember A Mario Movie Coming Out In 1993?
Oh ho! You remember that, do you? You're right, a movie titled Super Mario Bros. did come out in May 1993 but the only similarities between it and the Mario games are that movie's occasional use of character names. It's definitely a movie about something, it's just not really about the Super Mario games.
That said, if you come across a DVD or even a VHS of it, pick it up. The movie isn't available to stream anywhere. At all. So, if you need to see Bob Hoskins and John Leguizamo as Mario and Luigi, you're gonna need to head over to eBay and fire up a VHS player.
The Super Mario Bros. Movie hits theaters on April 5, 2023.
This article was originally published on