Puss in Boots Directors Explain Why The Last Wish Had To Go So Hard
The greatest kids' movie of the moment might be the biggest Dreamworks movie ever.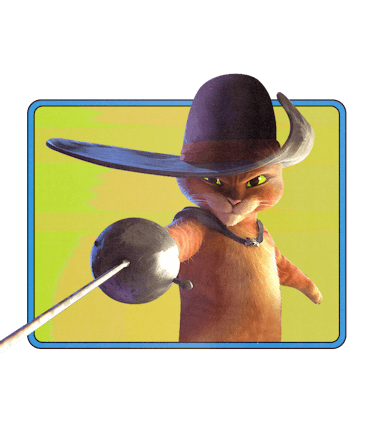 Emma Chao/Courtesy Dreamworks; Fatherly; Getty Images
We may receive a portion of sales if you purchase a product through a link in this article.
In 2022, Puss in Boots: The Last Wish cleaned up. It took in a staggering $442 million at the box office and easily would have been one of the top ten movies of the year if Avatar: The Way of Water hadn't bumped it to 11th place. And, in terms of family movies, The Last Wish is easily number one, not just in terms of the money it made but in terms of critical acclaim, too. It holds an impressive 95/94 score on Rotten Tomatoes, indicating that movie experts and families love the film equally. It's also nominated for an Oscar.
And yet, it's been over a decade since the first film, the 2011 movie Puss in Boots, in which Antonio Banderas last swung into action as the eponymous swashbuckling nursery-rhyme cat. Prior to that, this iteration of Puss comes from the 2004 film Shrek 2, which in the Dreamworks-Shrek universe is the origin of this whole franchise. A six-year-old in 2004 is a 25-year-old adult now. A 10-year-old who saw Puss in Boots in 2011 is now 22. So who is Puss in Boots: The Last Wish made for? And with these kinds of gaps in time, how is it dominating?
"We decided not to treat this like a sequel," co-director Joel Crawford tells Fatherly. "So, instead, we decided that we're just telling a very big story with Puss in Boots. And that came down to our premise: There's a cat on his ninth life, and he's just blown through the other eight. Which, you know is closer to human beings. We all only have one life!"
Januel Mercado, the other director of The Last Wish agrees with Crawford and points out that they strove to tell a compelling story first and a kids' movie second. They wouldn't call it a soft reboot, but that's kind of what it is. And their trick for making that happen was to create huge stakes. This means that the central villain of the movie, the Wolf — AKA DEATH — had to be serious. Voiced by Wagner Moura, the Wolf isn't just scary, he's terrifying. But, for Mercado, that was kind of the point.
"We had to feel the stakes," Mercado says. "So we wanted to know what Puss's point of view was. And also what the audience would connect with. That freed us of any concern of worrying about making the Wolf too scary. We were coming from an authentic place. The Wolf is an intimidating force of nature. You really needed to feel the presence of his threat to feel the stakes of the movie and what Puss needs to learn."
Mercado is essentially pointing out what makes Puss in Boots: The Last Wish so compelling: Puss is forced to figure out how precious his remaining life is, partially because the concept of death is permanent. It's heavy stuff for what is otherwise a jaunty and funny kids' movie, but this notion of true mortality isn't just one aspect of the movie, it's the throughline of the whole thing.
That said, it's not all darkness and existential angst. In the end, The Last Wish is an upbeat romp, and the reason why the movie has connected with so many families is not that is macabre, but because it's a celebration of life.
"The Wolf kind of amplifies fear," Crawford explains, which means the story needed a character that "amplifies hope," which exists in the form of the character of Perrito, voiced by the brilliant What We Do in the Shadows actor, Harvey Guillén. This therapy dog disguises himself as a cat and is just way too adorable and hilarious to explain if you haven't seen the movie.
"We wanted you to on a journey with Perrito and the other characters, too. You can experience fear, but we wanted to make sure that ultimately, the movie feels joyful and full of overwhelming gratitude."
For families that didn't catch The Last Wish in the theater, this is a great one to watch together at home. So many kids' movies try to be instant classics, but this one is the real deal. Tell your little one that the Wolf might be scary, but that Puss will be okay in the end, partly because he's brave, but also because he's wise. And when it's all over, parents might reflect on these lessons, too. This is one family catharsis you don't want to miss.
How to watch Puss in Boots: The Last Wish at home
Puss in Boots: The Last Wish, starring Antonio Banderas, Salma Hayek Pinault, Florence Pugh, Harvey Guillén, John Mulaney, Wagner Moura, Da'Vine Joy Randolph, Olivia Colman, and Ray Winston, is out now for digital download and on DVD, Blu-ray and 4K Ultra.
Puss in Boots: The Last Wish is also streaming on Peacock.
This article was originally published on