Bluey Is About To Drop a Bunch Of New Episodes — But There's Some Bad News
Here's how to watch the newest installments of the Heeler family.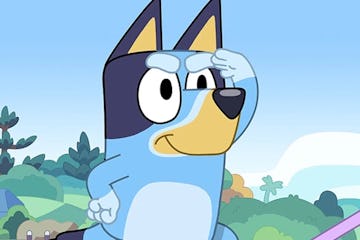 Disney+/ABC Kids
The third season of Bluey has been going on for what feels like forever, with the first batch of Season 3 only arriving on US platforms in June 2022. Kids and parents alike are reeling in anticipation, more than a bunch of kids playing "Pass the Parcel" with Lucky's Dad's rules.
The good: There's more Bluey coming to your television – for real life! The bad: Americans will have to wait a bit longer to see the latest Heeler family shenanigans. Here's everything you need to know about the new 2023 Bluey episodes.
When Do New Bluey Episodes Drop in 2023?
The Australian Broadcasting Corporation delivered an update sweeter than pavlova, with the announcement that the wholesome Heelers are returning to screens in April 2023. They're scheduled to air weekly starting on April 9 through June 8 in Australia on ABC Kids and ABC Iview. Those dates are all Sundays, which was done to give families a more dedicated time to watch together without worrying about school or work getting in the way.
This premiere kicks off two weeks before the next Bluey album, Bluey: Dance Mode!, becomes available for purchase and streaming across the globe.
How many Bluey episodes are in the new release for 2023?
Nine new episodes will drop one by one, for a total of 27 shorts. That means 27 more chances to see what other allergies Indy has that we've yet to learn about, 27 more ways for Winton to invade personal space, and 27 more Long Dogs to be on the lookout for.
What are the new 2023 Bluey episodes about?
Somehow defying the internet, Bluey has not had any info leaks, so little is known about what to expect outside of a sneak peek ABC posted on YouTube. Update: ABC has removed this video as of 3.17.23. No word yet on when this sneak peek will be back online.
By the way, if it's not clear by now when we say "ABC" relative to Bluey, we mean the Australian Broadcasting Corporation, not the American Broadcast Company.
One thing that was announced was a few of the guest voices that will pop up among these new ones. Adam Hills, Neil Finn, Mick Fanning, Carrie Bickmore, and Kate Miller-Heidke will voice new characters that we've yet to meet, but if it's anything like the previous cameos, they should be equally fun and charming. They join the ranks of Natalie Portman, Lin Manuel-Miranda, Eva Mendes, and Robert Irwin, among others.
This is also not the end of the third season, with the final cluster coming toward the end of 2023.
When will the new 2023 Bluey episodes be released in the US?
Asking for a release for Bluey in America is like playing the Baby Race. No one wins, and all you do is bum shuffle around while you wait until the arrival randomly happens.
No date has been given yet for when these will arrive in the US or the rest of the world. If it's anything like previous releases, it could be nearly a year based on how season 3 was first dropped on Disney Channel and Disney+. Cross your paws that Disney finds a way to give us a holiday miracle, and at the very least give us these nine episodes before 2024.
If you're impatient, there are alternate ways to find the show to watch, but you'll have to do a bit of digging to locate those places. Even the Terriers would be fearful to tread in those parts of the internet!
Update: Disney+ announced in mid-June that season 3B would be available for worldwide audiences on July 12, with releases on the Disney Channel and Disney Junior later this year. Season 3C is currently wrapping up in Australia, with no info yet on when this final batch will arrive stateside.
Will any more new Bluey episodes be banned in the US?
As most Bluey fans are sadly aware, some episodes of the show are deemed inappropriate for children, and thus, have been banned in the US. Disney decided that gags about passing gas were not savory enough for their standards, because if there's one thing we all know, it's children are too sophisticated for a fart joke?
Without knowing more about these episodes, there's no way of knowing whether any more episodes from the third season of Bluey will be banned or censored. While American audiences might not get every episode from a certain streaming mouse, the BBC has offered families around the world to watch the full uncut seasons on the Internet Archive, which is very useful to catch up on any episodes you missed.
I can't wait for Bluey episodes. What should I do?
Take a deep breath. Watch some old Bluey episodes again. You've already seen them over a dozen times. What's wrong with another round? Grab your kids and play some games straight out of the show. Take a trip to the local creek, go on a curry quest, or be like this author – endlessly stare at your phone waiting for the announcement on when season 3 comes to America.
Bluey is streaming on Disney+ in the US.
This article was originally published on