Bluey Fart Episode Streaming On Disney+ — But Another Controversial Episode Is Still Banned
The episode "Family Meeting" was previously banned. But there's another episode everyone forgot about that's still off-limits in the U.S.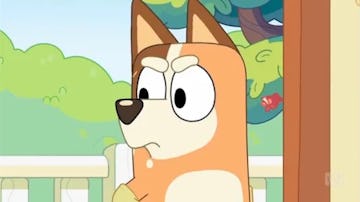 Disney+
When Bluey Season 3 first hit Disney+ back in August 2022, one episode was missing. Actually, not just missing but banned. Apparently, the content of one particular Bluey episode — which had already aired in Australia — wasn't up to a very specific standard for Disney and the U.S. audiences. But now, this Bluey episode is streaming on Disney+.
However, there's also another episode of Bluey that's been banned in the U.S., and nobody even noticed. Here's what to know about the missing "Fart" and "Dad Baby" episodes of Bluey.
Which episode of Bluey was banned from appearing on Disney?
The show is licensed to air in the U.S. through Disney, and according to TVLine, an episode of Bluey from Season 3 titled Family Meeting was banned from the platform because it did not meet the "broadcast standards and practices" for Disney Junior.
In the episode, Bluey's mom, Chilli, accuses her husband, Bandit, of "fluffing," (which is Australian for farting) in Bluey's face he wakes up and climbs out of bed. This accusation sets off a plotline where Bandit is put on "trial" with Chilli acting as the judge. Bluey and Bingo are called as witnesses as the family tries to piece together whether the dad farted in the kid's face.
Is the Bluey fart episode streaming?
According to a statement released to Pirates & Princesses, "at the time the series was acquired, " some episodes weren't included at first.
But as of October 2022, "Family Meeting," aka "the fart episode," is streaming on Disney+. It's the very last episode of Season 3 right here.
Are there other banned Bluey episodes?
Turns out, farts aren't the only things that have been banned from Bluey. As pointed out by The Guardian, " a season two episode called 'Dad Baby,' in which Bandit acts as if he's going through childbirth, has never been available on Disney+ or Disney Junior."
To be clear, this episode sees Bingo pretending to be born out of her father, Bandit. Bingo is curled up inside of a baby carrier strapped to Bandit, and both father and daughter then pretend to "give birth" to Bingo, hence "Dad Baby."
As of this writing, although "Family Meeting" (farts) is on Disney+, "Dad Baby" is still banned. You can watch a preview of the episode on YouTube below, or purchase the episode on iTunes.
This article was originally published on